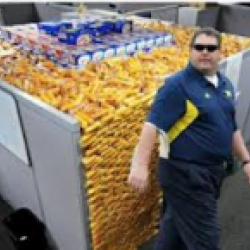 Jabba the Hoke
---
Member since 15 July 2013 | Blog
Recent Activity
We still have a GREAT coach, just a level below Saban (for now)
I had to work last night and I legitimately did forget that the game was going on until I left.
I won't be watching. Having to work gives me a great excuse.
The only way that this can end is by making Brady Hoke the highest paid coach in college football.
I hope they call me, I would love to be paid a couple million a year to not do anything. Added bonus- I get to run that program further into the ground.
1st rule of downvotes, don't talk about downvotes. Does that still apply?
Its close, but Xichigan fans aren't quite at that level of stupid.
This is the worst part about the entire thing. Schiano is now "damaged goods" and it will be harder for him to find a HC job. I hope he sues the shit out of Tennessee and I hope they end up with Brady Hoke as their coach.
JT as only 4-0 QB solidifies his legacy. Harbaugh is not only over rated but over paid as well. Michigan has always bewn the most important game of the season. Looking forward to a glorious day.
Has Michigan ever lost a game? Or is it just that the refs screwed them over every time? The guy who had the spot was from Michigan, get over it.
Just not Bama
They always try to start a fight when the game is at Ann Arbor.
I am glad I don't gamble.
I don't have any crow to eat about JT, but I have an extra large serving for Zach Smith and Zone 6. They have become a very good unit.
The color is "manatee" for offensive lineman though. https://www.google.com/amp/s/www.forbes.com/sites/jeffbercovici/2013/04/03/whoops-target-inadvertently-offers-manatee-dresses-for-plus-size-women-twitter-notices/amp/
Three wolves one moon has some of the best Amazon reviews, right up there with the Hutzler 571 banana slicer.
The fans of the team up north are the same way. http://mgoblog.com/mgoboard/was-there-single-holding-penalty-called-against-psu
Was thinking the same thing, its possible that was the only time this has ever played out in favor of the team making that claim.
Bye, congrats on having the first runway.
Delete
What if O is the letter and not 0 the number?
I agree with this concept, but you also have to keep a defense honest. Or else its like putting Jabrill Peppers in the wildcat and expecting anything but him to run the ball.
Columbus IPA is seriously one of the best IPAs out there that is a flagship beer.
The best use of the word micturate. https://youtu.be/TCgeaNfcw-w
Used to think the same way, then 2014 happened and we won a NC while Michigan sucked. So now, fuck them in every game, we don't need them.