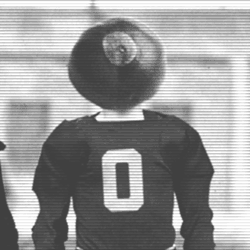 Iwouldliketotalktoyou
---
Lorain, Ohio (via Lima)
MEMBER SINCE November 30, 2014
Born and raised in Lima Ohio. Detour at Ferris State University in Big Rapids, _I. Back in Ohio now. Go Bucks!!
Favorites
SPORTS MOMENT: Winning state golf championship for OSU Lima in 1986.
COLLEGE FOOTBALL PLAYER: Andy Katzenmoyer.
NFL TEAM: Bengals
NHL TEAM: Stars
NBA TEAM: Cavs
MLB TEAM: Reds
SOCCER TEAM: Soccer??? Is that a sport????
Recent Activity
He was recused from the room when it happened is my guess.
The ONLY ranking that counts is the one AFTER the playoffs. Win two games. Take home trophy and shut up doubters. There won't be an asterisk beside the wins because they were ranked 2nd.
Lol. Yes. They can have baseball.
The whole "chickenshit Saturday" thing has to stop. I understand why they do it, but I am proud of the fact we were dominating a very solid Penn State team (outside of the turnovers) while the entire SEC took a week off. If I were a committee member, that would hold some weight with me. Sometimes things happen that weaken a schedule, like the TCU home and home being changed or opponents aren't as good as they were when they were scheduled, but "chickenshit Saturday" is intentional. Not a fan.
I made the comment last night the fake punt actually started the landslide in my opinion. It was like a reset button had been pushed. I thought the timing took some serious balls considering the field position, but it was perfect timing all the same.
A dual-sport school. I love it. Kiss our ass TSUN.
The old school coach in me loves the free throw%. Make those, play defense and the rest usually takes care of itself.
Love it, Cal.
How would you know those big economy words? You are just from Ohio.
So is the present. I hear about the future alot, I hope everyone is paying attention to the NOW.
I tried that. They didn't answer and they banned me. Lol
Teddy for the win!
It was absurd. I was at the Penn State game and it was just as bad. We will see if Wisconsin gets away with it next week.
I have a feeling it won't be Done Brown's problem to solve next year. If it is, I will be surprised.
That's the coaching and culture difference at work right there.
Hard to do your job as a DE when you are getting held pretty openly for the entire first half. It had to be frustrating.
Binjimen Victor catches a touchdown pass just as their band has finished a round of "Hail to the Victor's".
Me too, but that keeps it kinda fair and all. They can get their participation 3rd place trophy and stuff.
It seemed to me the refs helped out PSU if anything Saturday. I don't bitch about those things so it's neither here nor there with me, but some people have their tin foil ready to go.
According to MGo the refs are all in. Lol. And this was NOT sarcasm.
There is an actual new thread on MGo about how the refs and the big ten rigged the game in 2016. It is totally insane.
I'm not the grammar police but wow...I had to quit reading about two sentences in...oh...wait....
Sounds like the old SEC formula flipped to help the Big Ten to me. Keep the team in the most relevant game (The Game this weekend) ranked as high as possible to help the top ranked team more when they boat race said team at home. Sounds about right. I like it when it works for OSU.
They might be looking at the wide receiver depth too and thinking the RB won't be a focal piece of the offense. I hope Saturday laid some of those concerns to rest. Day will absolutely need a stud running back in this offense to open up the passing game. He puckered that Penn State defense right up.
No, that was Carlos Hyde's speed coming out of high school.