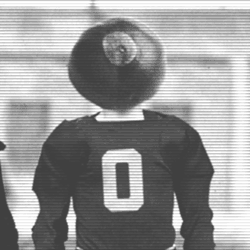 Iwouldliketotalktoyou
---
Lorain, Ohio (via Lima)
MEMBER SINCE November 30, 2014
Born and raised in Lima Ohio. Detour at Ferris State University in Big Rapids, _I. Back in Ohio now. Go Bucks!!
Favorites
SPORTS MOMENT: Winning state golf championship for OSU Lima in 1986.
COLLEGE FOOTBALL PLAYER: Andy Katzenmoyer.
NFL TEAM: Bengals
NHL TEAM: Stars
NBA TEAM: Cavs
MLB TEAM: Reds
SOCCER TEAM: Soccer??? Is that a sport????
Recent Activity
Think Big Ten Media Days....
I predict a lot of officials signaling for first downs after Master Teague touches the ball. Seems like a thumper to me. A fast one, at that.
I understand what you are saying, and agree with you. It is all about unproven players and an unproven head coach at this point. Once Day starts out with 4 or 5 blowouts and Fields throws 70% for 300+ and 4 touchdowns every game the narrative will quickly switch. Day and Fields are going to be a legendary combination in my opinion.
This one cracks me up. I always reference the Fab Five when I hear it and the subject changes. Shocker.
Amazing history lesson. Thank you.
I thought that was one of the best stories in recent memories. He will be the kind of guy who appreciates his time as a Buckeye and lays it all on the line because he earned his shot. I love that about him already.
BuckeyeBulldog....I am a Ferris State alum and lived up and down West Michigan for about 15 years. Great area and you are right, lots of MSU and ND people over that way. I enjoyed the banter up that way. It was during the Cooper years, so they all turned into Buckeye fans the last week of November, only to be heartbroken like I was every year.
And Ferris State almost took them out. Being a Bulldog alum, I pay attention.
I sat through that HORRID game in AA in '93. The whole thing. In GoreTex rain gear. It was awful.
Leadership will determine attitude. I kind of like the fact the kids will "expect" to beat the rivals. It is far better thinking than kids coming in knowing they have no prayer to win. Champions have the expect to win mindset.
I couldn't agree more, Banks. Even when I watched the Notre Dame/Michigan game I saw two decent teams who actually made each other look better than what they were. When Notre Dame beat them and subsequently squeezed into the playoffs I knew the beat down was coming for the Irish. They were not that good....but had a few "quality" wins ( I use the word quality very losely here ). On paper, Michigan looked good....in reality.....not so much. Ask Indiana.
No one is safe......
I know this is about Okudah, but I wasn't aware how freakishly athletic Dobbins was coming out of high school, as mentioned in the article.
Lydell Ross and Maurice Wells for me. /s
I hope Marvin Harrison is the next Marvin Harrison in BUCKEYE lore. Lol. Seems like a lock, but who knows.
No one wants to live in South Bend...FIFY. LOL
Putting players in a natural market was written right into their business plan. It makes sense. A Columbus team would have killed it, win or lose. I have no idea how they selected their cities, but, they obviously didn't quite work. I don't think attendance was the straw that broke the camel's back though. I think it was the lack of NFL support and thus lack of sponsors and TV dollars.
He promised well over $200,000,000, he actually shelled out around $70,000,000 from what I have read.
If you look at the AAF model, that is what they tried to do. It wasn't a coincidence Trent Richardson played for Birmingham. They put the players in the closest areas to either where they played college ball, or where they grew up. The only draft they had was for quarterbacks. It failed because most players (take OSU players for example) didn't have a natural home team close enough to the fan base. The San Antonio team was LOADED with Texas, TCU, North Texas, AtM players. That's why they killed it in attendance.
The McLaurin video really shows what a respectful and well-grounded young man he is. I can see why Urban always had a soft spot for him. I hope he and Simba are a great one - two punch in the NFC East. I think they will be while the Giants are pouting around the parking lot kicking rocks.
Dwaal
If he doesn't sign, Coach Day, Put that coffee down!!!! Coffee is for closers only!!
It is bad enough the Buckeyes lose most of the Junior / RS Sophomore class to the NFL all the time!! Leave our coaches alone!!!! Lol
Miami - 7
The Wint transformation was actually the brain child of Urban. Since retiring he has spent more time in his underground scientific lair. He has successfully created a hybrid creature that is a cross between Mike Doss and Malik Hooker.