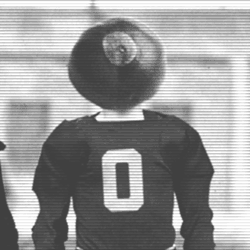 Iwouldliketotalktoyou
---
Lorain, Ohio (via Lima)
MEMBER SINCE November 30, 2014
Born and raised in Lima Ohio. Detour at Ferris State University in Big Rapids, _I. Back in Ohio now. Go Bucks!!
Favorites
SPORTS MOMENT: Winning state golf championship for OSU Lima in 1986.
COLLEGE FOOTBALL PLAYER: Andy Katzenmoyer.
NFL TEAM: Bengals
NHL TEAM: Stars
NBA TEAM: Cavs
MLB TEAM: Reds
SOCCER TEAM: Soccer??? Is that a sport????
Recent Activity
You beat me to it. Urban's greatest blessing to the program might have been Ryan Day.
I enjoy hating the Penn State coach. It just feels right. I don't want some guy there who I have ever cheered.
This one and Beanie doing it in the same game are two of my favorite plays and pictures of all time. That picture describes the culture up north, they will be chasing the Buckeyes for quite some time...
Absolutely true.
Sometimes I think so too, then I look at all the wide open receivers and solid running production....tight ends will never be the focus, nor should they be. I do think some quick hits with LB in coverage would slow down some of hits Fields is taking. Then again, Fields is looking downfield to make a big play.
He has been watching too much golf.
To which he would reply.....I will answer your questions, not your insults. Then pause awkwardly.
Yep. That kid had talent too. He was fun to watch. Too bad he was a mess.
I can't imagine how that would hurt if chest hair was involved......
You mean he "sacked" them.....I will show myself out now.....
This is an excellent point.
You got me! I haven't seen that one for awhile.
And it was the Japanese.....
Last season Day made a comment to the effect of "if you aren't calling a play to set up a later play, you aren't running an offense". I think that speaks to what you are saying here. He stays ahead.
Transfer portal?
Without looking it up, I would venture a guess that Urban Meyer, Woody Hayes, Paul Brown, Don Shula, Nick Saban, or Lou Holtz NEVER won the Pinstripe Bowl. Lol
You and every defensive back in the NFL. Nobody wants to see that freight train headed their way.
If you really think about it, how many high school kids play football???? Millions. To be in the top few or even the top 20 in your state.....is pretty good.
Yes they do. The spring game told us all exactly how bad Fields is and Day didn't know what he was doing going after him. Lol. SARCASM. FONT.
I was wondering if it was 3 or 4 forced fumbles in REALITY......
I see what you did....
I get what you are saying and I agree with some of it. The problem with that argument with me is the way the game has evolved. Every defense knew Archie was getting the ball on first and second down at a clip of about 90% of the time. Now, nobody knows where it's going until the QB reads the defensive end on a majority of plays. This has to make it easier to gain yards these days. Without doing an analysis with real data, I would guess offensive production is off the charts compared to the 70's. They handed it to Archie. The defense knew it was coming. They just couldn't stop it. To me, this makes Archie's accomplishments even more amazing. No disrespect to Zeke or JK, but their situation was FAR different than running into a 9 man box every down.
I was thinking along those lines too. Something like CONTROL THE OUTCOME. It's a bit bulky, I like your better, but the jist is to NOT put the game in someone else's hands.
You didn't see the 96 TTUN game then. That one was even worse.
I had the same thought. This looked awfully familiar.