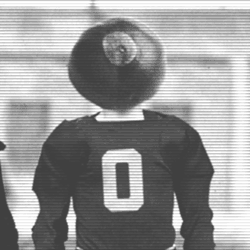 Iwouldliketotalktoyou
---
Lorain, Ohio (via Lima)
MEMBER SINCE November 30, 2014
Born and raised in Lima Ohio. Detour at Ferris State University in Big Rapids, _I. Back in Ohio now. Go Bucks!!
Favorites
SPORTS MOMENT: Winning state golf championship for OSU Lima in 1986.
COLLEGE FOOTBALL PLAYER: Andy Katzenmoyer.
NFL TEAM: Bengals
NHL TEAM: Stars
NBA TEAM: Cavs
MLB TEAM: Reds
SOCCER TEAM: Soccer??? Is that a sport????
Recent Activity
No. He doesn't drink.
Yeah but Grinch will fix all that defense stuff. Lol.
Don't worry, 1000 yards rushing isn't as big a deal in a 15 game season like we have now. Lol. Much more difficult in a 12 game season like ttun has.
Before Mgo catches that.....good work!
How badly will we drill Penn State with no "white out"??? It just crossed my mind and I thought I would leave it here.
This comment cannot be invited enough.
I will take it a step farther. I think it's obnoxious when they bring out the bagmen comments, which they FREQUENTLY do, and the academics "argument" they spout around. It's sickening. Even when Cooper was getting his ass handed to him every year the Buckeye fanbase seemed to LOOK INWARD for the problem. Why do we lose was the question. The question wasn't how are they cheating to win. That's the big difference to me.
Even the refs were able to work the secondary twice that night.
Hahahah. I knew I should have spell checked my spell checker. Auto correct fail. Craft. There. Good catch.
They had me at Kraft and Diebler. That seals the deal. Repeat champs! Count the money.
You beat me to it. Urban's greatest blessing to the program might have been Ryan Day.
I enjoy hating the Penn State coach. It just feels right. I don't want some guy there who I have ever cheered.
This one and Beanie doing it in the same game are two of my favorite plays and pictures of all time. That picture describes the culture up north, they will be chasing the Buckeyes for quite some time...
Absolutely true.
Sometimes I think so too, then I look at all the wide open receivers and solid running production....tight ends will never be the focus, nor should they be. I do think some quick hits with LB in coverage would slow down some of hits Fields is taking. Then again, Fields is looking downfield to make a big play.
He has been watching too much golf.
To which he would reply.....I will answer your questions, not your insults. Then pause awkwardly.
Yep. That kid had talent too. He was fun to watch. Too bad he was a mess.
I can't imagine how that would hurt if chest hair was involved......
You mean he "sacked" them.....I will show myself out now.....
This is an excellent point.
You got me! I haven't seen that one for awhile.
And it was the Japanese.....
Last season Day made a comment to the effect of "if you aren't calling a play to set up a later play, you aren't running an offense". I think that speaks to what you are saying here. He stays ahead.
Transfer portal?