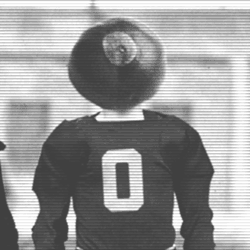 Iwouldliketotalktoyou
---
Lorain, Ohio (via Lima)
MEMBER SINCE November 30, 2014
Born and raised in Lima Ohio. Detour at Ferris State University in Big Rapids, _I. Back in Ohio now. Go Bucks!!
Favorites
SPORTS MOMENT: Winning state golf championship for OSU Lima in 1986.
COLLEGE FOOTBALL PLAYER: Andy Katzenmoyer.
NFL TEAM: Bengals
NHL TEAM: Stars
NBA TEAM: Cavs
MLB TEAM: Reds
SOCCER TEAM: Soccer??? Is that a sport????
Recent Activity
No, April belongs to Fields and Baldwin. Maybe a little Harrison. Try May. Lol
I agree OSU should have made the playoffs in 2015, but I also understand why the committee thought otherwise. There was so much floundering against BAD competition the 2015 version didnt impress ANYONE, not even the fans, until the win up North. The committee remembered some bad football teams hanging around late in the game. Like I said earlier, there is ONLY one way in. Win all your games AND look dominant doing it. Not one committee member could find fault with that.
The real problem is every year is a moving target with these committees. As soon as you think one way into the playoffs will work, they change their emphasis for that particular season. There is ONLY one surefire way into the playoffs....win all your games and look dominant doing it....
Ask Baker Mayfield....Hue has an offensive mind..../s
If you read up on the AAF, they have a smart way of assigning players for regional fan bases. They put players closest to where they went to college. A Columbus team would be a no-brainer in my opinion. The only draft they have is for quarterbacks. Everyone else is assigned to a team.
I thought it was pretty good stuff. Seemed like the refs let them play. Tom Brady would want NO part of this league. QB's seem to be fair game for defensive ends at this point. I found it entertaining and appreciated the speed of the game. The San Antonio game was over in about 2:40. I liked that.
I cannot bring myself to be a Memphis fan. Christian Hackenburg is their starting qb. He is picking up right where he left off....3/11 for 20 yds at halftime. Lol.
That couldn't be any more true.
You are right. I was too lazy to look it up. He was at the game on the sidelines tonight.
From what I saw tonight, there is no way a kid fresh out of high school is ready for that league. There was some big time hitting going on. Those quarterbacks were pummeled all night long.
I think the San Antonio name Commanders is actually a nod to David Robinson.
Lee's all the way!!
She is, or at least was at the time, a professor at Stanford.
First thing my wife said when she saw him on the court tonight was "He sure looks relaxed. I don't think he ever looked like he was having fun." I reminded her I could think of 7 times I have seen him pretty happy. Lol.
Ah, TraptnMI. He came here to play with great talent and be coached by great coaches. Ryan Day will coach circles around that Georgia staff before it is all said and done. I think he saw an opportunity and made a wise decision. He is a smart young man.
He doesn't come across as arrogant or entitled. I like this kid already for more reasons than his physical gifts.
Rickey Dudley too.
By my math Day is grossing what Urban's net was. Not close to what Urban made.
In today's world he would have been crucified on Twitter, fired and chemically castrated for that remark.
Wow. Marty and Joe went everywhere with me as a kid. Little battery powered radio tied on my bike handlebars. I was also lucky enough to have the actual vinyl LP called "And This One Belongs to the Reds." It had many of the big game highlights of the 1975 season I think. It was either 75 or 76. I wish I still had it now. In the middle of winter in NW Ohio when I was in need of a baseball fix I would go up to my room and play that LP from beginning to end. Thanks for the memories, Marty, Joe and the Big Red Machine.
Or gas station sushi, ordering mexican at an italian restaurant, eating cheese that doesnt require refridgeration....there are many things that wouldnt make you a snob for having reservations about them....lol
And lets not forget a guy named JT who had zero snaps at OSU along with a very raw Cardale Jones in 2014.....how did that work out again??
Truth spoken right there. He wont have "one he has whispered" yet.
I dont know how the 1968 idea wasnt used during last season. For the life of me, I cant figure out why a 50th anniversary of a Natty wasnt celebrated instead of a noon "blackout."
Well....since there aren't "cuts"........