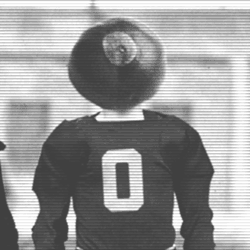 Iwannagobacktoohiostate
---
MEMBER SINCE April 19, 2012
Recent Activity
People do what gets rewarded.
On an aside, since Ohio State football means TBDBITL to me: I cannot wait to see how they adapt (if required) and continue to put on some of the best shows imaginable.

TBDBITL has evolved from the trombonium to the slide trombone. From all-male to coed. They too will march again! I cannot wait... for Ohio Field will hear again the Buckeye Battle Cry!
Comment removed for violating the site's commenting policy.
Wasn't Morgan Freeman the Principal there?
wrong Eastside High. Sorry.
Good back and forth about playing football during the Korean War. Now, get off my lawn.

Colonel Blake:
Football game?
Gen. Hammond:
Yeah, yeah, we put up a few bets, five thousand maybe, and have a little fun. Special services in Tokyo says it's one of the best gimmicks we've got to keep the American way of life going here in Asia.
Colonel Blake:
Betting?
Gen. Hammond:
No, football.
Ole Miss: just like every other money hungry university...only more.
The oldest team sport played in America? It's Lacrosse. I'm so happy it's flourishing again.

I live in Georgia and it is huge here. Most kids who started in PeeWee football eventually give it up and are moving to lacrosse here. (Jim Brown is mentioned as One if Syracuse's best... and Syracuse is a blue-blood)

The camp circuits are extreme Here and you have to camp to be considered for future scholarships (if that's your thing). I stilll would advise to keep your child a 2-sport athlete. I've heard stories of lacrosse players at John Hopkins burning out their sophomore and junior years in college due to years of playing this only 1 sport. Keep those shots low and poke him!

go Buckeyes!
I personally met Bob Watkins (1954National Camp) at a 1954 team reunion with my late father. i believe it was @ 1979 or so.

you will never find a more professional man, a more astute friend of football, and a better American. He transcends everything it means to be a humble soul. He talked about his team, his coach and his family with the most kind and sincere voice. He looked at us when they showed a clip of his highlight reel and immediately named each lineman and blocker by first name and gave them the credit for his success.
I would be pleased to have been his teammate!

my friend dumped his girlfriend ... so she got drunk and immediately slept with the first thing in sight.

that makes sense. Said nobody. Ever.

Folks, the player makes the number, the number does not make the player.

Harmon won a Heisman wearing #98. Future QBs at TTUN trying to repeat it ... failed.

my father wore #48 at OSU. Why? His birthday was April 8. Good football player...unbelievable father!
... to whom much was given, much shall be required. Extremely frustrated to see self-inflicted lack of judgement. Innocent till proven otherwise but it doesn't change expectations.
I believe given 2 evenly matched basketball teams, the team he is coaching would win every single game.
He was that good of a coach!
Your final paragraph sums it up. He played on a National Champion, a Super Bowl Champion and was a first round draftee. Whose kid would not look up to his father if he had that to go along with being called Dad. Play as long as you feel you can contribute and then climb the next Everest my friend.
Face it. The Bengals injured Bo Jackson and the football gods have never let up on enforcing their wrath on the Bengals.
cincinnati "should" tear down the football stadium and use the riverfront property for something meaningful. I know it's too late ... but that statue to buffoonery (stadium) needs to go elsewhere. It's empty when I drive by it in summer and it's just as empty on fall Sunday afternoons. They still TV blackout home games in Cincy (not that I would watch anyway).
then, give the Bengal team away To anyone, anywhere
Cincinnati needs to focus on being a baseball and soccer city.

let Ohio State be it's football team
A Catholic leading the Convicts. Priceless.

Mea Maxima Culpa. I'll show myself out....
Here's my beef with his "calling" games.

shut up every once and a while, dude. He talks when he should shut his pie hole. This guy just cannot handle silence. He will say literal gibberish and just ramble ridiculous stats or knowledge until the next snap.

I think of Capt Ramsey (Hackman) to his XO (Washington) in Crimson Tide. "Bravo Hunter. You knew to shut up and enjoy the view". I do not feel I will ever say "bravo, Herbstreit". He always ruins the view for me.
But you can't win. So like Carlin said about golf, pick up your damn ball and go home.
Chances of winning if One plays vs. does not play.

play: 0.0000000003
not play: 0.0000000000
If you do not play, you will have more money than if you play. Typically.
Painful to hear, but some of these are valid points...but
"A good (defender) is always compelled to evaluate what has happened, so he can apply what he has learned. (On the football field) we have to push it, that's our job". "Your options are simple ... You can (Return) ... or you can quit. That (game) was hell, it would have shook me up"
Go Buckeyes!
with 20/20 vision: was Jalin going what I deemed "early", was this a good thing for him vs. how it may have gone if he stayed his time in school? I am not in favor of going early, but I am in the minority.
For those of you in the majority who say to go and "get paid": How did his financial situation turn out? I am not committed to looking up the numbers at this time.
Thanks and Go Buckeyes.
1. Give me gray sleeves. Now, I am happy.
If I get nothing else, that is OK ... but
- Bigger black stripe on the pants.
- Bigger numbers (sleeves and shoulders).
- Lose the Nike emblem on the shirts. If unable to lose it, then make it the Nike the same color as the jersey. You work for us, Nike. Can somebody, anybody have the balls to tell NIKE how it works or are we really "Cap in Hand" to them?
- Lose B1G patch on the shirts. Lose the B1G sticker on the front of the helmet. (It's on the field, that's enough. Plus, we are Ohio State. People know we are in the B1G. Now Illinois may need to be reminded)
- Black shoes (have to admit Penn St black shoes, and USCs black shoes with white laces are iconic and define the brand). Never preferred the white shoes. Why not wear yellow shoes or neon orange.
- Lose the Cooper OSU athletic logo, for all sports. Return to '68 and the Block O only.
- Return the diamonds to the end zones. Lose the Arial font that is not Ohio State (who got promoted for choosing this as a font of the Ohio State brand???)
- Do not need to go full up Oregon or FSU, but if we must put words in the end zones, on shirts, etc... determine and use a font that indicates it is Ohio State, and is recognized as Ohio State. Oregon and FSU have a font that is particularly its own. As an aside, this will give the unemployed trademark OSU lawyers something to go to court and work on.
It would appear most of my wants go back to a Woody Hayes era. I grew up with Bruce, suffered through Cooper and it seemed like Tressel had it working until he put Earle Bruce jerseys back on the players because...
Get off my lawn
I coached a kid's soccer team in Japan. My team was a mishmash of US military and local nationals but all the teams we played were Japanese (Okinawans)....
IN Okinawa, they do Ro-sham-bo (Rock Paper Scissors) between the two captains. It was hilarious to watch the kids on the team tell the captain, " you better go wit the rock because their captain looks like a scissor kid". It was a riot and made for a fun experience for all involved.
In conclusion, I think as Americans we could do better than a ridiculous coin flop that takes too much effort in deterring wha the coin logos are and having a horrible flip by "whoever". Just use a quarter and be done with it. I thought the XFL fumble drill was pretty good if I remember it correctly.
It's only half,,,,,Joe Burrow said "hold my beer.... I think I can put a C note on this millionaire's D."