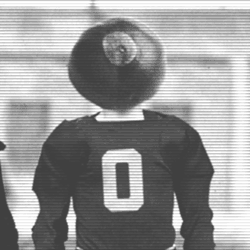 Iwannagobacktoohiostate
---
MEMBER SINCE April 19, 2012
Recent Activity
A Catholic leading the Convicts. Priceless.

Mea Maxima Culpa. I'll show myself out....
Here's my beef with his "calling" games.

shut up every once and a while, dude. He talks when he should shut his pie hole. This guy just cannot handle silence. He will say literal gibberish and just ramble ridiculous stats or knowledge until the next snap.

I think of Capt Ramsey (Hackman) to his XO (Washington) in Crimson Tide. "Bravo Hunter. You knew to shut up and enjoy the view". I do not feel I will ever say "bravo, Herbstreit". He always ruins the view for me.
But you can't win. So like Carlin said about golf, pick up your damn ball and go home.
Chances of winning if One plays vs. does not play.

play: 0.0000000003
not play: 0.0000000000
If you do not play, you will have more money than if you play. Typically.
Painful to hear, but some of these are valid points...but
"A good (defender) is always compelled to evaluate what has happened, so he can apply what he has learned. (On the football field) we have to push it, that's our job". "Your options are simple ... You can (Return) ... or you can quit. That (game) was hell, it would have shook me up"
Go Buckeyes!
with 20/20 vision: was Jalin going what I deemed "early", was this a good thing for him vs. how it may have gone if he stayed his time in school? I am not in favor of going early, but I am in the minority.
For those of you in the majority who say to go and "get paid": How did his financial situation turn out? I am not committed to looking up the numbers at this time.
Thanks and Go Buckeyes.
1. Give me gray sleeves. Now, I am happy.
If I get nothing else, that is OK ... but
- Bigger black stripe on the pants.
- Bigger numbers (sleeves and shoulders).
- Lose the Nike emblem on the shirts. If unable to lose it, then make it the Nike the same color as the jersey. You work for us, Nike. Can somebody, anybody have the balls to tell NIKE how it works or are we really "Cap in Hand" to them?
- Lose B1G patch on the shirts. Lose the B1G sticker on the front of the helmet. (It's on the field, that's enough. Plus, we are Ohio State. People know we are in the B1G. Now Illinois may need to be reminded)
- Black shoes (have to admit Penn St black shoes, and USCs black shoes with white laces are iconic and define the brand). Never preferred the white shoes. Why not wear yellow shoes or neon orange.
- Lose the Cooper OSU athletic logo, for all sports. Return to '68 and the Block O only.
- Return the diamonds to the end zones. Lose the Arial font that is not Ohio State (who got promoted for choosing this as a font of the Ohio State brand???)
- Do not need to go full up Oregon or FSU, but if we must put words in the end zones, on shirts, etc... determine and use a font that indicates it is Ohio State, and is recognized as Ohio State. Oregon and FSU have a font that is particularly its own. As an aside, this will give the unemployed trademark OSU lawyers something to go to court and work on.
It would appear most of my wants go back to a Woody Hayes era. I grew up with Bruce, suffered through Cooper and it seemed like Tressel had it working until he put Earle Bruce jerseys back on the players because...
Get off my lawn
I coached a kid's soccer team in Japan. My team was a mishmash of US military and local nationals but all the teams we played were Japanese (Okinawans)....
IN Okinawa, they do Ro-sham-bo (Rock Paper Scissors) between the two captains. It was hilarious to watch the kids on the team tell the captain, " you better go wit the rock because their captain looks like a scissor kid". It was a riot and made for a fun experience for all involved.
In conclusion, I think as Americans we could do better than a ridiculous coin flop that takes too much effort in deterring wha the coin logos are and having a horrible flip by "whoever". Just use a quarter and be done with it. I thought the XFL fumble drill was pretty good if I remember it correctly.
It's only half,,,,,Joe Burrow said "hold my beer.... I think I can put a C note on this millionaire's D."
Perry commented in his "Perry on Point" earlier this season that the team primarily practices on its grass fields in Ohio.
Never a fan of a journalist who has to be first to the scene say words like "expected" "looks like".

either make an announcement or STFU! Journalists have been making a mockery of the first amendment for years. State the truth or your bias, but you cannot hide behind "my right" to say it unless it is a fact/truth. I have right to kick your ass if you make up a story to fit your bias.
Mea culpa.
I only saw the newer logo (with rounded corners).
time to start writing some New Years resolutions.
I am not a lawyer (thank God), but I do not see anything wrong with the Overtime logo. Clean your room before trying to dirty up something so silly.
Now, since we've raised the subject, "Lose the 'Cooper' Block O with the letters going through the Block O pronto". It is just silly. I always purchase traditional Ohio State gear, never the "Cooper" stuff.
Just give me a simple Block O that's on the 50. Even Ohio Stadium won't permit the "Cooper" Block O on its turf!!!
P.S. Lose the "Earle Bruce" Wisconsin jerseys too. Bring back the gray sleeves.
P.P.S. Get off my lawn.
Christmas in the Seventies. I was in 3rd grade. Got a scarlet and gray scarf ( 3 inches scarlet , then gray, etc) and OSU mittens (red mittens with a gray band with red "OSU" embroidered) They were both made of wool and I walked to school on some cold and windy mornings so they were both awesome! Thanks mom and dad...
A330 is a nice piece of equipment for a transcontinental flight.
Get Danielson off of the Army Navy game too! The best game in sport and they continue to ruin it year after year. Just stay in your lane. You can't go with hyperbole of the SEC one day and then try to hyperbole a service academy. WE SEE RIGHT THROUGH IT.
As a retired airman, I am sooooo tired of being patronized by them for one day. Just say THANK YOU and be done with it. If you treat our military with courtesy and respect everyday then you don't have to overdo it during the one game every year.
in typical closing ... get off my lawn.
I met Vilma twice at the airport. I mentioned to him it was great that he was a national champion (my father was also a National champion so it's always good to congratulate athletes on an accomplishment). He asked where I went to school. I told him FSU. He said " oh man, why are we talking to one another". Then he asked about my father. I told him Ohio State. He said "hell nah". He still felt the sting of 2002 I suppose. He was a good sport overall.

I do think he calls it about as straight as one can at ESPN. Just wanted to send a personal story for 11W's.
Point is half correct. Vocational schools support a business.

how does getting a degree or going to college prepare you for the NFL?
let the NFL start a semi pro league for 18-21 year olds who want to cash in on their likeness and compete against universities.

it's simple: want to make money and play in an empty stadium with no fans, go NFL semi pro. Want a degree and play for Ohio State, go college.
Very nice. Upvote for you. Fat guys with facial hair should probably stick to being creepy and continue to look like a Penn State fan and wear a football jersey.

Thin guys with knowledge on how to properly use a razor can and should continue to wear a polo or golf shirt.

glad we cleared that one up Whew
Here here. Well said, my friend. Big upvote on its way.
IF you want to make money, play in the NFL, XFL, or semi pro. Profit on your likeness to your heart's desire. The blame is on the NFL, not college. Facebook and Google do not have a silly rule that you have to go to college for one year before starting a company. The blame is on the NFL here.
If you want to go to a university and represent your school, then go to college. I have never seen Ohio Stadium as empty as nearly every NFL stadium.
A 6 year athlete will graduate with at least 2 degrees and debt free. Not too bad. Let the big names "skip" college" and it will still be a sold out Ohio Stadium.
Finally. Nike/UA appear to own the jerseys, the universities own the colors. I may buy a #1 jersey that is scarlet and gray, but I doubt I would buy a white t-shirt that says FIELDS or YOUNG on the back. That would just be silly.
Gentlemen walking through the airport wearing an authentic football jersey are plain creepy. They do not play. Just wear a nice Ohio State polo or t-shirt for crying out loud.
P.S. now get off my lawn.
Gray (sic) sleeves. About time. Please lose the Earle Bruce uniforms. Wisconsin said they would gladly take the extra ones.
I still liked the thicker black stripes on the pants, but I will take the gray sleeves and call it a victory.
The Bengals were the team that injured Bo Jackson.
If their penance t's anything like the curse put on the BOSOX, then it will be the year 2085 before they are a viable squad again.
God is a fair guy.