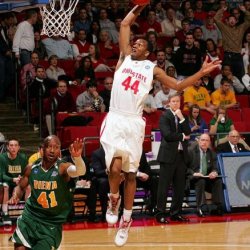 ItzMillertime01
Columbus (via Toledo)
Member since 15 December 2013 | Blog
I like 3 things almost everyone does - sports (especially basketball), music (I play bass guitar), and beer (craft, obviously). I'm the author of Floor X Sports blog, a blog devoted to Ohio State basketball.
I graduated from The Ohio State University in Spring 2014 with a degree in marketing and an English minor. I love basketball, watch every OSU basketball game, and was a season ticket holder for the 2014 season. I've been playing basketball my whole life and read about and watch basketball an unhealthy amount.
Favorites
SPORTS MOMENT: Making the game winning shot in a CYO high school game. Yeah... I'm a baller.
COLLEGE FOOTBALL PLAYER: Jack Mewhort
COLLEGE BASKETBALL PLAYER: Marc Loving
NFL TEAM: Titans
NHL TEAM: CBJ
NBA TEAM: Cavs
MLB TEAM: Reds
SOCCER TEAM: Crew
Recent Activity
Not the only one but this dude should get credit for doing his homework.
What exactly would Loving have to do to not be considered a "failure" for you? Take every shot in the last 5 minutes? Is "taking over" just isolation, hero ball or am I missing something?
IBUCK the hero of reason! Thank you! What are all the Loving haters expecting? Him to suddenly be the 2nd coming of Adam Morrison? If you traded Denzel Valentine for Marc Loving, does either team get significantly worse or better? I doubt it.
This is the only intelligent comment on the thread
I hope so. The tools are there. If he makes another jump like he did from last year to this year, I think he could get some lottery buzz.
I'll take the larger sample size of the pre-suspension Marc.
I've watched Loving for 6 years. I agree that he lacks the foot speed to stay with quicker guys, but I'm not sure that's something you can dramatically improve. I'm not a personal trainer, but that seems to be something you're mostly born with. Same with jumping ability.
As for the weight room criticism, he was 120 pounds soaking wet as a 6'7 freshman in high school. He definitely gained mass when he came to OSU.
He's an average defender for a college player, but an elite shooter. I think he'll be better than people are predicting this year.
He also had a block in the post and an and-1 put back. He was lock down on defense in the 1st half aside from 2 mental errors - not lapses in hustle. He was aggressive on the boards in the first half as well. I think the majority of missed rebounds were later in the 2nd half - maybe conditioning, but I'm hoping it's because it was a scrimmage.
I agree he needs to be more diligent boxing out - so does everyone else. We've sucked at it the last several years (except for Tate). Marc consistently boxed out more than anyone else his freshman year so he's capable. I think he'll show more aggression on the boards this year.
Granted, there was one play the ball was on the floor and he didn't even really try to grab it and he just kicked it out of bounds. Plays like that are frustrating and show a lack of passion or hustle. I just think a lot of the negativity Marc gets is based on his perceived body language. If we can attribute it to an actual lack in production then it's absolutely a fair criticism.
I know it's only an exhibition game, but it will undoubtedly be Lyle.
I would like to see Harris get aggressive on offense - at least against the bad teams. I think that's where most of his value is.
I very much agree with @Mh277907
Damn! Calling this shot early! I like the confidence. I'll give him some time to develop before I say he's NBA ready, but he certainly has some of the necessary tools.
Maybe I'm setting too much in store from one scrimmage, but I saw a lot more than a guy dominating a weak opponent. I saw a diverse set of skills that will translate well against real opponents. KBD will consistently be able to score.
As for Loving, I think I just trust him more than you do. I'm biased, though. We went to the same high school and college. I think he'll have a very good season.
I'm not too worried about getting trapped because I think there's just enough passing, playmaking and shooting with that lineup, but I guess we'll just have to wait and see.
Arms as long as his make it a lot easier to guard guys that are quicker.
Exactly. I think they'll be fine guarding the perimeter though. A lot of Walsh's 3s were mental mistakes (mainly by the freshman) and KBD is a freak who can guard any perimeter player.
I guarantee this lineup WILL happen and will probably log the most minutes. Why do we need a traditional 2 guard? This lineup has the flexibility to guard almost any opposing lineup and gives us enough playmaking to score consistently.
How many role players are the primary scoring options on their team? How are you able to assess how hard Marc is playing? Are all leaders vocal? Marc played great so I guess I'm confused by the criticism.
Can we just accept this is who Marc is and stop calling it "lazy"? He doesn't have a lively personality, sure. But that doesn't mean he can't be a great player. How can we assume he would be better if he started being someone he's not?
Sounds like Tate will start for Kam when the games matter. I was pretty close with my predicted lineup but I definitely underestimated KBD. Looks like he's ready for a break out year.
Ineligible for now but Matta is hopeful he will return http://www.elevenwarriors.com/ohio-state-basketball/2015/11/62755/ohio-state-coach-thad-matta-hopeful-freshman-forward-mickey-mitchell-will-return-this
Byron Scott is not good at his job http://www.latimes.com/sports/lakers/lakersnow/la-sp-ln-scott-to-russell-play-better-or-get-less-playing-time-20151106-story.html