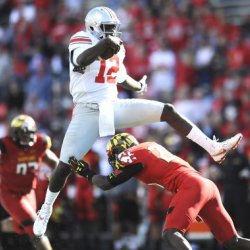 ITWASME
---
MEMBER SINCE September 04, 2013
Favorites
SPORTS MOMENT: Braxton throwing the td to win the game against wisconsin about 30 minutes before my birthday
COLLEGE FOOTBALL PLAYER: Braxton Miller
COLLEGE BASKETBALL PLAYER: Aaron Craft
NFL TEAM: Browns
NBA TEAM: Cavs
MLB TEAM: Red Sox
Recent Activity
What in the world. Literally the last thing I expected to see today
This is great news. You can't teach size and if we don't pick up a grad transfer I could see him picking up a little bit of playing time to spell Kaleb or against larger teams to help match up
Pretty much every player that has a remote shot at the league who is going into their 3rd or so year DOES declare. Its been this way since they made the rule. Trevor Thompson is a perfect example of this. He played considerably better after getting his feedback too so it has its merits.
TIL that people on this site really don't pay attention to CBB. You can enter the draft process to get feedback and come back as long as you don't hire an agent
I mean maybe he just needed to grow up. Obviously he likes OSU he wouldn't have committed here otherwise
They need to show some discretion with the reviews. If not, this just lengthened the game by at least 30 minutes especially with a pass happy league like we have.
Good year Buckeyes. On our way to better things in the future just not there yet
I mean we shot like 50% which is phenomenal. TOs are what killed us and Houston being good not shot selection
Slowly getting there. Screwed by an entire recruiting class leaving
What are these fouls?
Not a foul ref c'mon
I think that Iowa State win gave us confidence. Shots stopped falling as soon as we lost our confidence. Pulling out a win against a good team has changed this team.
One game away from the sweet 16. Anything can happen in March!
Jesus what we have to do to get a foul
Jallow has blocked 2 shots off of his turnovers but I'd prefer he just had the blocks and no turnovers
We are playing with them pretty damn well so far. Don't fall asleep out there and we can win for sure
How dis this team win the ACC regular season? Seriously how do these 16 seeds teams know exactly how to beat them yet the entire ACC does not? Because they seem to know exactly their weakness
Good win today. Crazy fight by IU at the end. Get ready for MSU
Wtf steph curry out here
If Green shoots normally this isn't a game
The dude literally said oh no. You could just hear the disappointment
Ain't much you can do when they all of a sudden start hitting 3s and the zebras won't even call an elbow to the face
Wtf is that shit. Just hit the guy in the face and you'll get the ball
Andre has gotta be tired of going straight up and being called for fouls as the other guy just falls over
When one pulls their head out of their ass the friction involved normally removes a lot