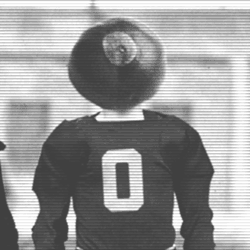 ItsMichiganFerGodSakes
---
Member since 05 March 2012 | Blog
Recent Activity
Alphabetical order may be problem for a long time then for osu.
I think that is what it is. I find it hard to believe this all a coincidence that some of these guys had future commitment dats and now there are 3-4* and 2-5* who all lead on the crystal ball to Michigan decide to announce over the next 6 days. Unless these players got to together for the ultimate troll job haha.
John O'Korn is the backup.
@Cincy Thorpe - He has a broken collar bone and is out the rest of the regular season. Do you and your wife have any more insight that you can share with everyone?
I would say Michigan is similar to OSU in this regard. Was talking with a buckeye fan said for both teams it would be Penn State/Wisconsin atmosphere then for Michigan it would be OSU as #3 and for the buckeyes Michigan would be #3 as well.
Hard saying because sometimes both places can ramp up the atmosphere but don't totally disagree with above comment.
Agree, it's been a big hit!!
Michigan's backup O'Korn entered after the second series in the 3rd quarter. After that series, O'Korn and Shane Morris alternated until the end of the game.
They should try and get a first down first.
In fairness, Colorado did get outscored 38-7 in the remaining three quarters.
Not that it matters much but OSU was 2nd in sales in college gear sold, only behind Alabama. ¯\_(ツ)_/¯
http://www.saturdaydownsouth.com/sec-football/12-sec-teams-appear-walmart-top-25-merchandise-rankings/
I'm going on a limb here but I think he is pointing out that if you search hard enough, you can find a picture that will work against every player where they don't look as good you would want them. Just a hunch.
I thought Don Brown did a bad job when it came to schemes on how we had players lined up. Good article where it pointed out numerous times where it just didn't make any sense. I'm not sure if there was a reasoning behind this but if they decided to do this against OSU they will get destroyed, especially from the slot position. Which is also why I think it made Peppers and McCray look bad because they were not put in the right position pre snap.
He has had 2 carries on offense all season, that came last game.
Confused, he is already projected for that by Kiper?
21 tackles, 0 missed this season.
I think Fournette deserves a little credit, that offense is an absolute abortion without him. He had 178 of the 254 total yards for LSU. Les's days are numbered.
8 tackles, 28 punt return yards.
For what it's worth, just heard Harris's mother is coming on the visit as well.
Any insight on why you CB'd Harris to Michigan today? Have a post that has over 90 comments on your prediction haha.
Very interested in hearing Andrew's opinion on the CB. From most other recruiting analyst, Harris doesn't speak to them and it all goes through his assistant coach. Who they mention even he isn't speaking a lot on the recruitment right now. Michigan recruiter Steve Lorenz said he has been sitting on the visit info for a month now with Michigan not wanting the word to get out that he is visiting.
Also Butch Jones tweeted last night if Bert and Dantonio minded if he joins them from lunch.
Harbaugh responds today with with tweeting out, "Suggestion to my Rocky Top colleague, rather than lunch in Florida you might spend your time and focus attending to your present team."
No, last March Bleacher Report was saying which 3 headed QB monster will take the Heisman. Have to love the offseason.
In other Harbaugh news, ESPN tweeted a pic of Harbaugh in a Tigers uniform as he is the first base coach (1 inning) today.
Bars off to law school and Jones is a grad transfer.
They could easily work on their conditioning technique and see an increase in any of the scenarios you're talking about. It is absolutely mind blowing you won't even acknowledge that technique could factor in for a better 40 or even a higher number in bench press results.