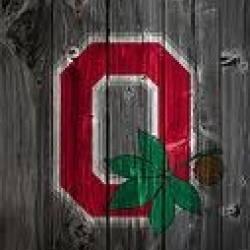 ISURVIVEDCOOPER
---
Member since 25 November 2013 | Blog
Favorites
SPORTS MOMENT: Witnessing Eddie George in 1995 rushing all over a Simeon Rice-led Illinois defense to the tune of 314 yards, 3 TDs, and even catching one... Orlando Pace didn't look too shabby either... it was a wet cold evening, and all the ponchos were out, but will never forget his milestone. He was a man among boys.
COLLEGE FOOTBALL PLAYER: Formerly Eddie George. Braxton Miller as of 7/23/15
COLLEGE BASKETBALL PLAYER: Len Bias
NFL TEAM: Cleveland Browns
NHL TEAM: NY Rangers
NBA TEAM: NY Knicks
MLB TEAM: Detroit Tigers
SOCCER TEAM: Barcelona
Recent Activity
Thanks Hov - you are a true gentleman.
I clearly missed something this summer... What happened to Shoemaker and Seger? No longer on staff?
So I wonder who missed 29 days of classes and had to have "the talk"
Imagination is the most powerful tool we humans possess. To leave it to others to video-paint it for us is a disservice to humanity in some respects, but boy oh boy is it ever fun to see highlight reel of art in motion, like Eddie George or Xbrax, or name your favorite human highlight reel. I say having both writing and video is an embarrassment of riches
Why are we writing comments as if it is shorthand or haiku challenge-like? I like it though...
I am also of the camp who credits DJ for his official royal title, but honestly, it just shows the greatness of the 11w staffers (or former staffers) who have made great contributions. Just like Johnny is to be credited for Carlos Hyde being called El Guapo.
Studrawa is under the microscope this year. No more excuses. Develop or develop your exit plan.
Is this inclusive of fine dining? The restaurants mentioned seem more like comfort food/good at homestyle stuff... Don't get wrong, ai enjoy those foods but food/restaurant has many subdivisions like football
My condolences to you and Dennis's circle of family and friends. May we all have as much life course through our veins as Dennis
Can't wait to see him have chances to light up the scoreboard... I am waiting to say "The master of your disaster!"
Fan-freaking-tastic Nate! Im pumped after hearing this. Let me go add some coffee to this high now. Whoooo!
I can respect what Harbaugh has accomplished as a coach despite the argument for his natural entertainment factor, but I think the 'only one worth a damn' for ttun is Bo thus far, and that is despite not winning any nattys
I really hope he stays out of the news from here on out. That hooker must of had put some bad mojo on him that sticks for awhile
I hope his wanting to transfer had nothing to do with academics or not being coachable. We might not like Auburn or its staff, but I trust our staff will do a thorough background check before using a scholarship. We don't need their playbook anyway
Hey Blu, it's not as if the Apocalypse hadn't already come back in the 90s. I feel great these years of my life thanks to winning.
I go to grab a beer and I come back to this
Did you invent this word (memeku)? If so, ai applaud you sir
Maybe one of his kids are considering going to school there but I like how his pose has been named already
Had to sign in just to say that my day got better with an Unky sighting
Better late than never, but boom diggity! We are spoiled but I say we don't stop this momentum. We are at Bama level so we just need to keep pushing it the right way.
I hope the best for him, but all of these issues surfaced after his father passed... Not a small thing to get over
There was a radio segment on NPR this past year on the growing rates of suicide. Although the internet can be blamed a a contributor to this increase, they went deeper to see what other factors may be fueling this not-quite-epidemic-yet trend. One of the biggest finds they had was that in the western culture, we champion individualism and independence, as it is also part of being unique, being original, not being a lemming, etc. However, it comes with consequences as our push to have children grow up to be so independent is strongly correlated with finding it harder to associate with others, feeling cursed with loneliness, and leading to a slippery slope toward suicide. They did not go as far to say that independence is the biggest or sole reason for suicide, but there was a strong trend/correlation toward this end. That said, of course there are high suicide rates in eastern cultures, too, but those tend to be more from external pressures due to herd-is-always-right vs western culture modernist mindset and philosophy. Interesting study and worth consideration, but for the short-term, it goes without saying that suicide is a choice but certainly not always the best one so CALL THE NUMBER AND GET HELP. It's ok to have people to depend on.
That is a lot of tasty donuts..
I thought Rittenberg was let go by ESPN... guess not
I don't know how we missed this but Kenny G is this week's winner for me: Check out @CoachGuiton's Tweet: https://twitter.com/CoachGuiton/status/862281992251092994?s=09