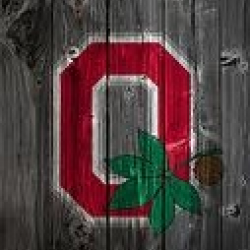 ISURVIVEDCOOPER
---
MEMBER SINCE November 25, 2013
Favorites
SPORTS MOMENT: Witnessing Eddie George in 1995 rushing all over a Simeon Rice-led Illinois defense to the tune of 314 yards, 3 TDs, and even catching one... Orlando Pace didn't look too shabby either... it was a wet cold evening, and all the ponchos were out, but will never forget his milestone. He was a man among boys.
COLLEGE FOOTBALL PLAYER: Formerly Eddie George. Braxton Miller as of 7/23/15
COLLEGE BASKETBALL PLAYER: Len Bias
NFL TEAM: Cleveland Browns
NHL TEAM: NY Rangers
NBA TEAM: NY Knicks
MLB TEAM: Detroit Tigers
SOCCER TEAM: Barcelona
Recent Activity
You, good sir, deserve a congressional medal of being a true and proud Buckeye!
My question to OP is what if one is a bonafide Troubadour whistling, and two, you could always carry around a pack of saltines and offer a contest to see them try after eating 10 or so to said Troubadour, record it for YouTube, and create content and get paid to love what you hate - make sure you send me a cut of your royalties.
I don't care where he's from because a culture is in place. He will have to earn it over the others much like JF
Thanks for the great coverage! I wish we had this for the hockey team, too
Killing bacteria is one thing (and good that they did), but this is a virus problem... I'm... Hopefully they spend money the smart way
Because some have shorted the market or played big puts on companies reporting earnings, so to screw them would be equally unfair/bad.
I find it odd that colleges are so quick to try to say they were the first to do xyz in response to the coronavirus as if it is some badge of honor rather than understand that safety and responsible leadership is more of what is needed. The IVYs were first to cancel sporting events anyway - NOT THAT IT REALLY MATTERS WHO IS FIRST
Mark my words He will be like the second coming of Marshon Lattimore in having a full season.
This is cleanly a tradition that should become like no other. Love it
It's weird to see our LBs all be similar height and weight. I had gotten so used to seeing Malik Harrison out there.
Proud of Tom Ryan and what he has built with the wrestlebucks. Congrats to this year's studs in repping tOSU so we'll! Now let's go get some NCAA titles!
Awesome, thnx!
I was following Andy on Twitter and asked for a team score/placement update. Anyone know where we stand in the rankings and projected finish?
YESSSSSSSSS!!!! GO PUCKEYES!!!
You don't have to be a millennial to prefer any offense other than JTs. Tresselball was infuriating at best and boring as all hell at worst. That said, can't argue against his record or the fact that he coached his boys to win and win often unless we were up against more progressive offensive teams
I think Cooper has a great year, and I can only hope that Zach Harrison continues on his trajectory and causes Chase Young-comparisons to occur frequently
This is such an informative and great article by Kyle. I love that my football education is getting better with this knowledge drop. Thanks KJ
I can't seem to reconcile why the hell everyone is looking for TEs in our offense to be used like other schools we beat regularly. What is your infatuation with having a star TE when we have too many other options who aren't seeing the ball (ie elite WRs) as much either at times? I find it tired that we keep playing up how we don't use TEs. We use them when they are needed. If the butthurt is because the coaches say to the media that they have plans for the TEs to be used more, but we don't see it, then we should all know by now that our offense has always been predicated more on giving elite ath like WRs the ball in space than TEs. We don't have a Gronk who is more athletic/talented than the WRs. Snarky write-ups about TEs not being used at tOSU need to be level set with what other offense you think we should run where the TE us used enough to satisfy your takes. How many touches a game are you suggesting? What if your number of touches doesn't produce results you are expecting? What if we lose on a wide open TE in the endzone who drops it for a game winner. Then it's the TEs fault? Would you be willing to shoulder blame with that TE for calling for more TE use? /rant on our fanbase and media coverage about TEs at OSU.
Coronavirus does not survive well in warm-hot climates so not sure closing southern borders does much.
Shaun Wade will be like Lattimore 2.0 this coming season. Book it. WRs can't out-physical him and he is fast enough to stay with them so I am praying he just stays healthy and we will see a big season from him. They will throw towards him and Brown because they haven't seen their work on the outside so I see a hella lots of INTs this coming season
Such terrible news - our condolences to the Bell family. RIP Volante
He has to be a strong candidate for the Darwin Awards this year
Go get it young Bucks!
I foresee a lot more creativity with JF getting a 2nd year as QB1 and WRs who can all take it to the house on every play. The question will be how much we will be able to rely on our RBs
I thought Lee's longer frame was the challenge for Luke because he couldn't get Lee's ankles or legs as quickly as he did against other opponents all season and that spelled doom after Lee was basically a spider net over him riding the bonus time. Luke wasn't as aggressive after that because he just couldn't close the gap like he wanted to do