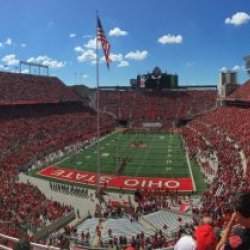 IsJoeFlaccoElite
---
MEMBER SINCE June 27, 2017
Recent Activity
But the thing is, Kenny G wouldn't hang around at OSU in today's transfer portal world of college football.
Part of me tells myself I may be too obsessed with OSU football if I'm looking at the snap counts from the spring game.
Oh well....
It was not a great spring game. I've seen them all for the past ten years and this was probably the least watchable because of how bad the quarterbacks were.
But we had already seen Haskins beat Michigan.
We haven't seen anything from Fields besides mop up duty for Georgia last year.
Where's your dedication?
:)
I know it's only April, but here is my overreaction.
Fields looked way to similar to JT Barrett for me to be super exited about this team.
Okay you can crucify me now.
Solid … not great … For a routine that's against no defense and likely been practiced dozens of times over the past week or so.
I remember the Virginia Tech game that OSU lost, it's like they were trying to make it Corey Smith's coming-out party or something. Throwing ball after ball to him (as if he had been looking like Jerry Rice in practice) - resulting in so many incompletions.
If only that team had another good wide receiver on it that we could have thrown too …. (Michael Thomas / Devin Smith).
Right? Kind of loses it's credibility with mistakes like that.
Are we still going to laugh at Michigan for signing 3 stars or is this a new era?
I'm honestly ready for Victor to sit the bench so we can start developing some of the younger guys who will be getting significant reps next year.
Only play Victor if you absolutely have to.
I'm curious who downvotes comments like this...
But then he went and dropped a deep ball that hit him right in the hands in the deep ball drill.
He did catch all 7 passes in the crossing route drill.
I didn't see any of Kyler Murray's responses, but judging by how bad he blew the Dan Patrick interview last week, I'm guessing Haskins is head and shoulders better than him in this department.
I bet he had on 3 pairs of those really thick wool winter socks.
I did a double-take in the gym the other day when I saw someone wearing a Rutgers hoodie.
First person I've ever seen wearing Rutgers gear.
Option 1 .. with Alabi at RT
Curious why Alabi isn't a contender for Guard.
Bowen is better fit to play OT and Alabi could probably play either.
If we don't end up getting Jonah Jackson, and have to go with Bowen and Alabi, I feel like they would be better if we switched Alabi inside to Guard and Bowen out to Tackle .. with Bowen being 6'8 and Alabi 6'5 .. I feel like Alabi is better suited to play inside than Bowen.
I'll take Alabi over Bowen.
You could say we have one returning starter, but you could also say we have three.
I can go without the constant Chase Young hype being in my face 24/7 like it was last off-season.