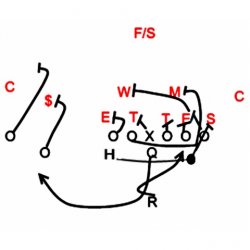 I_Run_The_Dave
---
MEMBER SINCE October 20, 2012
Favorites
COLLEGE FOOTBALL PLAYER: JT Barrett and Happy Jamarco
NFL TEAM: I care about Buckeyes in the NFL, not NFL teams.
Recent Activity
Biakaba.... not gonna work here anymore, anyways.
Still too soon.
I don't think he's the first buckeye this year to get their first NFL INT against Brady. I recall someone else a few weeks ago... but not sure
"Well, actually..."
All teams are automatically bowl eligible this year regardless of record. So, there is a bowl game to lose!
Thing is, there were also a lot of balls batted down at the line, so it's possible that the counters we had for that were being rendered ineffective by the defensive line's pressure. Still, we should have done something different
There's a degree to which, had we given up even 2 yards per rush with the occasional chunk run, that maybe Indiana throws less often and we see their total yards go down, and even maybe they score less in the second half.
In any case, we weren't stopping their pass game in the second half, and kudos for Penix for getting the ball out quickly and accurately with people in his face constantly all day. He balled out and will likely never duplicate that performance. It isn't like we didn't pressure him and it isn't like he wasn't backpedalling as he throw 90% of his passes. He just hit his targets and they made a few pretty good catches. There were only maybe 3 times our coverage broke down completely and they capitalized on those. The rest they just made plays.
Despite our 607 yards of balanced offense, I still think our pass pro is a liability, and we need to identify the "suicide blitz" and counter it. Which I think Ryan Day will in the future after the film review. There was one time I noticed we hadn't run any screens and I predicted the 1 time we actually ran one on a third down in our own side of the field and it went for like 15 yards. Not sure why we didn't keep doing that.
He isn't a finalist, he's on a watch list. Because he beat Ok St or something? IDK
One of those entities is a for-profit organization that has no qualms about it's goal - to make as much money as it can from student athletes.
The other entity is a research consortium that happens to control football teams (and other sports). The interesting thing that I hadn't considered much until I began writing this comment was that the Big Ten probably loses more research dollars from a Covid outbreak than TV revenue from a game cancellation. But athletics is the most likely thing to trigger an outbreak from their point of view, so in a way, athletics are an obstacle to them keeping their research arms open and profiting. That is probably why they were so quick to cancel until the media and public opinion backlash became overwhelming.
Since the championship game is in 2021, they're just trying to prevent the jinx of 2020 from bleeding into next year, that's why they don't want to delay it.
Probably.
If the tutor had also wrote history papers for a non-athlete then it would have been fine. That's how UNC got off -- they had the sense to offer the fake classes to all students!
The key to any economic plan is relying on humans to not be corrupt. Capitalism, at least, tries to use competition to pit the corruption against itself for everyone's benefit. But this is also why we need antitrust laws.
Trickle down economics can work, but again, relies on CEOs/Boards of Trustees to not abuse it. But startup funds are not economic stimulus and really has nothing to do with trickle down economics. The CEO in this case has committed fraud and can be prosecuted in both criminal and civil court over it. A failure of trickle down economics would be the company receiving a $2MM tax benefit or stimulus payment and the board paying $500k of that to the CEO in bonuses. That's not what happened.
I feel like putting Covid and TTUN on the same playing field is a disservice. Covid is actually a serious threat.
Side note: TTUN and PSU were the most vocal against having CFB this year due to Covid. I find it ironic that they are collectively 1-5 so far. Apparently they were hedging their bets against having a season and didn't prepare during August/September for the possibility. Seems that teams that kept hope alive are doing substantially better. Preparation matters.
Why wouldn't ESPN be willing to give CBS and FOX half a million dollars each?
I can't wait to see JT Barrett VIII slinging it all over the field as we celebrate the 109th consecutive win against Ann Arbor virtual academy.
There would, actually, because CBS owns the broadcast rights to the SEC championship and the Big Ten is on FOX. Those will be by far the highest rated of the power 5 conferences (I guess the rematch of Clemson/Notre Dame might be decent). So that would be a massive hit for ESPN.
ESPN could pick up the Nebraska/PSU game for last place though (never thought those would be the schools this year!!!!!), bet that would be a ratings boom!
I hear there are NFL stadiums in Ohio that might be available during the playoffs in case CFP sites need to be moved ;)
Question is whether the ACC/SEC would be willing to come north just for the opportunity to play? COULD THIS BE THE YEAR?!?!?!?!
There have to be clauses in there for emergency situations. Like if North Korea decides to invade or shoot ICBMs across the sea, I don't think networks are going to be suing the CFP over not playing games. So there are going to be provisions in there.
But let's look at the colleges and universities here. The combined loss of revenue on top of increased costs of testing/PPE/etc due to COVID vastly dwarfs the revenue loss of the CFP moving. Yeah, ESPN is also already feeling that because it's had fewer games to broadcast, but at the same time the ratings for those broadcasts are probably higher than normal because there's less to watch and people were hungry. There's a degree to which the Big Ten and Pac XII delay has improved their financial position.
But I digress -- if everyone else is hurting from this, ESPN can share some of that. We'll all get through this, so let's set aside our profit driven motives for a time until we do.
I'm more concerned about tie-breaker rules if we are starting to avoid games against divisional foes. What if we are 6-0 and a team in our division is also 6-0 but didn't play us (and another game) due to covid. The tie-breaker would resort to a coin-flip for the CCG (unless we can somehow use playoff rankings) to decide who the representative is. Granted, this scenario is limited to Indiana at this point, but it could also happen in the West due to Wisconsin cancelling 2 games and Purdue being one of those opponents and also being undefeated.
This could also happen with 1-loss teams that didn't play each other, but in that case, the team that played more games would have a better win % and would get the nod.
Definitely an interesting year. Let's hope we get to play Indiana next week and run the table.
A team has 85 scholarship athletes. Decimate means to reduce by 10%. So 8 of those being positive COVID tests is exactly the definition of decimated.
The reason you don't play is because of contact tracing. How many are required to quarantine due to contact tracing for those 8? Easily 15-20 people if not more, including staff members also.
It is entirely possible that entire position groups are in quarantine with easily 20% or more of the starters or 2 deep roster. Cancelling is the right move, it just comes at a convenient time for them.
A 1-0 team vs. a 1-2 team is a marquee matchup? Lol-(verines)
If the pass had not been forward, it wouldn't have been caught with momentum down the field as it was, so we likely blow it up rather than the big return. There's a reason forward passes are illegal on a kick return.
The Big Ten announced that they would allow up to 70 decibels. If they were measuring it at field level and it was significatnly higher, then yes, the conference needs to do something about it. Also, decibels are an exponential scale. So 80 decibels is "twice as loud" as 70. If it were at 110, that's 16 times louder than the allowed limit. Not acceptable.
Has nothing to do with the outcome of the game. Penn State has pumped in noise for years (if not decades) and needs to be brought to heel for it at some point. Now they don't have a crowd to mask it, so they deserve whatever they get.
"Clemsoning" used to be a thing. You know, when a team has high expectations but then loses a game for no reason and fails to meet expectations.
Can you think of a team that has consistently done that lately (until last season)? Hint: it isn't Clemson.
The descriptor is, unfortunately, accurate.
It's only too soon if Notre Dame makes the playoff this year.
Let's also make mention of this:
The total amount of benefits from "discounted tattoos" was roughly equivalent to the amount of cash OBJ handed out. We have it documented on national television.
Ohio State "lied" about the tattoos when initially asked, then admitted to it. LSU lied and said the cash was fake, then admitted it was real.
Joe Burrow, the highest profile recipient of cash, came from Ohio State and obviously brought a culture of shady practices with him, so it's definitely Urban Meyer's fault.
The only difference is that the players didn't give OBJ their rings/gold pants in exchange for the money. And OSU players didn't directly receive money, they just got discounts. Oh, and a booster stole money from a hospital but that's not as big of a deal since the booster isn't directly employed by LSU.
Based on all this, the O$U situation is obviously worse... but at least we can call them L$U now.