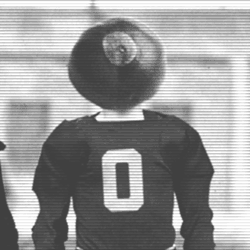 ironmanz99
---
from zanesville ohio
Member since 12 October 2012 | Blog
Favorites
COLLEGE FOOTBALL PLAYER: archie griffin
NFL TEAM: st. louis rams
NBA TEAM: boston celtics
Recent Activity
378 yds.
#ItackledArchieGriffin
Probably aggravated it during the last three games....from doing the " feed me more " motion. :)
Seriously hope for a speedy recovery.
Sorry just noticed I am 6 hours too late on this comment.
Brax is in a tough situation. He can't throw until the spring and nobody knows for sure how that will turn out. Another school cannot promise him a starting position when nobody know how his shoulder will hold up. Buckeye fans showed him a lot of love yesterday and that had to make him feel good. The three qbs seemed to be having a great time together on the stage and were all cheering and playing off of each other. I hope they all return next year and we find a way to get them all on the field. The days of Joe Bauserman are not that far behind us, let's enjoy our embarrassment of riches and bask in Buckeye glory. GO BUCKS!!!
Hope the fact that you spelled his name wrong in the heading isn't a bad omen. I believe Miller has two l's.
By far..this is the worst Buckeye Basketball team I have seen in the last twenty years. Can"t make a free throw , jump shot, or a three. No guts except for Craft. Amir is the softest big man I can recall....no energy...not even in the game to block a shot on the last possession. Glad we are out as it was hard to watch this team once the big 10 season began. Good luck to Craft..you deserved better teammates. Matta did the best he could with what he had this year.