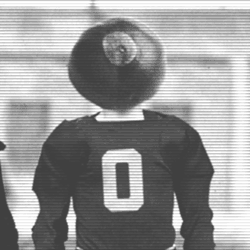 Ironballs
---
MEMBER SINCE December 06, 2017
Recent Activity
Even if all that happens....we cover the spread!
Ryan also picked Maryland to "easily cover the spread and maybe outright beat the Buckeyes"
Now our KICKER is in the Heisman convo!....
We will be fine. We are one of the few teams in the nation that can plug and play at almost every position. Chase is a beast and I hope he is back, but this team is different. This team will run the table.
My name is Ironballs and I approve this message.
1. Ohio State 2. Penn State 3. Minnesota 4. LSU
Comment removed for violating the site's commenting policy.
Just think how great we could be if we had a great running back....oh wait.....never mind. Or if we had some great defenders.....ooops...again, never mind. Or elite recei.........shoot.....never mind!
I am surprised so many people on here even entertain the thought that ttun might beat us. No. Way. In. Hell.
DOWN GOES FRAZIER...DOWN GOES FRAZIER!!
What would Clemsons record be in the Big 10?
NOBODY wants to play the Buckeyes.
Been to every Big 10 title since 2013 with the exception of 2016. It was glorious!
Ttun fan says $1.50
After watching Wisconsin get beat and now watching PSU and ttun play, it is apparent just how much better the Buckeyes are than all 3 of them.
One glaring omission: The coaching staff!!
Vivid seats= $93
1. Ohio State 2. Doesnt matter 3. Doesnt matter 4. Doesnt matter 5. Doesnt matter 6. Doesnt matter 7. Doesnt matter 8. Doesnt matter 9. Doesnt matter 10. Doesnt matter
Comment removed for violating the site's commenting policy.
I fell kind of bad for this guy. JUST KIDDING!!! I love the pain he is going through!!!!
Penn State gets one lucky win (at home) against us and all of a sudden they are a competitor? I dont think so.
Franklin pushing injured players to play and yet he is probably the "softest" coach in the Big10 himself!
I guarantee that THE Ohio State Buckeyes beat ttun this year. THERE...now we are both experts.
"If there was ever a year that Michigan is obviously going to beat Ohio State, it is THIS year" -Michigan "experts" 2014,2015,2016,2017,2018,2019
Day is allowed one loss this year. It just cant be to ttun.