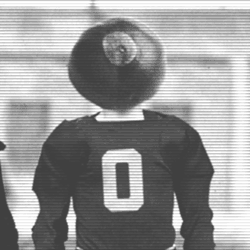 irishfury
---
MEMBER SINCE June 22, 2013
Favorites
SPORTS MOMENT: Detroit Pistons Championship, OSU 2002 National Champion Ship, Detroit Lions first win after going 0-16, (Big Ten Championship, Beating Bama, Beating The Ducks, Winning The First Ever National Champions Ship)
COLLEGE FOOTBALL PLAYER: Braxton Miller, Eze Elliot
COLLEGE BASKETBALL PLAYER: To Be Decided
NFL TEAM: Detroit Lions
NBA TEAM: Pistons
MLB TEAM: Reds
Recent Activity
This is the quality content I live for.
Its not my millions of dollars Im putting on the line so I have no right to say what is right or wrong for any player.
Just want to put 2 cents in as someone has been through it. If your making active changes in you life then it isn't luck. Spend an hour and watch this it is amazing. https://www.youtube.com/watch?v=RuRGzZAk7S4 is a program by Derron Brown (brillant mind) its about luck. It shows a guy who believes he lucky and a guy who doesnt think he is lucky. They would plant like 100 dollar bill on the ground and the guy who believe he was lucky found it and the guy who didn't would just walk right by it. Really showing you have to be open too opertunity and not just walk by it, there is alot more to it then that but just watch.
Second you have to love yourself first before you can ever be in a healthy relationship and be able to love someone else. When you find the right person with the same core values as you the relationship will work and be full of love. There our billions of woman out there. You cant tell people what they can or cannot do thats why you find someone that you share the same core values with. Just think of all the billions of things in this universe that had to happen for you to be here right now its amazing. Focus on yourself and what makes you happy and a better person and the rest will come. Also I dunno if you play any PC games but if you do hit me up and we can do some gaming.
Take it easy brother and Go BUCKS!
I quit smoking 2 years ago and over a year put on almost 40 pounds I was up to 223. I started Keto. Once I got into it I just felt alot healthier and was able to go from 223 down to 190 in 2 1/2 months. So seeing the quick results and feeling better kept me motivated.
I was really worried because Urban and Saban have been the best in the biz at recruiting I thought we would have a fall off. We pull Ransom and Bijan and it really is an amazing job done by Day and Staff. Just think of this WR recruit 1,2,3 where the biggest recruiters for WR recruit 4. Terry, Parris and Johnny set up the trend of the non diva leadership from the WR posistion and I think this year recruits look to do the same.
I recall people compared Gee Scott to Anquan Boldin and J.Flemming got compared to Micheal Thomas. Could you imagine those two on the same team wow. I still remember my Lions taking C.Rogers over Anquan.
this is the recruit I wanted most.
There is always alot of talk about 3 stars on this board. I know 4 and 5 stars pan out more but when we get a 3 star the first thing I look at is his offer sheet. If the guy has offers from the likes of Alabama, Clemson, Notre Dame, Oklohoma, Georgia, Florida State Penn State and LSU you know that 3 star is going to most likely be a good player.
I think Jaxon Smith-Njigba, J.Flemming and Gee Scott have an awesome bond already and really reminds me of the bond Terry Mclaurin, Parris Cambell and Johnie Dixon.
I remember the years before Tressel. I was a young kid then and never want to relive it.
This is a great post lol. But If Young was 6'3 he be hyped up so much more.
His speed is just fine. Wasn't it timed at 4.6? No doubt he can pull .1 .2 off that time over his college years people just silly.
I really believe Pantoni and Marotti the two best hold overs and assets from Urbans team.
We pull Bijan as someone who was worried will say he did about as good as anyone could do.
Barfolomew is completely out of line.
First anyone putting any faith into the spring game predicting Fields career is silly. For instance from https://www.dawgnation.com/football/georgia-spring-game-g-day-justin-fields-jake-fromm-2018
Georgia freshman QB Justin Fields outperforms Jake Fromm at G-Day
His final line was 19-of-38 passing for 200 yards. He finally connected with Riley Ridley on a 57-yard touchdown pass with 1:42 to play in the game. But just the fact that Fromm was still in the game that late speaks to the struggles.
Secondly you can tell who watched the game and who just looked at stats. Fields took the offense down the field for TD's like 3 drives in a row. About 4-5 balls dropped or thrown away. Fields was one of the most hyped recruits ever. Many people ranked him as the number 1 recruit and best recruit in years.
Also I don't get this nonsense talk about learning the playbook stuff. Here is notes from an espn article on fields in highschool.
You'll hear from Fields' teammates about how he'd devour a playbook and be able to cull a never-before-utilized play from memory and execute it flawlessly.
https://www.espn.com/college-football/story/_/id/24375053/true-freshmen-justin-fields-trevor-lawrence-compete-starting-qb-job
Just read these articles from after last years spring game.
Last year everyone thought Fields and Lawerence where the most sure thing to come from the qb world in a long long time. If anyone has a chance to watch qb1 with Fields its a great watch and makes me even more excited because Justin Fields is going to do special things here.
Cracks you up? College Football is a billion dollar industry. Having a top 5 class is how you win championships. Your on a college football website posting in a forum on the topic of recruiting that alone should tell you why there is list and why these kids have power. Also before signing on the dotted line its the last time these kids will have power over there career for atleast the next three years. And yes it is a career I would say 95% of the players going to schools like Alabama, Ohio State, Clemson our going to these schools because they want a career in football. These kids our giving the teams they go to the power to make millions and millions of dollars. So if a kid wants to check out as many schools as he wants and talk to recruiting sites and start building there brands before even stepping foot to a college team more power to them.
I don't think its attacking a kids char. I think one of the things that was special last year for us was Parris, J.Dixon and T.Mclauren was the leaders of the team. Even Urban said its really rare for a group of WR to be leaders for a team. I would much rather pin my hopes on a player who is known for once I commit to a Staff and a team I will be loyal to that choice vs a recruit who really loves playing the recruiting game. Over the years of following recruiting two type of players I've always liked to stay away from. 1 is the recruits that love playing the recruiting game and the other is the recruit who parent or family who is always in the recruiting news instead of the kid. More often then not this has been correct.
Why wouldn't he just rest and get healthy for the season? How long does it take to heal? I think J.Miller is going to be a stud and been a good leader for this class.
I think he has the talent to do it. People forget that Terry and Parris last year really put it all toghther for the first time on the field. I'm hopping Victor can make the same jump.
Bordering on libelous statements? What type of baby is this guy.
I feel alot like this myself. I think people dont understand how big Urban Meyer shoes will be to fill. I will never forget the Tressel years but Urban took us to a level I think quite a few fans got spoiled by. It always amazed me when I heard fans calling for his head. I never understood why Day was always picked as the next in line. Having Urban back him was a good step for me though. Also I didnt have faith we could keep recruiting the same talent with Day as Urban and Saban the best in the business at recruiting. Especially when we started with 3 star in state talent and I remember Day said all the important recruits where contacted after Urban left and Paris Johnson said nobody talked to him. But he proven me wrong Clark Phillips, J.Flemming and getting Lejond back in the fold if he finishes with adding players like Ransom, Bijan Robinson he will far surpass what I thought was possible for him (Paris Johnson and J.Flemming our rated in the top 5 recruit ratings ever). The 2021 class is off to about as good start as it could be. I think that WR and Qb want to play for Day. Our D-line and Secondary is stocked with elite talent. If he can prove his chops on the D side he could be special.
We have some great recruiters this class. With J.Miller/Legend and GEE
This is a big get. I love this kids game think he going to be special.
I just feel like he is the type of kid we stay away from. We take the prospects that our just as happy to block for there fellow WR on a TD. He just doesn't seem to be that player to me but hey I could be wrong.