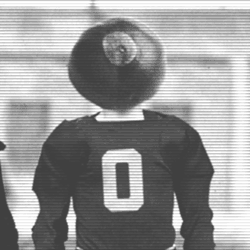 irishfury
---
MEMBER SINCE June 22, 2013
Favorites
SPORTS MOMENT: Detroit Pistons Championship, OSU 2002 National Champion Ship, Detroit Lions first win after going 0-16, (Big Ten Championship, Beating Bama, Beating The Ducks, Winning The First Ever National Champions Ship)
COLLEGE FOOTBALL PLAYER: Braxton Miller, Eze Elliot
COLLEGE BASKETBALL PLAYER: To Be Decided
NFL TEAM: Detroit Lions
NBA TEAM: Pistons
MLB TEAM: Reds
Recent Activity
Zues invokes the mercy rule. Osu wins.
TCU bailed on us shame on you for not educating yourself before spitting vile.
Yooooo this is top quality posting one of the best things I've seen in a long time lol.
One of my fav players ever at OSU. He was such a force on the field.
These type of tweets and PFF making graphs about you is why you come back to school. Wish Cris Carter would have picked up that phone for Jalan Marshall :(
Davon Hamilton has quietly been dominating and making himself a load of money.
I saw Chase Young wiff on a sack and make mistakes as well. This guys is silly if he thinks Arnette played a bad game. 3 break ups and pick 6 in game is amazing.
I came here just to post this. During our Natty run watching him was one of my fondest memories. I imagine he is on top of the world the evening.
Glad someone said it about Borland people pick the one play he wiffed on. We have given up something like 120 yards rushing on 98 attempts and want to harp on the MLB/Captain.
Things I think about this team.
Chase Young impressed me more that NIck Bosa. I also love his leader ship you can see how happy he is for the other young players thats a leader. Our young DE just loaded. Enjoy Harrison for 2 more years lol.
D.Hamilton and R.Lander just little recking balls.
D.Arnette just shows what coaching does. Sure makes me think one of the biggest losses for the coaching staff was coach Combs. People lined up to play for Combs think we got that with Hafley. Okunda is a top 10 pick. He is your created player in NFL video games.
P.Werner and Browning look like new players. I didnt think coach Davis was that bad but it appears I was wayyyyy wrong.
J.Proctor is going to be M.Hooker part 2 next year maybe end of this year. Guy just is around the ball and is going to be special.
The Oline. Im sooooo happy we have a center playing center. Myer knocked one player off the line for about 5 yards then proceeded to throw him another 5 yards. He is only going to get better as well. H.Miller is just as talented to got to get him on the field as a guard next year till he takes over for Myer. Jackson this guy has a nasty side to him I love it. I dont know if anyone saw him just giving to the other team after we ran it down there throat but I felt last year oline had no one nasty and this man just is. Munford is soooo underrated dude is just solid. W.Davis is going to be elite by end of year. Bowen done solid and glad to see him back. NFP still needs a bit more strength but will be a nfl player.
Love watching Dobbins not dance and just go. Dobbins was special as freshman from hitting holes and juking ankles. He got to cute trying to juke instead of using his vision hitting the whole then using talents. Teague runs angry I love it.
Someone on this board said it perfect. Hartline should send WR recruits B.Victors freshman tape and then this year tape. The guy hustle every play now. Made many comeback plays for Fields. Also his blocking has been great. Amazing the change. Olave guy is just smooth and I feel like he just scratching the surface. Fields also trust G.Wilson to go up and get the ball I like that.
Fields had the best accuracy % of first two games from PFF and this game was a little off but still amazing. The guy plays smart football. I love that he isn't risking his body and pocket passing. 0 interception in first 3 games isn't being talked about enough. Watching his career is going to be special. He has the it factor and lets keep havign Quincy send us Qbs :)
This team has that brother hood feeling that 2014 team had. On the pick 6 today the whole defensive team was around Arnette as a team that was a special moment.
I think it was smart of Indiana to keep the Penix out the game. So many time people lay it all on the line to beat us and end up getting there Penix broken for the rest of the year and then lay and egg.
Lastly First quarter game 1 and second quarter game 2 and 3. We could beat anyone playing like that. I really believe this team could crush any team playing 4 quarters at there best.
Yup someone said in the game thread that Hartline should send recruits Freshman Victor tape and this Victors tape lol. He been super impressive. My fav play is his comeback plays for the ball. He seems just so much smoother this year and also saw him blockin hard core for some running plays.
Nothing was wrong with Jk the first game. He was averaging 8 yards a carry over the first quarter. The team went up 28 points and the oline took the peddle of the medal and they just honed in on stopping JK.
Hafley address that. Arnette had his shoulder pads almost off was told he was done for day and a guy got injured and Hafely sentt him back in. Not to mention Arnette didnt get beat the guy just made a good play sometimes that happens.
Chase young flat out dominated both games this season.
Q. I think it was your second touchdown run, J.K. threw you a pretty good block. Do you see that happening?
Fields: I mean J.K. told me before the play 'just follow me.' So I followed him and we got in the end zone.
huh his ball awareness is next level he causes so many breakups by punching the ball out
Field plays alot more poised then going for his second start.
How about this...Before you can sell the house you must have 3 years of college. Then have to be in top 300 people in the world at maintaining the house but also you dont get to pick your house you get for 200k that house is assigned to you. Before you sell that house for $200,000 you must live in that house for 4 years and the house has an option for another year. And now after all that you have the right to sell that house. At anytime that house can replace you.
Anyone upset with players getting everything they can is just bitter that they our as athlectic as an apple.
Fields is special. Like the TE usage. I feel like Jk Dobbins forgot how to make cuts. The oline was dominant the first quarter. Also every time FAU scored the oline played pissed again.
Jashon Cornell is going to make the nfl if he plays this good all season. Harrison might kill someone on the field this year. Hafley has done wonders with Arnette all ready. Borland still slow. Werner looked better this year.
Lots of young players playing first time. This team can be great.
LOL I love it. Espn has articles asking is Fields really as good as he looked and the fan base is bashing his perfomance.
I too where another shade then rose. And I've scene a team down to its 3rd qb beat Wisconsin by 50+ and then take Alabama and Oregon to the wood shed.
He sure was running for his life in that clip lol
BOooooooo this man BOOOOOOOO
This is soooo uneducated and clearly didnt watch any thing or read anything on fields. Many people when Fields was coming up said he had some of the best reconition and board skills. Also if you watch his Georgia spring game or any of his plays from last year you can see he is pretty skilled at making more then 1 read and the correct read. Also the reason he did play is Jake Fromm took them from 1 game away. Go watch his highlights from Georgia and there spring game.
Crazy that list of break out players our players where we got the top 2 players at the pos. The class two years ago is the best class i've ever seen on paper.
Crowley looked way shiftier then I thought he would there.