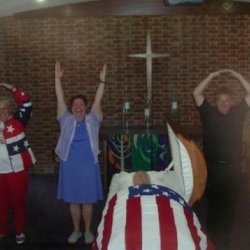 iowabuckeyes
---
Iowa (via Cincinnati, Ohio)
MEMBER SINCE June 15, 2013
BA from Ohio State. MA from Alabama. 100% Buckeye.
Recent Activity
You could've just asked the Seether...
I'm surprised she didn't take the little detour over to Cambridge. If you're going to go to Oxford, you may as well hit Cambridge.
It wasn't funny the first time you said it the thread about Drake going to head up the UC system. Instead of trying the same bad joke on a new crowd, maybe you should get some new material.
Back when I used to run, I'd bring home so many things I'd found my wife would tease me about it. I never found a human head, though; I can't even begin to imagine what that would be like (much less how it got there).
And don't forget that Michigan is the Harvard of the Midwest...
Seriously, though, I don't understand why people who think with their hearts are so quick to dismiss the actions of those who think with their heads. Fools shouldn't rush in where wise men fear to tread.
Yes, the Ivy football isn't on the same level as the P5, neither competitively or financially but that also means they won't be misguided by the wrong motivations. They'll survive without sports simply because they don't care that much about sports in the first place but a lot of FBS schools might not. When we look back, COVID-19's biggest victim might be Title IX if school are forced to ax non-revenue sports to balance their strained budgets.
Whoever smelt it, dealt it: go for it, brother.
One of my first concerts was Charlie Daniels and Molly Hatchet at Riverfront Coliseum. He put on a great show.
There always the Turnbull ACs method of riding a bus.
I can't help but think about teams in the less populous western states where day trips just aren't possible. Sure, Utah, BYU, Utah State and Weber State could each play a three-game round robin against the others but where do they go from there? Or, worst case, what about poor Hawaii? It's almost guaranteed to be the first team to cancel its season unless it's willing to forgo home games and house its team somewhere on the west coast, which seems an extreme move.
Crash Davis's famous "I believe" speech in Bull Durham:
"Well, I believe in the soul... the cock...the pussy... the small of a woman's back... the hangin' curveball... high fiber... good scotch... that the novels of Susan Sontag are self-indulgent overrated crap... I believe Lee Harvey Oswald acted alone. I believe there ought to be a Constitutional amendment outlawing Astroturf and the designated hitter. I believe in the sweet spot, soft core pornography, opening your presents Christmas morning rather than Christmas Eve, and I believe in long, slow, deep, soft, wet kisses that last three days."
To which we can now add this:
"And I believe that The Game should be played every year but only once a year."
Rumor has always had it that mobster Albert Anastasia, who controlled the NYC waterfront unions, was behind the Normandie fire, which he ordered to send a message to the Navy, which had muscled its way into the docks and was sidestepping the unions and doing things its own way. Years later, Anastasia was brutally murdered on the order of Vito Genovese.
Meanwhile, attorney Murray Gurfein later rose to prominence in the 1970s as the federal judge who refused to impose an injunction against the New York Times to stop the release of the Pentagon Papers. He famously wrote:
"The security of the Nation is not at the ramparts alone. Security also lies in the value of our free institutions. A cantankerous press, an obstinate press, an ubiquitous press must be suffered by those in authority in order to preserve the even greater values of freedom of expression and the right of the people to know."
Except the pictures look real. On the legitimacy scale, I'd put the Mirror a step below the NY Post and two steps above the National Enquirer. While the Mirror's stories are real, the spuds article is emblematic of what "investigative journalism" means at that rag.
Does that mean more 3:30 games so teams have the morning before the game and the evening after to travel?
When are they going to start doing this? Rescheduling an entire season isn't something you pull it off in a couple weeks.
Does anyone think that Michigan is going to play an away game at any of the Michigan directional schools? In other words, this plan is an opportunity to pad its schedule with home games against patsies.
"I'm not sure about volleyball." Wait. What? He goes out on a limb and makes those predictions about football and the other minor sports but WVB is left off the list?
Gi'Bran Payne:
recruitment is still 100% open
Translation:
I'm holding a spot open for Ohio State
I feel like Mack Brown is someone my grandpa would enjoy hitting the lake with to scoop up some walleye and perhaps talk a little World War II.
Mack Brown was born in 1951. He'd probably do a better job talking about Vietnam as he would've been of draft eligible age.
Xavier Worthy can scoot: he ran a 10.55 100m last year as a junior.
Great report, Colin.
I have a hard time seeing Banks beat out Brown. I thought he played exceptionally well last year.
Considering how long Bijan Robinson jokes have been hanging around, who are you trying to kid?
I know this has become a running joke but do we/you/anybody know who those kids are supposed to be? They committed to Ohio State without knowing where Williams is going, which means they knew where they wanted to go even if he didn't, so why would they flip? I appreciate that may be a rhetorical question but it's still got me scratching my head.
If the 2021 Northwestern class stays hot they could bypass Penn State the next time we check in. That's a big if...but it could happen.
Nice report, Matt.
Northwestern is chasing 3-stars and is about 17 points behind Penn State, which is chasing 4- and 5-stars and is less than a point behind Rutgers. Fitzgerald is chugging along but sooner or later, I have to believe Franklin is going to find the gas pedal.
I lived in Chicago at that time. Jim McMahon and Tomczak, who was an UDFA out of Ohio State in 1985, became good buds. When Harbaugh was the Bears first round pick in 1987, McMahon was only 28 years old and had led the team to the 1985 Super Bowl but he was also injury-prone. Harbaugh was not only drafted to be McMahon's heir, their personalities didn't mesh--Harbaugh was a goody two-shoes, while McMahon was known as a wild child. Tomczak, whose job security was also threatened by Harbaugh and had a reputation as a partier, understandably sided with McMahon.
Meh, they'll treat it like the Elite 11: 75% prior season's performance plus 25% personal workouts.
The NFL isn't going to stop the draft any more than colleges are going to expect 2021 recruits to take a fifth year of high school.
A 2021 roster logjam's a-comin'.
Huh, I've been to Michigan many times and I've never had to do that in order to hate That Team Up North (which is now That Team Northeast).
The problem seems to be that Michigan is trying to manufacture something that should be all-consuming before they ever step foot on campus. It's ironic that their current head coach played for a man who had no problems motivating his team to play Ohio State, and that Harbaugh even went so far as to guarantee a victory (and backed it up).
Mike Tomczak and Harbaugh were teammates and rivals when they were on the Bears. There was no love lost between them. After Tomczak went to the Packers, the Chicago Tribune ran a story in 1991 about them that included this exchange:
''There`s no sense in me talking to him during the season [said Tomczak], There really wasn`t much of a relationship. I respect him as a quarterback, but it stops there.''

Harbaugh, secure in his starting role this season, would like to bury the hatchet with respect to Tomczak.

''I`d like to go out and have a beer with him sometime,'' said Harbaugh. ''Looking back on it, I think it was unfortunate. Here`s two guys who could have been closer friends, because I like him. I think he`s competitive. I respect him a lot. I hope he felt the same way about me. Maybe now we can be better friends, because we are not in that pressure situation of, `It`s got to be one or the other.` ''
Mutual respect but the Buckeye couldn't let it go, while the Wolverine wanted to let by-gones be by-gones and become pals. That almost seems to sum up the difference between the two programs' approach to the Rivalry.
I'll go with Maryland's William Likely as the return specialist.
Senior starter Jake Rudolph Rudock, a transfer from Iowa
How soon we forget.