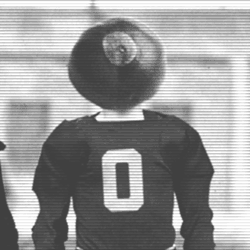 Invictus Buck
---
MEMBER SINCE August 21, 2018
Just a Dayton Buckeye living in the south, pray for me.
Favorites
NFL TEAM: Bengals
NBA TEAM: meh
MLB TEAM: Reds
Recent Activity
I have some it is terrible, much like everything else about them.
It is something that should be taken as normal and seriously as any other medical condition, and no one should feel ashamed of.
I am glad he is doing what is best for him, and having Holtman's support is amazing. When you deal with this the feeling of being left behind or falling behind everyone else's progress because of what you are dealing with compounds the distress.
Mac, glad you have a support team.
I live in Savannah and work in the Hilton Head area. There are a ton of transplant Ohioans in the area, so I think that is why we are accepted here more than in other parts of SC.
I have noticed "hostility" towards OSU fans in other parts of SC, Charleston as well.
That hit by Wade in the ichigan game in 2018, an all time favorite.
Chase Young out here lookin fine all Jame Bond like and what not. His mother raised him well.
Man, go easy on the guy, he is just sits on the Board of trustees for a major educational institution. You would think he he has to form proper sentences using the correct words or something.
In reality what if Luke told them to shove it because they were being asses and he said this because he was upset?
It appears that you couldn't find two more opposite people. Brian looks, acts and from all other accounts is an All American Boy Scout with a drive, mind, passion and ethics that is impressive which, humbling and inspiring at the same time.
Zach it seems is not that.
K I will stop my fanboy stuff.
But really though?
Ugh,
I guess I understand why this is on 11W, but I wish it wasn't. Yes he was part of the football program for many years. Yes we know who his grandfather is. We also are all too familiar with why he was fired and what or how that eventually affected the program. But must we? I guess yes in the matter of earnesty, transparency and as a program and fan base that admits its "wrongdoings" we bring things to light. But sometimes I ponder what if we acted like an SEC school. Zach......who?
It was kinda fun going through the last three. Not all sarcasm.
If you need a man I am down.
Where can I get that Brutus image in a larger resolution?
Just like Penn State is overrated and gets exposed, and TTUN.
He will be "fighting tooth and nail"
Common sense is their rival, and humility.
Yes. Tell me you wouldn't watch either.

I mean, if you go by some views it isn't. The dollar is fiat currency right? So that could be their argument.
/S
Baylor was 1-11 last year and went 11-2 this year as well.
Welp, how do I get work done now? Thank you Obsessed.
O-H
I think that this in so many ways is why Meyer is above almost everyone else, and I think Day is the same. They can see talent but they also search for character. That character and work ethic seems to be what they hone in on during practice and camp. If you aren't willing to work to hang then you won't play. Those kids move on. Their judgements have seemed to rarely be off. Even the current Heisman winner was beat out by a younger guy who broke records. Make no mistake we would still be in a great spot with Jeaux.
Point is they know how to find develop and retain the kids who are Buckeyes in their heart. Those are the ones who stay and become legends.
Really?, you thought you would work before this game? Really?

This is what I wanted to post about. Do you think they will call the holding? I am nervous about it. Yes holding is a part of the game, but when three guys are holding Chase that is ridiculous.