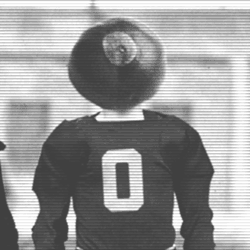 Invictus Buck
---
MEMBER SINCE August 21, 2018
Just a Dayton Buckeye living in the south, pray for me.
Favorites
NFL TEAM: Bengals
NBA TEAM: meh
MLB TEAM: Reds
Recent Activity
S, will it be invite only?
I am right there with you. I thought Urban did a tremendous job and after articles came out that Urban helped students, non-athlete ones at that personally get through tough times with mental illness I didn't know if you we would get a better example. Well Coach Day I think has stepped up. Like it says to use his vast influence to near directly help is a demonstration of what an outstanding leader, and person he is.
Gene made a great decision.
FUCK YES, pardon. This is beyond a great thing to do. Words don't describe how impressive this is.
I did not either. But this may explain his keeness to have time for everyone of the people that are important to him. I cannot imagine enduring that.

This could be the game he focusses the most. On I mean beat OSU in the Shoe, yea that makes people happy.
Unless you are in the BIG 12
That kinda of game is where the "THE" is earned.
I lost it at work because of this post. Thank you.
I like how you name your children. Great format.
That was what was alleged. It was that the "Preppy" prep schools didn't like losing to a not "preppy" prep school. Oh and they had a coach / athletic director that shook things up.
Urban's system of responsibility of the 4 and 5 * guys or the "Elite" guys was that in order to truly be a "95%" or elite guy you took a 50% guy with you to the gym through your routine. He placed some of that development on the players which I think we not only have seen on the field but through interviews with players. I liked the idea and lets look at the support system here, it can and should develop anyone.
If you build a culture of constant self improvement, responsibility and the understanding that those things lead to success, everyone would want to come, at least the guys we want, stars or no stars and they work together and the development happens more seamlessly.
Also the comment below saying there are 4 and 5 * guys that don't develop, true but that can also be on them or sometimes on the coach as well (linebackers) the kids can only develop so much if they aren't being molded well.
Several times actually. What a time to be alive.
This Justin that was a good pun
I logged in simply because of that final sentence. Could you get more down to earth and wholesome? I think not. What a great support system that surround him.
He aired it out all season, last season and will continue to in the NFL.
No time outs, no commercials the game only last 45 minutes, hyper fast.
Some times you have to go back in order to "Play school"
Who downvoted this? How could you?

I see what you did there.
Classic movie, now I have to find and watch it.
WORST. TAKE. EVER.
I don't bet on sports but this one seems like it isn't gambling. I mean come on that is easy money right there.
"still" ALWAYS AND FOREVER
Hey, what is wrong with the backwards cap?