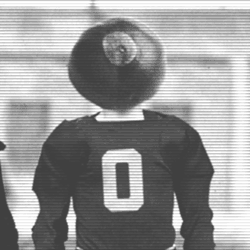 Invictus Buck
---
MEMBER SINCE August 21, 2018
Just a Dayton Buckeye living in the south, pray for me.
Favorites
NFL TEAM: Bengals
NBA TEAM: meh
MLB TEAM: Reds
Recent Activity
I have heard 1 in 2 people have that.
Wasn't he transferring to a JUCO or FCS school?
JOHNNY UTAH!,
THE Ohio State University is brought up a lot. Also NCIS Mike Weatherly's character is super proud to have gone to Ohio State. Megan Fox has a OSU shirt in "New Girl": "Friday Night Lights" (the Movie) has a scene with the team brought up "Blue Mountain State" brings them up. Those are off the top of my head.
The one place I have a gripe is that Harrison Ford's character as President in "Air Force One" is a scUM fan.
Needless to say the school is pretty well represented, mostly by football. It would be cool for the University to get its due as the academic institution that it is.
So we have to survive 2020 and then another 7 years?
LETTT'SSSSSS GOOOOOOOOOOOOOOOOO!!!!!!!!!!!!!!!!!!!!!!!!!!!!!!!!!!!!!!!!!!!!!!!!
To say they will play in the North. Time will tell.
Absolutely no shame in how you feel right now. I am so sorry for your loss. Our pets are our family. She sounds amazing. Bless you, sounds like she had a hell of a great set of humans.

New name up?!?!?! Really something will fill the void. Some gym owner who has the skills and access to pockets to do this.
A easy and great way to help overcome is that realization.
Did someone order some early morning BOOM?
As well as control of likeness, and merchandise.
He came here to lead not to read.
THIS GUY GET"S IT. It is right there in the rules like front and center about downvotes. People are even stating hey my idea is conjecture.
Let's get this man paid. He will do amazing things with his money. Dayton boy love.
I got to the third bullet point and just subconsciously started smiling, because football was back in some small way. Man it feels good.
He certainly floats on the wolverine tears that he makes happen.
This was immediately who I thought of too.
At this point there is no bar. Just ask questions. Their sole task is to get a sound bite. They just need a few words to spit something out. My guess they wanted to ask something so idiotic and rather reflex inducing hoping Jeff would quip and give them fuel to write a "story".
Aren't the interviews at the Combine a big measure of how they can handle the press and public appearances? To know if this guy in general would be good for their brand?
Jeffrey Okudah wanted for slaying of reporter. Reporter's integrity, and ego found on media floor in Indianapolis. Story now developing , reporter committed media suicide.
I have some it is terrible, much like everything else about them.