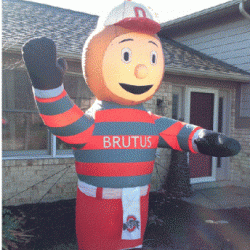 input4u
---
Member since 29 August 2012 | Blog
Favorites
NFL TEAM: Cleveland Browns
NHL TEAM: Blue Jackets
NBA TEAM: Cavs
MLB TEAM: Reds/Tribe
Recent Activity
A little house cleaning is in order. Go Bucks. !!!
The "I'm ok, but in lockdown text" I got from my son today was something that I would never imagined I would get. It can happen anywhere and the quick response from law enforcement was impressive.
My son is safe. Still in lockdown.
The title cracks me up. The movie dodgeball came to mind. Which always makes me laugh.
Wow !!! We had 5 from that 2002 NC get SB rings. I wonder if any other NC winning team/year has had more... That is another good recruiting stat.. !!!
It's tough being a browns fan !!! It's like they just throw darts at crap to help make decisions.
We want you TP. Nope we don't want you, and now we want you again. They will always be my team even in their dysfunctional ways...
I really Like 6 teams. And just for the record I wanted this from the start, even before where we sit this year...!!!
#1 and #2 teams get a bye. Keeps many interesting talking points and conversations on who deserves these seeds/byes.
#3 vs #6 (winner plays #1) and #4 vs #5 (winner plays #2)
This gives all power 5 conferences an entry plus one wildcard team...
I just lost an hour of "work time" watching clips from that movie... Thx DJ....
To the Booth we go.... Missing that ump Tempo from last year. We need our main guy calling plays (whoever that is) upstairs...
Wasn't there a certain number of offense plays desired last year with the ump tempo... Where has that been???
Had to login to upvote... LOL
GO B1G... Not sure ESP1N could handle Minnesota and Wisconsin winning this weekend... Some Big Games out of the shoot for the Conference... !!!
With being busy at work... The start of this week has went by fast. Now it is like time is standing still or Frozen like the temps... LOL
Umm... Apple doesn't fall from the Tree??? Sounds like his dad is a beast in his own regards from the link I read about Ken. He played Baseball in the minors and in the NFL. Then competed in IronMan events. After Knee replacement climbed Mount Everest. I think is safe to say that Dad is a very positive influence on getting the most out of that athleticism. Wow.. can't wait...
Eddie George was a beast. Tall, athletic and powerful. A few times when Rod Smith got some nice open field runs it reminded me somewhat of Ol' Number 27 !!!
Interesting Comparison. Same lanky build. Many people did not like Reggie Miller, but dude was deadly coming off screens hitting 3's from all over the place. Many times not facing the basket and turn and shoot. Heck they even have the "Reggie Miller" Rule in the NBA now which prohibits kicking out your leg to create space. Look at the Follow thru with Q's leg on that shot. right leg extended. Good impersonation of a Reggie Miller Bomb to me....
Evan Ravenel - Had just the best effort on a defensive rebound i have seen all year. Then he made just an incredible outlet pass for a fast break. Just Awesome !!! Many Buckeyes are playing well together at the time when it matters the most!!!