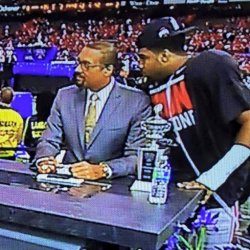 InHartWeTrust
---
MEMBER SINCE July 27, 2013
Favorites
COLLEGE FOOTBALL PLAYER: Zeke and Tre
NFL TEAM: Cleveland Browns
NBA TEAM: Cleveland Cavs
MLB TEAM: Cleveland Indians
Recent Activity
Urban said McCall was injured recently and still trying to get back up to speed, correct? A hernia I believe? I would guess his playing time would increase again once he is ready...or at least I hope so.
edit: Nevermind, as I scrolled down I see this was discussed as nauseam. Oops!
Good to see Paris still can't catch lol, he is a joke to me at this point.
Weed, blunt, sticky, roll...
Michael Hill got popped for pot, end of story.
Named 8 WR's as your best bets and never mentioned Victor? Oversight? Or just not a fan/believer?
The last time? Probably last year with Bell and Apple, who both went very early in the NFL draft.
I think you're going a little off the deep end acting like these guys are a once a decade combo after just two games. I love the enthusiasm/excited though.
Fuck. I seriously hope his foot isn't flaring up again...him and Samuel out there together is impossible for other team's to stop.
Anyone else think Dontre was limping a bit after that TD?
Hooker woke the D up.
See what I did there?
They're going to pay for that one at practice next week for sure.
Don't know if he can't drive it through the wind on the field or what, but his accuracy is definitely lacking today.
God Malik Hooker is fucking good.
Good lord this is embarrassing.
You can tell Urban wants to fucking kill someone right now, on the sideline.
Hooker is playing very well today, continuing from last weeks great play.
Landers must be trying to make up for the rest of the worthless DT play. Atta boy.
Urban is like "What the fuck happened, JT?"
And Weber should try not just running directly into a clogged hole.
There we go; ask and ye shall receive!
Based on last week, they run it with Dontre (and Samuel at RB).
Jesus christ DT's, fucking do something.
Praying that he is 100% as of tomorrow morning.
Spained MCL, should be a couple of weeks or so. Not optimal, but not the end of the world.
Sprinkle on the other hand is a heart breaker (both for us and him/the team).
Excited to watch this kid play the next couple of years.
Tough to get pressure when they are throwing quick passes constantly.