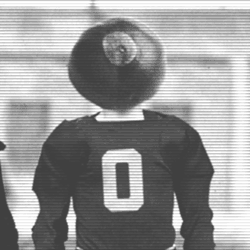 Indy_Buck87
---
MEMBER SINCE July 28, 2011
Favorites
SPORTS MOMENT: Lending OJ McDuffie my cleats during a traveling all star team tourney after pulling my hammy and watching him go 4-5 with 2 homers and 6 RBI's. Its the cleats! Still have them.
COLLEGE FOOTBALL PLAYER: Eddie George, joey Galloway, 12 gauge, ZEEK
COLLEGE BASKETBALL PLAYER: Jimmy Jackson
NFL TEAM: Indianapolis Colts
NHL TEAM: No thank you
NBA TEAM: Indiana Pacer blue collar gold swagger
MLB TEAM: Cincy reds
SOCCER TEAM: My 6 year old sons YMCA team
Recent Activity
Good guys by 10! 34-24! JK will be all day in this one folks. Clemson gets an old fashioned ass whipping. Buckeyes go old school and 8 yardS an a cloud of dust in this one. The D plays great and limits Clemson just enough for an easy win that was never in doubt and a game not as close as the score indicates.
I work for the company who develops RAD 140. You can readily buy SARMs including ours from a variety of sites with instructions on how to take them and for how long. Congress has been trying to ban them in the US. Because none have been approved and they can be snthesized companies are selling them as supplements which is the wild west of unregulation. Google "SARMs for you" for all if your purchasing needs. Can they accidentally get into a supplement? maybe? But in realitity these players were more than likely knowingly taking this and are not good at math calculating clearance times. Dabo comments are a joke.... it was just a sliver! Kinda like Tressell saying but they were small tattoos! He should resign! He KNEW!!! LOL
Same here. I was going to say in 5 years no one will know who they are but it appears so already. They can eat a box of D@icks
I do not consider south florida the "south". Almost everyone who lives there is from somewhere else that is not the South East. Huge canadian,midwest, and northeasterners there as well as latin americans.
I have a pair of the hypercross arriving this weekend. Those shoes are the shiznit! Nike sold out in 15 minutes!
I was at the colts game where we got blown out by New England and relived my exist from last year while leaving yelling give the ball to carlos fing Hyde....carlos hyde rolll hyde! Give the ball to carlos hyde! Herman needs that on his tomb stone.
Where he was roomates with Thomas those two have a good connection which is bad for whisky.
Yep! defense will have to play a very good game. I still think we put up 40 and win by 10+.
I agree and think he will run over and through the badgers. He just needs to be a threat to pass and complete the quick slants and screens which he can do. The guy reminds me of TP. Not too many DBs bringing him down and he has the wheels to take it to the house. How many schools have. 6,5 250 pound freak of an athlete as a third stringer? Not many if any. We basically as Meyer said will not skip a beat. Just need to get him the reps this week. Cant wait!
Plus he is an ugrade from a running perspective than JT he is TP 2.0 just need to get him a ton of reps this week throwing and we will be just fine! Faith!
For one game in his career
LMFAO there was a QB controversy? When did bM Come back and was held out or was cordell tearing it up in practice enlighten me in case i was in a coma and no one told me.
I think most of the former athletes, guys who love Ohio state and played the game of football for 10 years plus years, many of us played in college, that I know dare say vast majority think he is a frosted tips douchbag. If I saw him a BP getting some crispy creams I would think about decking him. That kind of douchbag. And I have a PhD and am kinda civilized and educated.
I wonder if it was the superior talent JT has or the system that caused him to hurdle that Maryland defender in the picture? May be both.
Thinking about how long it will be before people stop coming up with reasons to down play the success of JT. He started out as a distributor, then it was the talent around him that was better, now it is the system. Fact is the dude flat out can play and at this point in his career he is in a class by himself at quarterback in the history of Ohio State. He is projected to finish with nearly 4000 yards and 49 total touchdowns in his first year as a starter. Just imagine what his numbers will look like as a junior and senior. He might join Archie as a two timer. Book your travel to New York JT you just became a finalist this year. OH!
You want proof of jerry rigging the system look no further than the cornhuskers. Somehow after starting at 15 in the first rankings and moving up to 13 last week they drop to 16? I guess losing to an SEC team is better than winning against a Big ten team. This also screws us out of a potential top 10 match up in the big 10 title game. Personally the 4 team playoff is a cluster <blame>..
We need more of this "I ain't hear no whistle" Awesomeness !
I know it is ESPin at work already shaping the 4 team playoff.
That was not happening. A chop block is when a payer is being blocked high and a second payer cuts him. It is illegal as are cut blocks by wideouts on DBs occurring outside of the tackle box.
Agreed 150%. Smith should be getting more playing time.
JT would have graded higher if the OL could block. Overall we are in good shape. Defense will look a lot better against a traditional offense.
You have to think that the seahawks signed him specifically to try and convince to to switch positions to TE cause his performance in the preseason warranted a roster spot! Last I checked QBs such as curtis painter were back ups in the league you have to think TP could hold a clipboard with equal style as scrubs like that! Give the man a fair chance already!
Navy's alternate unis are sweet!