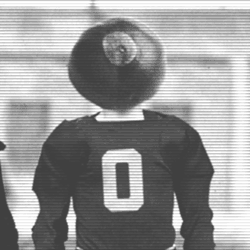 Indian1961
---
MEMBER SINCE September 24, 2015
Recent Activity
Worn while beating a team resembling the blue and pansy colors of ttun.
Diebler with the big steal and bucket. He was always known for his defense....
West of Toledo...10 miles from the #ichigan state line. Tiger fans who love the sign in Cleveland.
Just for those skimming the article the graphic is a little misleading. Nebraska is 5-3 in the Big Ten, not 2-5. GO BUCKS!!
Friday nights are for high school football, but I didn't get to vote on this idea. Here is a suggestion to help out the attendance for the high schools. How about all high school games in Ohio be scheduled to start no later than 6:00 pm on that Friday night. Plenty of time for that to be arranged.
#7 would be the highest ranked "non-loser" but can't believe they could put them above the Buckeyes.
Who goes to the playoffs if Georgia, Oklahoma, Ohio State and UCF all lose? Just giving "the committee" something to think about.
I was looking forward to the treat level report this week. Keep them coming.
Also can report the Northern border is secure. On Monday the only ones in the area wearing #ichigan attire were a young mother and her baby. The other have all packed theirs away or burnt them.
"Unlike last year, when Ohio State's final home game of the season came against Illinois, there won't be any opportunity to give seniors ceremonial playing time on Saturday."
That remains to be seen. I'm sure they would appreciate 5 minutes at the end of a blowout victory. GO BUCKS!!!!
I am also from Northwest OHIO and face the rivalry daily. This year even more so. At this time last year was the first time Shea Patterson's name was mentioned in our house. At that time a quarterback for Ole Miss. Little did I know, his family and some of my in-laws are close friends. Those in-laws (#ichigan fans) will be here Thanksgiving. Brutus will be meeting them at the door. That's the way it is everyday on the border. GO BUCKS!!!
100 plays...Well at least we know the offense is in shape. GO BUCKS!!!
Hope you are not calling the BINGO game. Mixing up the score and the BINGO number could get you in trouble. BINGO players I know are as serious about their game as Eleven Warriors posters are about the Buckeyes. GO BUCKS..
I only saw him once in action. Last year in the basketball tournament. We had Lexington beat, and then he decided to take things into his own hands. I was not happy that night, but I am thrilled he going to be a Buckeye. You can just tell some guys have "it." GO BUCKS..BEAT MARYLAND
Maybe I have missed it, but have we ever had two running backs in the backfield?
Loved Mclaurin's block on the touchdown. Took out three defenders by himself.