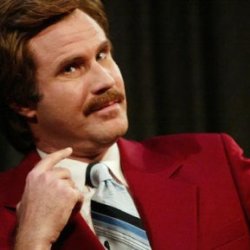 I'm Ron Burgundy
---
Indiana
MEMBER SINCE July 25, 2014
Recent Activity
Yeah but 3 of those "younger guys" will be SRs by then
DT is all about Vincent for me. If he can come back and be the force that he can be, it is a position of strength. If not, it is a bit of a thin spot.
It can be both. Burrow definitely would have been very successful the past 2 years at OSU, had he got the nod. He certainly would have had a much better year 1 at OSU than he did at LSU. But he also wouldn't have had as good of a year 2 either. So the LSU offense hurt him and then it helped him.
It is still a wash for me. Haskins + Fields the past 2 years has yielded just as good of a result as Burrow for the last 2 would have. The bonus about the current OSU scenario is we have Justin Fields for another year instead of perhaps Baldwin or Martell next year. Woof.
I have no major complaints with Werner. He was very solid and will be even more so with a whole year in this system under his belt. Having Borland back for his 9th year is a bit depressing though. Browning isn't the answer in the middle either, so it would just be refreshing to see some of these other guys get a legitimate chance to show out on the field and see what else we have.
If they put him on the outside, and/or put his hand in the dirt on pass rushing downs. He is a monster coming off the edge, but the light just hasn't gone on for excelling at everything a MLB needs to be able to do.
He could lead the team in sacks if they made it so.
Yep and it would be hard to blame any of them if they made that choice.
A definite must win. No more home Ls to mid to lower level teams in the conference can be afforded. This team has a ton of work to do to even sniff a .500 a finish in the conference, and it starts tonight.
Congratulations Joe! At least we can cross LSU off the list for national title contenders next year, since they only can win it when the game is played in New Orleans.
Skalski hit was for me the textbook spearing play that deserves ejection. The Wade hit he didnt launch, but unfortunately lowered the crown right as Lawrence duck crouched. Two different plays but of course Fowler and Herbie say it is just like the Wade hit.
Damn it #24, why you couldn't drop the Fields/Olave INT in the end zone like you did that one.
Watching Burrow gash them on the ground is twisting the knife a bit, having not seen Fields do the same for the majority of the game. When it so obviously was there. I know he was not 100%, but 80% Fields is still an effective run option.
Hell to the no. Even if LSU wins by 70 I would feel confident with OSU taking them on. OSU is the best team in the country. As long as the game was played somewhere truly neutral, like the Rose Bowl, with NFL refs, I like them to win.
I don't know about anyone else, but I am choosing to believe this rumor because it seems like whatever can go wrong for this team will go wrong right now. Also it has become a frequent tradition for the Men's basketball to have a key player suspended during a crucial stretch of the season. So yeah, would not surprise me at all if true.
Exactly this.
I think the argument could be that maybe if you give him some more minutes and run out there, he might settle in and give us something offensively. But the reality is he needs to make way better use of his limited minutes to earn more. He comes in, jacks up a couple 3s and misses them and goes out.
Yep that was the only game in this stretch I was legitimately mad about losing. Because I knew it had a chance to set them up for a downward spiral.
I mean OSU made it last year as an 8-12 B1G team and the conference is better this year, and OSUs non conf wins are better. That said, nobody wants to see this team finish at 8-12 in the B1G. But it is looking possible right now.
But imagine that alternate universe where roles were completely reversed then. OSU is getting dominated fully by Clemson, down 16-0. The hit happens to Fields. No targeting. The game goes on and we lose 37-10. We going to sit there and be heard about a missed targeting call in a blowout? Its nonsense, we'd get over it pretty quickly. I truly believe if they dont make that call it is curtains for Clemson.
It doesn't clinch it. But it would have been very close. Clemson only had 1 TO. They use it during next set of downs, the clock is inside of 1:30 come 4th down. And OSU is at least in FG range, or 4 down territory. Or may have broke their back and finally hit a TD.
I like the Bucks in a hard fought game as well. Final score might be in the 50s though with the way each team is shooting.
The targeting call led to 14 actually. Clemson does not score at all in the 1st half if that call is not made.
For the most part we are just talking to ourselves at this point. Clemson fans don't even show up to laugh at us anymore.
Damnit guys, this was seriously the 1st day since 12/28 I think I legitimately hadn't thought about the Fiesta Bowl.
I'll never get over it either, but once they get the stupid championship game on 1/13 over, and the week or so of follow-up chatter, I'll at least be able to "move on".
I was, and I came here to post that exact game.
Yep, that for me is why out of the 3 segments of the game I layed out above, the first 25 mins and 16-0 lead is not the one I pick to say "this is why we lost". Oh, we kicked FGs, the horror. FGs are better than punts, which is what Clemson was doing. The game was headed in a direction (domination) it would have continued in if not for the 2nd/3rd/4th chances that the officials/OSU gave them.
The OSU inflicted "this is why we lost" for me is the last 5 mins. Get another 1st down, drain more clock and add to the lead. No? OK, get one more stop on D with your opponent 94 yds away. No? OK, drive the field and don't pick the worst possible time to break off your route on a possible TD pass.