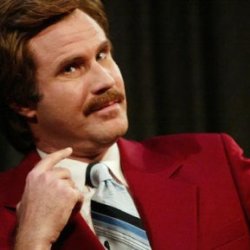 I'm Ron Burgundy
---
Indiana
MEMBER SINCE July 25, 2014
Recent Activity
Hah, nothing is for sure at this point. That's the only thing I'm sure of.
Fitzgerald has this weird every other year thing going on up there it seems like. They return 19 starters, get Peyton Ramsey at QB. They should be a bowl team this year, so yeah I'd put them in the mosh pit. The entire B1G West can usually just be considered a mosh pit.
What is interesting to me, is I saw this same behavior on 247 I think it was. Same type of Ads, scrolling on seemingly forever. Is it the Ad company whose code went haywire and not specific to 11W?
The Wade targeting call was one of, if not the biggest, game changing calls I have ever seen. It was all OSU to that point, it was another demoralizing sack for Clemson and OSU would've had the ball again. To hit the pause button and give Clemson another chance was a massive momentum swing. It was game on from there, and then we still had a bad roughing call versus running into the punter and of course the indefensible fumble TD taken off the board. Despite that OSU still had the lead, but uncharacteristically gave it up late, and uncharacteristically had a WR break off a sure TD route in the final minute.
Per the letter of the law, I am not saying the targeting call was a bad call. I am just saying at that stage in the game, and since it wasn't called on the field either, it was as big of a momentum swing as you can have for 2 teams. You will see a few hits in every game of football you watch until the day you die that are either equal or worse go uncalled. And of course the punishment (ejection) does not fit the crime of that type of play. I'd argue had Wade simply been flagged 15 yds but allowed to stay in the game, OSU wins. Clemson might not even get a TD there after the free 1st down.
Ugh, could go on forever about this game.
New angle for me. That play at 4:17 is brutal.
I'm reading this post as a helpful reminder that we have 6 former 5-star/high 4-star players entering their 3rd year, and we haven't seen much production from them yet. Which I take not as a slight to them, but as a positive for 2020, because there are at least 2 or 3 all-conference level players in that group who are going to emerge this year in a big way. And it won't be a surprise to 11W fanatics who know this, but it may be to others around the country, that we're reloading not rebuilding after losing 3 1st rounders on defense.
I was going to say this exactly. They are guaranteed to lose 2-3 games during that tough initial 7. Then they will be "peaking" after 4 easy games only to get destroyed by OSU again.
This game has to the potential to be moderately scary going against a strong experienced defense, coming off a spring in which no one practiced. You expect defenses to be "ahead" of offense early in the season. But most of my worry is eased by the fact if the game happens at all, there will be few to no fans in the crowd, taking away an advantage for them.
I would say the biggest difficulty, and almost anomaly is that our home-and-home with ND doesn't match correctly with the B1G 9 game schedule. So we go 8 home and 4 away in 2022 (which I am sure we will get pounded on all season by the pundits and CFP committee) and then 6 home and 6 away in 2023. Which I am sure no one will give any credit to since some of those roadies include IU, Purdue, and Rutgers.
Totally agree. And even if you re-watch the TTUN and ND games, you still see a huge glaring flaw in the passing game. I am not trying to start a JT flame war, but in those games alone JT egregiously underthrows or completely doesn't see wide open Michael Thomas and Braxton Miller multiple times. Those games could have been massive beatdowns, especially the ND one.
The only unit on the 2015 team that was championship caliber was the defense. They were pretty stout and consistent the entire year, even with the offense struggling regularly.
'98 was a team I thought should be on that list. I recall years back before Connelly was on ESPN, reading one of his articles where he applies his model on previous seasons, and he did it on '98. I want to say OSU graded better than champ Tennessee but could be mistaken. That was a damn good team, with a damn flukey loss to MSU that year. Which of course we could say the same about a few other OSU teams.
The reality is some type of decision will have to be made in probably 4-6 weeks in order to get everything and everyone aligned. I cannot see the powers that be waiting until July to develop a plan for this season. So I think it makes sense to start talking about this. One would hope the NCAA and the conferences are already talking about it. Look at what is going on with the MLB, if they can't figure their stuff out, seems like NCAA football will have an even tougher time.
I know everyone realizes the season is 3.5 months away, and therefore we shouldn't be making ridiculous shutdowns through September like the Oregon governor, but at the same time, there is A LOT to figure out for the NCAA and member conferences. And they can't wait until the end of August to decide what to do.
Last thing I'd say is this is a sports blog, and we have nothing better to do than theorize the possible shapes the season could take. This comment feels like one of those "Beat Rutgers" comments when we are trying to talk about the CFP rankings.
This exactly. Been seeing some on this forum even, saying "If I were an athlete..." and it is abundantly clear they aren't and possibly never were. I can guarantee the vast majority of players across the country want to play under whatever circumstances they are allowed to, just as Davis and Myers here.
I'm not saying this is a good decision or a bad decision, but it's 4 months away. Why is anybody making these declarations that are so far out. That is the part that is driving me crazy. Should at least be waiting for another 30-45 days of data and information before shutting down fall activities.
It's a shame as a Colts fan. He was off to such a great start his rookie year and then just a brutal dirty blindside torpedo hit on his knee against Jacksonville. In my opinion he's never been the same. He definitely has lost a step ever since then and doesn't look like the guy we saw at OSU. He's made some plays here and there for sure, but has since been hobbled by other nagging injuries. I'm sure someone else will still give him a shot after this season.
If I were a student athlete
I can assure you the vast majority of student athletes at any university in any sport will want to play under any possible circumstance. It's who they are, it is what they have been working their whole life to do. They do not want their seasons taken away from them. They also probably feel a little more invincible than they should. I'm sure there will be a handful of outspoken activists who will take a stance like you are, but those will be exceptions.
Looks like the 2016 game is on regular ESPN tonight in prime time too.
Going to say the same thing as everyone else. Werner right now is a likely midround guy. He has a good size, speed, and athleticism combo for an LB. That translates to me for what I expect to be a "breakout" All-B1G type season out of him, and a 3rd-5th round landing spot, which would be very good.
Borland is what he is. I will eat my shoe if he is drafted. He will run a 40 in the high 4's or just not run at all. Doesn't mean he can't be solid player for OSU this year and fill that role, but his small size and slow speed combo is undraftable in today's NFL, sorry.
I wonder how much of 2018's film is holding Dobbins back from being that 1st round pick a lot of us wanted him to be. He was very average to below average when he didn't have a running QB to supplement him. Which he likely won't have in the NFL.
Now before everyone goes off on me, I think J.K. was/is awesome. I am merely saying it's a slight knock on him from an NFL evaluator perspective where he's maybe just behind Swift, Taylor, and apparently CEH on some boards.
Sad thing is, being the Chiefs RB versus wherever those other guys land, is a dream job. So he will probably outproduce them, but agree he is not better. Dobbins would have killed it for them.
I'm sure the Thorpe winner Delpit will be going soon. That's mostly sarcasm since he had no business winning the Thorpe, but no idea where he's projected to be drafted.
We'll see. I agree the majority at large would be irate over this. Problem with any NCAA athletics resuming, FBS in this case, is it only takes a few over cautious universities to be not on board with having students back on campus come fall and you have a problem. Can the minority take down the season for the majority who are ready and willing? Not sure, but dumber things have happened, and will continue to happen in regards to the COVID-19 response.
These are just the transfers that make you scratch your head. #1 he likely has to sit out year. #2 he was a multi-year starter and Holtmann seemed to give him minutes to a fault. #3 OSU is still at this time a better program than ASU. #4 He went further away from home, so it wasn't that angle. It's a tough one to figure out.
What's weird is I am (by most standards) a pretty successful family man and what not, and yet due to social distancing and having to work from home I a) am at a keyboard all day and b) have access to the kids' cheetos which I find myself snacking on too much and c) also of course have access to beer and find myself drinking too much of.
Thanks you for the intervention. I need to be better.
Sure, that is easy to say, but again in a split second's time running full speed his target changed levels significant;y, and it is a natural reaction to lower your head to meet the target. I mean I get what you are saying because that is the reason the targeting was called and by rule no one can really dispute it.
But also, if lowering one's head was automatically targeting, no matter where they contacted the other player, which is what the rule says. And if called every time without remorse and no common sense applied towards the intent of the player, then every game would be finished with the backup defense because there would 10-15 ejections a game. That same form of a tackle happens dozens of times a game. It's just they don't always connect with the other player's helmet, and/or the other player doesn't pretend to be a paraplegic for 30 seconds to get a review.