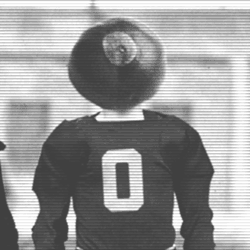 iloveu2chris
Columbus Oh (via Sharples WV)
MEMBER SINCE January 18, 2012
Favorites
COLLEGE FOOTBALL PLAYER: JT Barrett
NFL TEAM: Dallas Cowboys
NHL TEAM: Columbus Blue Jackets "4 what thats worth"
NBA TEAM: Boston Celtics
MLB TEAM: Cincinnati Reds
SOCCER TEAM: Columbus Crew
Recent Activity
Fields is a liability right now. He should not be playing right now.
Nice hold on that last play
Give him credit OSU did not score 62 again.
Guys CY has been held some but MI has controlled the whole D line. They are getting no pressure anywhere. Don't blame it all on holding.
Wtf is wrong with this defense today
Toss those bums taking jk's shoe off
Bing as well accept refs are going to allow them to hold young all day. Secondary needs to step up. Coaches getting out schemed right now.
I was hoping for style points. Now I just hope we win.
OSU making the committees job super easy. No one thinks this team is a top 4 team.
Have to be more aggressive. We need to put up 60+ to be in the conversation
Meyer is a TOP recruiter and a very good head coach. However, his loyalty to his friends seems to be getting in the way of OSU being great. It bit him and the team in the ass with Zack S and it looks like it wil continue. Meyer seems to have lost his drive to demand excellence from everyone around him.
Wow UM D line is looking scary watching this game. Teams know Haskins can throw and we have run game. I thought it have been because the growing game was goo good they did not focus on the run but looks like we just don't have one.
why is our D line held ever down and it's never called
Everyone behind the line has looked slow this yeat
Osu needs to adjust and possibly give Martell a series
Haskins is folding. I think I heard he might
Monday I am going to the courthouse to rename my first born to JT
All 3 squads are to blame in this one. Offense, defense and exspecially special teams
EVERYONE PRAY they have to kickoff
I have to agree. Never came through in a big game. Not that he was bad today just not a big game player
To late. 2 int called back no way they allow a come back
I hope we have a better fan base than to badger someone as kind and funny as Shelley. Even more so the fact she is the wife of our head coach.