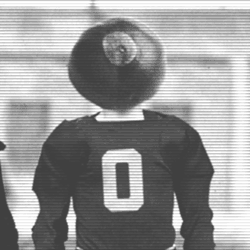 IloveSaturdays
---
from Toledo
MEMBER SINCE July 14, 2012
I love Ohio State Football!
Favorites
SPORTS MOMENT: The 2014-2015 Ohio State Football season
COLLEGE FOOTBALL PLAYER: A lot of 'em
COLLEGE BASKETBALL PLAYER: Couldn't name one
NFL TEAM: --
NHL TEAM: Wings
NBA TEAM: --
MLB TEAM: --
SOCCER TEAM: What's that?
Recent Activity
He should know Ryan's last name
He might just play dumb. It created this forum didn't it? Got more clicks, didn't it?
Or he doesn't watch every game like us diehards. Maybe he's been looking at hoops or nfl lately. He's a voice, not a rule or law. He's a personality, not a compass.
2nd quarter 4:27: Miami (Ohio) resorts to using Nebraska rb, Maurice Washington, but is unsuccessful.
I see your point. Was just playing around, but I guess it's probably getting old at this point. Maybe I just don't take threads about espn that seriously.
For the record, I don't bash anyone, nor have I ever downvoted a comment.
I'm just here for cincy's take on this. Im a little disappointed he's not here. The signal must be down.
1. Georgia has a bulldog as their mascot. Notre dame has a coach who looks like a bulldog.
2. F&@k notre dame
3. F&@k notre dame
He stands tall in the pocket. The oline will have to keep it clean if they want him to remain upright. Our d-line will swallow him up constantly. Expecting multiple sacks.
Will have to contain him on designed qb run plays. I hear he hits the hole hard!
They're all gone now. Now it looks like I'm making a weird claim on an unrelated topic lol
Mods need to change title to "Ryan Day is leaving sometime soon due to nfl salary"
my post is different because it's mine. The world revolves around me.
I was pretty inebriated when I wrote my "get off my lawn" comments above. My phone needs a breathalyzer app, that won't allow me on social media in that situation.
I read a couple quarters worth after the game. It just seems weird to me. I can't picture watching the game and commenting at the same time. It's like the audience on the price is right. The negativity in the thread makes it seem as though football isn't fun for them to watch. Maybe they're just explaining the game to people who only have access to game threads. Like saying it's sunny outside to those who don't have windows.
Off topic, anyone in here from the game thread? Why do you think your comments are important during a game? Why do you constantly bitch after every play? I read through about 30 consecutive comments about a 4th down play call. Bunch of pukes, crab fucking apple on you!
I guess we can stop drooling over Fickell and a team that barely beat ucla.
Now it's time to answer for discounting Cincinnati.. oh ... they blew them the fuck out? Nevermind, you were right. BuT tHeY hAd FiCkElL
Fuck shit! Oh well, they can't feel good about this win. Regardless of the bad call on the scoop & score earlier
Hope there aren't any crab apples up in here. Last year, the team was getting gashed early on. This looks like a good time. Loving everything about this team. Go bucks. Enjoy this, it's a quick season. It's the best show on earth; to me. Go Bucks
Obligatory: "it doesn't matter. I root against notre dame every game, and they still win"
I went to the Hawaii game that year. Was an underwhelming blowout. Looked like Cardale was looking for the homerun ball on every throw. The Miller wilcat was the most obvious play in football.
Silver lining: They beat up on notre dame. That's the best non-playoff result for me. Go Bucks
What about "statagram" or big ten coach teleconference thing, or did I just miss those?
Come for the football... stay for the crab apples.
Jones is pretty big for a human! A couple good lookin' slobs! Go Bucks!
"Every time notre dame wins, a puppy gets killed"
-probably
there aren't words within the commenting policy, nor outside of the policy to express my thoughts about notre dame. I root for ttun to beat those csmf's. Bryan Kelly killed a student. Go Bucks
I've heard that from a couple people. You... and RBloodworth.
Sounds like nonsense, but maybe people ARE tired of watching Ohio States success. Or it's just something you made up.