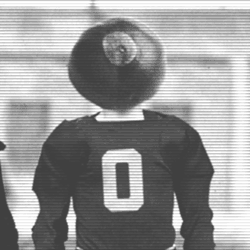 Illibuck11
---
Member since 19 September 2012 | Blog
Favorites
COLLEGE FOOTBALL PLAYER: Mike Doss
COLLEGE BASKETBALL PLAYER: Aaron Craft
NFL TEAM: Green Bay Packers
NHL TEAM: Detroit Red Wings
NBA TEAM: Chicago Bulls
MLB TEAM: Cincinnati Reds
SOCCER TEAM: Columbus Crew
Recent Activity
West Virginia
Villanova
Northwestern
Xavier
Butler
Arizona
Virginia
Iowa State
I got curious about the "Saban doesn't lose twice to the same team in consecutive years" and here is what I came up with: Nebraska – 1995 & 1996, Iowa – 1995 & 1996, Penn St. – 1995 & 1996, *ichigan – 1996, 1997 & 1998, Purdue – 1997, 1998 & 1999, Florida – 2000, 2001 & LSU – 2010, 2011
So by my count that is 9 times.
Saban has also lost consecutive times (not years) to Wisconsin (1989 & 1995), Bills (twice in 2006), Jets (twice in 2006), Georgia (2004 & 2007), and Auburn (2004 & 2007). Wisconsin, UL Monroe & Ole Miss all have repeat attempts in 2015.
Compare this with Urban Meyer: Auburn – 2006 & 2007 & Alabama – 2009 & 2010
No other teams have beaten him in consecutive times. Man that list seems shorter....
"HARBAUGH FINDS A QB"
yeah right...APRIL FOOLS!!
Michael Thomas - 94 yards
Another lesson to learn: COLLEGE FOOTBALL IS ALWAYS CHANGING!!

My wife and I were married December 3, 2010. She wanted to get married in November over Thanksgiving weekend. I promptly squashed those ideas as the date fell on The Game. We pushed it back one more week with my thoughts that The Game would always be the last game of the year for the Buckeyes falling either the Saturday before Thanksgiving or the Saturday after. Then 3 months after we were engaged, Jim Delany announced Nebraska was joining the Big 10 and a championship game would be added to the end of the season. Too bad our date was already set in stone by then. Now my wife wants to take an anniversary trip this year which would coincide with the Big 10 championship game in the inaugural year of the the college football playoffs with my Buckeyes a legitimate contender. FAIL.
My MSPaint skills include copying and pasting. I even know the shortcuts on my keyboard. Hoping to leverage these skills into a full-time gig.
I feel like a Florida athletics graphic designer...
Mike: "You...complete me"
Jamal: "Shut up, just shut up. You had me at hello."