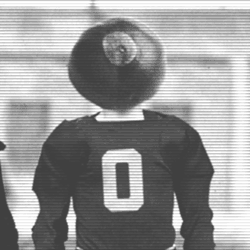 Ih8UMich
---
MEMBER SINCE August 14, 2014
Recent Activity
I just watched the video. It's now canon in my mind.
I still remember Bollman's O-lines playing like a raging dumpster fire of sadness. In Stud's three years here, he's had a different guard playing center every season, and the worst result has been a two-team All American.
He's doing a pretty okay job.
I had the same thought about playing in the Big 12 but along the lines of "can his offense score against teams that play D?"
From Wikipedia, here's Ok St's bowl results since 2013:
2013 Cotton Bowl Classic Missouri L 31–41
2014 Cactus Bowl Washington W 30–22
2015 Sugar Bowl Ole Miss L 20–48
2016 Alamo Bowl Colorado W 38–8
2017 Camping World Bowl Virginia Tech W 30–21
2018 Liberty Bowl Missouri W 38–33
And their non-conference opponents of note, excluding teams like South Alabama and the Texas State Armadillos (from fbschedules.com):
2018 Boise St: W 44-21
2017: @Pitt: W 59-21
2016: Pitt: W 45-38
2015: No one. Closest is Central Michigan, which they won 24-13
2014: FSU: L 37-31
Pretty few real high rolling opponents on those lists, but there's also only one stinker (Ole Miss was up 41-6 at one point in the Sugar Bowl) and out of 11 games, only two are below 30 ppg.
Overall, I think I'll choose to be optimistic on this hire.
Hopefully one reached out to the other and they have their commitments and teams straight. Because yeah, it'd be nuts for both - but especially Mathis - to make this kind of decision in the dark when a simple DM would make life easier for each of them.
Penn State and TTUN back to back, too. Coach Day's got a job to do in Year 1.
Andre Wesson lost three teeth and kept playing. The effort's there.
Delusion and arrogance are baked into the culture. It even fits nicely into their song.
Hail the deluded vanquished,
Hail the arrogant anquish
Hail, hail to Michigan:
pretensions we detest
Or, even weirder, a center playing center.
89??? What's a guy gotta do to crack 90 in this measurement?
Kinda makes 82-9 that much more remarkable.
...and a certain defensive line coach was given anything he wants to stay in his office...
the buckeyes Washington Huskies are screwed
FTFY
Have the coaches ever said what it takes to grade as a champion? I assume it's, you know, actually playing well, but sometimes we see champion grades that are head scratchers.
Meyer said the Buckeyes' shift from RPOs to more traditional running on Saturday resulted from the "hours and hours and hours" of work they spent working on the running game during the bye week.
I usually give coaches the benefit of the doubt, but gotta call BS on this one. A whole bunch of us saw good things coming from fewer RPOs and we all got there without having to wait for the bye OR spend a full day watching film. Coach can do better than this.
"Mr. Haskins? Mr. Bosa? Hi, I'm Roger Goodell, nice to meet you. Listen, I have a proposal for you. Look at the table in front of each of you. That right there, on each table, is what $100 million looks like. It's yours. All you have to do before you fill a pool with it and start swimming is to stay healthy between now and April. Completely healthy. No rolled ankles, no chipped teeth, no ingrown hairs or athlete's foot. 100% healthy. Now, you have a choice.
Option 1: train in a controlled environment that will hone your body so that it can perform for NFL teams, with proper nutrition and highly personalized and focused attention. As a bonus, you won't have to worry about classes anymore.
Option 2: As long as your grades are up, continue playing with the Buckeyes, for free, against competitive opponents who aren't at your level athletically and have been known to take cheap shots at knees, run the risk of breaking or tearing literally any part of your body, maybe sustain serious head and back injuries, all while performing in front of fans some of whom aren't above throwing snowballs stuffed with batteries at you. Oh, and remember, if any one of 32 team doctors turns up an injury, you can't have this money any more.
Decide."
Any coach/team/fan/school that DOESN'T support that choice is selfish and needs to reprioritize.
Is it just me or is it odd that three times in that small op-ed snippet, the PD referred to the team as "Ohio"? Did Brady Hoke have a bad opinion column before he became a bad football coach?
At least it wasn't on fire
At least one in CT, too. Let's have our full coaching staff this year #TenStrong
That's a badass throw by Baldwin at about 0:38 in the second video. If he can do that in real life we're gonna have some serious QB competition the next few years.
I confess that I almost went to Michigan for undergrad. OSU was much more affordable, though, so I made the financial best decision to go to Columbus.
I confess that I think the FBI told Tressel to stay quiet about the investigation and that more than anything is why he lied to the NCAA.
I confess that I think we're better with Meyer.
I confess that I stayed on the JT bandwagon almost entirely because of his 2014 season. I kept hoping he'd find that magic again and, except for Penn State, he never really did.
I confess I'm crazy excited for Dwayne Haskins but I'm also a little sad to miss the competition with Joey B.
I confess that this list of confessions has gone on for too long and so I'm stopping now.
You're absolutely right that Buckeyes are everywhere. A few years ago, I was driving through SoCal and stopped at a light behind a car with an OSU window sticker. I turned to my wife and said we should put up the "O-H" - and gestured along with the comment - and the guy must have seen me in his mirror because he immediately responded with the "I-O."
"O-H" is the surest way to turn a stranger into an insta-best friend. We should all embrace it.
Buckeye fandom produces antibodies
I hope so too. That and 11 more losses might keep them out of the playoffs.
Is it really open to ALL participants above 9th grade? Hmmm.... starts stretching routine from 90s era JV football practice.