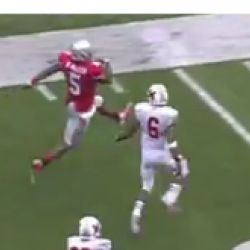 ih8rolltyde
---
Las Vegas (via Toledo)
Member since 20 February 2011 | Blog
Favorites
SPORTS MOMENT: Every game I watch with my father.
COLLEGE FOOTBALL PLAYER: Teddy "Faster than my car" Ginn, (Although I had a Kat named Moyer)
COLLEGE BASKETBALL PLAYER: The Villian, for hanging it on *****gan
NFL TEAM: What's the spread?
NHL TEAM: HA! *EDIT* Vegas Golden Nights
NBA TEAM: LEEbron, since #23
MLB TEAM: Umm. Swisher?
SOCCER TEAM: United States
Recent Activity
Gas really only makes other people suffer.... Ok it is
Fuck Alabama and all the cretins therein.
You could see JT screaming, "This is my house!" repeatedly after the final score. Yes sir, it sure is.
Tyjon Lindsley (or something like that) is my awful memory serves me. Slot from Bishop-Gorman, Las Vegas. Kid is very good, undersized. Had an injury last year. Tate Martel teammate.
*LaVar's kids have talent
When season 3 of Rick & Morty begins, straight to the top. 'All the way up there, Morty' The first episode of season 3, aired on April 1 as a reverse-April Fool's joke, was amazing. First 2 seasons are fantastic.
I moved to Las Vegas from the southeast, and aside from my family and my tattoo artist, I miss New Orleans the most.
Go to Carlsbad, NM. About an hour and a half from Roswell. Stay there, get a cab to drink at the Chili's. That is the Twilight Zone.
Sorry sir or ma'am, but Alabama sucks.
When I see my Buckeyes win the Natty in my new hometown of Las Vegas, that MAAAYYY contend with watching the Sugar Bowl with family IN Alabama. Maybe.
Did you see all the New Balances???
Beth Mowins is horrible
BINGO!!!
Had to log in to upvote this. Bill Hicks is the man. Also, Mitch Hedberg: "I used to do drugs (crowd cheers). Maybe don't clap so fast, cuz I still do drugs... I just used to do drugs too
What does this video really say about Big 12 defenses tho
Kenny Brittle????
Nonsense overgeneralization. May be that they have to pay, out of pocket, for tabs that get walked out on
CBS sports is undeniable trash
Preach
Once again, I agree with DJ. Hell no
Hooker is (if healthy) Ed Reed/ Shawn Taylor 2.0. Sure fire. (If healthy)
Pretty sure that take is accurate, but I took it as: using nonsense jargon to leverage making money watching football. Lucky bastard.
*Lewis is *listed* at 188. They don't "list" stuff at the meat market. We shall see
@5.55 Kwon fits in the "chance to be an NFL starter category". Which, seems about fair. I can't hate on any of this. When the Pats take Sam the Man with the last pick of round 2, everyone will be mad. Taco is a beast
Hatering will not help