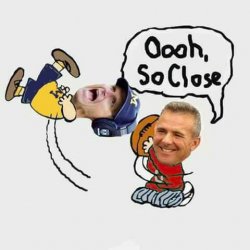 IGotAWoody
---
Columbus (via Columbus)
MEMBER SINCE October 24, 2013
After leaving the grueling life of a rodeo clown, I ventured back to the land of Ohio, where I re-planted my flag, grew a thriving business, and then joined a fast growing local publishing firm. I have a healthy respect for bulls.
Favorites
SPORTS MOMENT: 2003 Fiesta Bowl
COLLEGE FOOTBALL PLAYER: Randy Gradishar / Eddie / Mike Doss / Brian Hartline / Malcom Jenkins / Joey Bosa / JK All DAY
COLLEGE BASKETBALL PLAYER: Mike Conley / Aaron Craft / Clark Kellog / Jimmy Jackson / Herb Williams
NFL TEAM: The Buckeyes
NHL TEAM: Bluejackets
NBA TEAM: Lebron
MLB TEAM: Yawn
SOCCER TEAM: Yeah No
Recent Activity
TreVeyon Henderson, COME ooooooon DOOOOWWWN!!
It's like they designed the Pacer to have as much glass as possible, which begs the question: "Why?!?"
A sure-handed, outstanding route runner (especially the underneath route tree) is a tremendous difference maker. People underrated KJ Hill his entire time here, and all he did season after season was prove to be a reliable rock.
His loss will be noticed this year, especially the first half of the season. But by November, I expect to see Jaelen Gill and possibly McCall manning the slot and starting to become very difficult to stop.
Oh well, what's the use of playing them anymore if all the bejesus is gone?!?
I'm no longer going to rack my brain or try to skin this carcass any further.
We're not into being fair #fuckdabo
I'd join in here, but I'm not one to follow the herd.
You're on, but if you win the bet, it may be December before I'm able to get a 12 pack of charmin mega-rolls to pay up.
Wait, you said RB1 or 2. I think he's very likely to be RB2 for game 1.
Watching those highlights, this guy is a beast - a very punishing runner (as they used to say about the original "punishing" runner, Earl Campbell).
And he was that way right out of the gate as a true freshman. If he can get healthy, he will be a great addition, with the potential to be RB1 for 2020.
UNC, yes, but I certainly wouldn't say KY and Villanova were down. Both were likely 3 seeds in the Big Dance.
Somebody seems to think they have all the answers...
Am I the only one getting the Next Level Athleisure pop up ads?
Never has the term "pop up ads" been so appropriate.
Having their shoelaces tied
Also, helping other players (including opposing) tie/untie THEIR shoes.
Raekwon McMillan, Jerome Baker, Malik Harrison... Heck I'd even put Zach Boren on that list after he was moved to LB in that 2012 and immediately patched a gaping positional hole. Let's also not forget about Darron Lee!
At DB, you left out Eli Apple, Gareon Conley, Shaun Wade and Damon Arnette.
You might want to acknowledge the recruiting rankings difference I pointed out - Meyer's average class ranking was top 5, Tressel's was Top 15. While recruiting ratings and rankings aren't the be all/end all, they are highly indicative of potential success, and 80-90% of the time, high 4 and 5 star guys turn out to be worthy of their ranking.
Butler went from being the best player and the PG/leader of the team the year prior to being a co-pilot on that 2006-07 team. What a phenomenal backcourt tandem he and Conley made!
Man, Musa Jallow was a BEAST early in this game! I'd forgotten about him this season, he would've helped a lot this past season, especially after Kyle Young got hurt.
Watching this was also a reminder how strong Keyshawn finished up last year, he was playing with a ton of confidence.
Or, one could live in Indiana and still realize this is a joke. Maybe even chuckle at it. As sports fans, when you live in Ohio, making fun of other states is what you do. And likewise, those people in the other states make fun of us for living in Ohio.
Glad I could clear that up.
Absolutely spot on Pistol! I think where Urban truly enhanced recruiting is across both lines. Urban had a knack (or put an emphasis, maybe is a better way to put it) especially when it comes to defensive line recruiting. His goal in every class was to get 3 or 4 good ones and 1 or 2 certified beasts.
The other thing with Urban was just the across the board elevation of recruiting. We went from having consistent top 10 or 15 classes under Tress to consistently top 5 under Meyer.
But it's completely true to remind people how good Tress was in the recruiting game. A number of elite guys played at TOSU from 2001-2011 (and beyond).
I think this is due to the rarity of dominant big men in general. Even beyond OSU, who was the last 7'er to make a big splash?
There's been a handful of good ones but hasn't been a top 3 NBA pick that I can remember (outside of Luka Doncic and a few other bigs from Europe, but even those guys are stretch centers that like to shoot 3s rather than true centers who like to bang down low and make their $ owning the boards).
Agreed, El Duderino! Here's a bourbon recommendation for you, hopefully a few people find this to be one either they haven't tried or would like to revisit...
A little info up front: I'm of the belief that there are too many tasty bourbons under $40 for me to ever spend more. Something has to be extra special (like this: https://www.breakingbourbon.com/review/johnny-drum-private-stock-bourbon, which when found can usually still be had for under $50!), for me to find an exception to this rule.
So, my easy-to-find inexpensive-to-acquire selection is Elijah Craig Small Batch: https://www.breakingbourbon.com/review/elijah-craig-small-batch