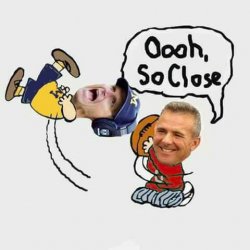 IGotAWoody
---
Columbus (via Columbus)
MEMBER SINCE October 24, 2013
After leaving the grueling life of a rodeo clown, I ventured back to the land of Ohio, where I re-planted my flag, grew a thriving business, and then joined a fast growing local publishing firm. I have a healthy respect for bulls.
Favorites
SPORTS MOMENT: 2003 Fiesta Bowl
COLLEGE FOOTBALL PLAYER: EZE / JMarsh / Braxton / Carlos Hyde / Randy Gradishar / Mike Doss
COLLEGE BASKETBALL PLAYER: Mike Conley / Aaron Craft / Clark Kellog / Jimmy Jackson / Herb Williams
NFL TEAM: Broncos
NHL TEAM: Bluejackets
NBA TEAM: Cavs
MLB TEAM: Reds
SOCCER TEAM: Crew
Recent Activity
The PG play is vastly improved this year, and we're only 3 games in!
That's an interesting way to look at it. But I also think, as the writer alluded, that Auburn is in a unique position to throw a wrench into anyone's "2 SEC playoff teams" plans. They have a good enough defense to cause GA problems for sure. And don't count a win for Bama just yet in the Iron Bowl - the Tigers host that game.
Strange things tend to happen when Bama plays @Auburn. It's entirely possible to see GA and Bama both lose. That to me would be great fun to watch.
Man, Wertheim is just going down with that ship. I understood earlier in the season, when he kept picking against the Bucks to cover some pretty large spreads. But he keeps losing that bet and just sticking with it.
But this week, taking Rutgers to keep it within 50?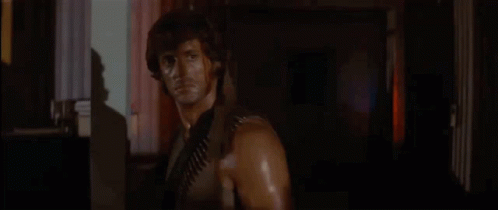 Amen, I have posted similar sentiments on here, and usually get push back from a few commenters. Listening to Herbie call a game is boring, and I never learn anything I didn't already know.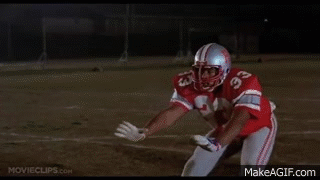 Shitty post of the day, congrats!
The problem with this QB centric plan is that it's hard to predict a QB's success at the next level. VERY few can't-miss QB prospects come out of the draft. Some years, none of the QBs drafted even become eventual starters for the team that drafted them, let alone high level performers.
But with DEs, it's much easier to predict their success rate, because their skillset translates easier to the next level.
So many commenters on that clip did not get what he was saying - they're like "no one can predict who is going to be a hall of famer during the draft!". He didn't say that Chase is a guaranteed hall of famer - he said that he's the only player in the draft that has that capability.
And he's right - none of the QBs are even a guarantee to be successful in the NFL. But Chase Young is a lock to be a success, barring injury. And if he succeeds to his potential, he'll end up in the hall of fame.
That's not wrestling, that's rasslin'!
Crazy to think OSU wasn't even considered a top 10 team
Even crazier to think that TTUN WAS.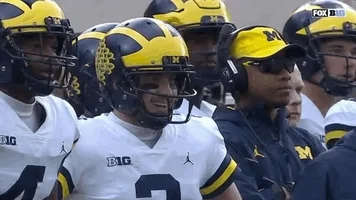 It's even more likely that Sean Clifford is the one that's mouthing that right now. And Chase is like...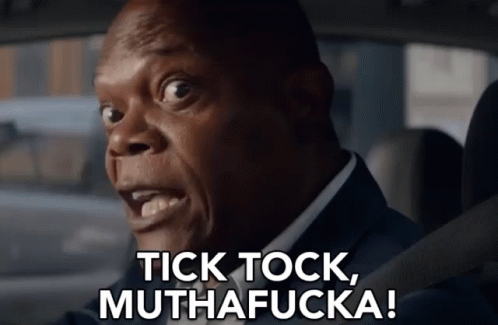 As a connoisseur of quality sarcasm, I have to say your sarcasm was not detected there.
Likewise for the Bahamas, which are a little closer!
And many of us have been saying for most of October that Bama and OU are basically the same team.
You could even say the same thing about LSU this year. The win over TX in Sept. (45-38), @Vanderbilt (66-38), and then that 46-41 win @Bama.
Their defense has been bad on several occasions, and they've had to survive some shootouts.
Bama had to outlast Ole Miss (59-31) and TX A&M (47-28) before finally finding a team that could outscore them last Saturday.
I believe the travel roster is only 73 or 74 guys. It was mentioned on here yesterday, but the exact number is eluding me.
Original post from Twofifteen: Funny.
The 2 follow up posts: Lame.
It's Michigan on the road, so it wouldn't suprise me if they lost.
I agree. When was the last time TTUN went on the road against a good opponent and won? They've actually never done it under Harbaugh.
And the last 2 times they played @IU, they've gone to OT.
Additionally, Ohio State did the majority of its scoring on the opening down, scoring seven touchdowns on first downs
Actually, they scored 7 of their 10 TDs on first down. But still majorly impressive, and may still be a team record.
Kirk did not get this memo.
Offensively, Olave continues to be one of our most consistent performers. Dude is a stud, and like Hamilton, was not a highly ranked or sought after guy out of HS. #DevelopedHere
I have been watching football for about 45 years, and I have NEVER seen an onside kick like that! What creativity!
Almost as impressive as the X yards we put on them!