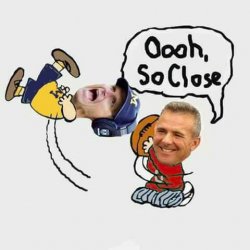 IGotAWoody
---
Columbus (via Columbus)
MEMBER SINCE October 24, 2013
After leaving the grueling life of a rodeo clown, I ventured back to the land of Ohio, where I re-planted my flag, grew a thriving business, and then joined a fast growing local publishing firm. I have a healthy respect for bulls.
Favorites
SPORTS MOMENT: 2003 Fiesta Bowl
COLLEGE FOOTBALL PLAYER: EZE / JMarsh / Braxton / Carlos Hyde / Randy Gradishar / Mike Doss
COLLEGE BASKETBALL PLAYER: Mike Conley / Aaron Craft / Clark Kellog / Jimmy Jackson / Herb Williams
NFL TEAM: Broncos
NHL TEAM: Bluejackets
NBA TEAM: Cavs
MLB TEAM: Reds
SOCCER TEAM: Crew
Recent Activity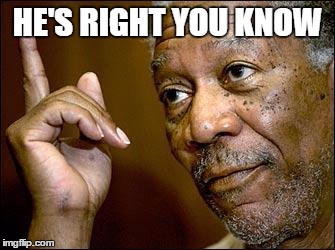 And last year, as well. One bad loss kept us out.
As you pointed out, that 2015 loss was on a last second field goal, too.
MASTER BLASTER!!!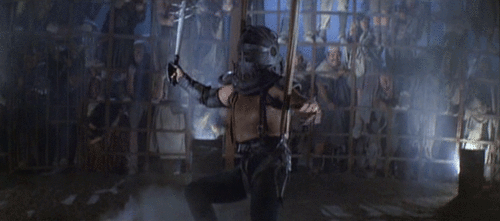 And don't forget Chambers! He didn't arrive until the summer and hasn't had very many opportunities yet, but in the few carries he's had he's looked good.
With McCall, Crowley and Chambers also in the mix! Agree completely.
But I still expect to see Emmit Smith's son or one of the other highly regarded RBs end up in the 2020 class.
He reminds me a lot of Carlos Hyde... you may be able to RUN, but you can't HYDE!
For sure, but take an inch away from the size of the shooter's hand, and that's even more substantial.
I think along with better, more diverse schemes, a big part of this year vs last year is that this year's coaching staff seems to be on the same page. The chemistry amongst the staff is so much better than it was in 2018.
To me, it seemed obvious that the coaches last year (Schiano and Grinch, in particular) just did not get along and did not have consensus agreement on how things should be done.
The women's ball is 1/2-1" smaller than the men's, but women's average hand size is WAY smaller. So while it's true that the ball is a little smaller and that makes some difference, it's still impressive that women tend to have better fundamentals and better shooting %s.
One thing that didn't get fully highlighted throughout his dominant career was how damn charismatic he is, and how good he is at explaining things. We always talked a lot about his recruiting skills, his innovative offenses, his highly competitive nature, etc, etc...
But listening to him, it's obvious that just about any young talented player would be drawn to him and want to play for him.
You hate us cuz you ain't us son!
Thanks for the LOLz, your sarcasm game is on point. Well played...
I think throwing to the tight end is a response to tight coverage on the WRs and/or being less successful than you want early on when running the ball. Yesterday, Fields was getting the ball on to the wideouts quickly and with hyper accuracy and we were running the ball well.
That probably ended up costing the TEs some opportunities.
I was sitting behind a nice Bearcat fan that took his two boys to the game. After that punt, he turned to me and said "that guy is the best punter I've ever seen." We talked a lot thruout the game and it was obvious that this guy was from Cinci but watches a lot of Buckeye football.
He seems to be way ahead of schedule. I expected greatness, but I thought the early games would be hit and miss. So far it's been a whole lot more hit and very little miss.
I can't wait to see how good this guy will get.
You totally missed his obvious and well-played sarcasm
Well, 4 of the guys picked Cincy to cover the spread, whereas 7 of them picked TA&M to cover.
Who is this 'Dave' guy anyway?
Yep, I kick myself regularly for not shelling out the $ to see McCartney the last few times he's been in town. I hope I get another chance before he finally hangs up his Hofner for good.
That's an epic mashup! Umphrey's is pretty badass, I've seen them 3 times and they never fail to impress.
Every non-conference one-off opponent gets paid. The only time a non-conference foe does not get paid is in the case of a home-home series, where each team gets a home game.