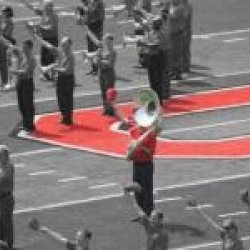 idotter81
Lexington, OH
Member since 01 December 2013 | Blog
I'm a proud grad of The Ohio State University and have been a die hard fan of the Buckeyes since the Woody Hayes era. I spent 4 years in the OSUMB and had the honor to go to 4 different Bowl games with the Buckeyes in those 4 years.
Favorites
SPORTS MOMENT: Buckeyes vs. Oklahoma 1977 - even though we lost it was the most amazing game I've ever been to in person. 2 wins at scUM during my time in the band -- one that took us to play for a National Championship in the Rose Bowl. And, of course, that amazing night in January 2003 . . .
Also, 1975 World Series Game I attended in Cincy watching the Big Red Machine on its way to winning the greatest World Series ever played.
COLLEGE FOOTBALL PLAYER: Rex Kern, Eddie George
COLLEGE BASKETBALL PLAYER: Bill Hosket, Jerry Lucas
NFL TEAM: Cleveland Browns
NBA TEAM: Cleveland Cavaliers
MLB TEAM: Cleveland Indians, Cincinnati Reds
Recent Activity
Those scUM guys just wanted the chance to go 0-4 vs the Good Guys.
Wait till the moralists in Knoxville see this. #mockoutrage
Bama will clearly do whatever it takes to win. There's a man that I want to influence my 18 year old son for 4 years.
Hope not but worried that may continue. Coaching has to be the question here. We have amazing athletes who have consistently underachieved as receivers.
More likely, they are not ready to go based on their performances/skill sets shown on the field thus far in their careers and decided not to risk losing their best shot at being a pro by leaving too early.
Same as I have said for some time, the receiving core has underachieved consistently with outstanding athletes. I can only put the responsibility 1 place - the position coaching. I have been saying for some time that Zach Smith is a tremendous recruiter but I have serious questions about his position coaching of the receivers. Again, UFM is apparently not ready to make a change there even tho it's probably past time. I absolutely wonder if his hesitation to make a change is due to his loyalty to Earle Bruce, Smith's grandfather, as opposed to knowing that needs to happen. As I said before, if we could keep him in a role like Hinton was moved to and be able to keep his recruiting skills on the staff, that would be the ideal situation. I fear our receivers will not develop as they should for any QB (whether JTB or Haskins or someone else) as it stands now. Between the drops and simply failing to get open a lot of times, I wonder. QB and play calling/scheme had something to do with their poor production at times but that's not where I put most of the responsility for the passing game issues. And it's also not necessarily on the guys themselves.
"And this is why the SEC showed poorly in bowl games. Their top only decent two teams were in the champ playoffs."
There, Silver, fixed that for you.
Good question. They beat Auburn who beat both Bama and Georgia. Why not?
100% respectfully disagree. This season has shown some albeit small improvements from the WR group. I have said before here that this seemed like a make or break year for Zach Smith as the WR coach. That group has consistently underachieved despite tremendous athletic talent. I have the most respect for Smith as a recruiter (he's a true stud) but not so much as a position coach. IMO, UFM has a tough call to make this offseason about Smith and I have always wondered about whether he would be able to make that call given his love for Earle and Smith being Earle's grandson. The WRs don't/can't consistently get separation and leave the QB with few options often and the number of drops seem like more than acceptable (I'd be interested in seeing that comparative metric if it exists anywhere). I used to wonder if it was scheme but after it being a problem for several OC's in a row, I think it's the responsibility of position coaching. If there's a way to keep him around like they did with Coach Hinton, that would be the best of both worlds to me. However, the receivers are at least equally responsible for the late season offensive swoon as QB play, line play or play calling (all of which have had their issues, too, at times).
Honestly, I had hoped for more from Sheffield. He's been inconsistent at best this year. Definitely not one of those guys who stepped in from JC ready "to go" prime time. Maybe next year but he's still got a ways to go IMO. Okudah looks like a true star in the making.
TomD, I lived though the Cooper "I'm the CEO not the coach" years and I have no desire the revisit those times.
I'm also pretty sure OSU's coaches have a little more experience than me at this stuff (although I am getting to be an "old guy" now so I have watched lots of games in person and on TV so I'm an expert, right?) and I'm also darn sure that NO ONE has more motivation to make things work better than they do. Even more than people who follow this forum. As for me, I'm good to trust them to do their best. It's been pretty damn good so far.
Go Bucks! Trounce the Trojans!
Merry Christmas, everyone! Enjoy the ride that is Buckeye Football now. It's a great time to be a fan.
I'm doing it right now. And telling him how he's a total loser if he doesn't pick the Bucks.
As I said yesterday, I think Jones played both ends against the middle and expected to hold all the cards. He overplayed his hand and ended up having very few choices, I think. I think he also got bad advice from whoever he was relying on to help guide him through the process.
Don't wish anything bad for this kid but it looked like he backed himself in to a corner and I think ran himself out of other choices. The drama is ridiculous with some of these kids but that's not surprising given that they are just kids and have spent their lives being told how great they are.
The Bucks' class looks amazing on paper and hopefully will translate on the field. I'll trust UFM and his staff to make that happen.
Go Bucks!
Don't forget the tats for memorabilia thing. Yet Johnny Football sat out, what was it, one half, for the same thing after we got hammered?
No way! They're in the SEC, after all. /s/
People complain about JTs passing and his arm. Pryor was/is a freak athlete but his passing was just flat awful at times. He was the king of the shot put pass.
This whole string just makes me shake my head. How spoiled are we as Buckeye fans? Can't even believe this slam fest of JTB continues. Couch potato coaches here should apply for some of the CFB job openings out there since they seem to have it all figured out. Wow.
Don't think Sheffield has anything locked down including a lot of the receivers he has covered this year. He's been sort of meh all season and not what I was expecting/hoping for. Lots of mistakes by him again on Sat night.
That's good to know. I can relax about the game this weekend then. Whew!
I hope Schiano gets EVERY damn dollar from those spineless UT jackasses. They have proven themselves to be idiots so let them pay (A LOT) for their idiocy. The funniest thing about the whole thing is their fan base all of a sudden seeming to give a damn about ethics given their consistent history with and support of scandals with Pearl, Kiffin, Summitt (their legend) and Jones. What a complete joke. Their loss is our (for the moment) gain. We are happy to have you, Coach. Stick around as long as you'd like.
If he can get over being homesick. He's a stud so I hope he can make it back to the team next year.
Which is often. And glorious.