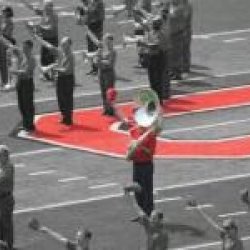 idotter81
Lexington, OH
MEMBER SINCE December 01, 2013
I'm a proud grad of The Ohio State University and have been a die hard fan of the Buckeyes since the Woody Hayes era. I spent 4 years in the OSUMB and had the honor to go to 4 different Bowl games with the Buckeyes in those 4 years.
Favorites
SPORTS MOMENT: Buckeyes vs. Oklahoma 1977 - even though we lost it was the most amazing game I've ever been to in person. 2 wins at scUM during my time in the band -- one that took us to play for a National Championship in the Rose Bowl. And, of course, that amazing night in January 2003 . . .
Also, 1975 World Series Game I attended in Cincy watching the Big Red Machine on its way to winning the greatest World Series ever played.
COLLEGE FOOTBALL PLAYER: Rex Kern, Eddie George
COLLEGE BASKETBALL PLAYER: Bill Hosket, Jerry Lucas
NFL TEAM: Cleveland Browns
NBA TEAM: Cleveland Cavaliers
MLB TEAM: Cleveland Indians, Cincinnati Reds
Recent Activity
Thanks, Knar! I agree. I don't need nightly either but definitely once or twice a week would be good. It's a busy gig, no doubt!
At least 1 in every fan base but he is nothing if not awful.
This, AJ. It's unfortunately the world we live in now. Anonymous tacky and personal bashing in our Twitter social media world has become the norm. People say things to and about each other now that they would never say or have the nerve to say to someone to their face or truly publically. I love 11W and muchnof ita content but the forums have started to chase me away, too. I'm commenting less but (more telling) clicking on the site less and less. Sad really but it's where we are these days.
Yes, but everyone (at ESPN) knows that if Bama had played Bama football that day, they would have won that game so it doesn't really count.
Thought it was Larry Johnson!
I wasn't but heard a few here who were!
Stover is a stud basketball player returning to a final 4 team at Lexington. He is about to become the all time leading scorer for Lex hoops - probably this weekend. He's a solid commit. He would not miss basketball season and was never a early signing guy. Not to worry, guys. He's fine.
We suck. It is inevitable. If not now, at some point.
A guy who sits right above me at the games and I were talking about why the offense abandoned totally the QB directly under center. I know it's not a spread formation that is Urban's offense but I have always thought having the ability to use it here and there could be effective and also gives you the ability to run a QB sneak in the obvious places that might make sense.
Disagree. I think both PsU and Wisky beat them. Prob not MSU tho.
Hope you're right, Teddy. Way to many so far this year for my comfort level.
Definitely concerned about the D vs that O esp w/o Nick.
I don't forget it not just a football issue. Indeed, he has repeatedly alienated multiple high level people and faculty in the medical school/hospital, pissed off several key large donors, basically ruined the life and made a scapegoat of a truly good man who was definitely trying to change the 50+ year (and, yes, clearly no longer appropriate) culture of the band and totally screwed up the latest handling and outcome of the football investigation (not to mention pissed off many BOT members in the process). I have NOT been a fan since Day 1 of his "reign" and won't be sorry to see him go (just like those at his former school in Cali felt when he left to came here).
Pryor has a new number. It's 12 now.
Agree on this. The LBs are a a significant concern at this point. Werner ran around looking seemingly lost some times on Saturday night. The middle of that D has GOT to figure it out—soon — or they will pay for it badly at some point. Great athletes but not getting it done yet. Harrison seems like the best of the bunch thus far but it's the weak spot right now IMO.
Only 1 sack on Dwayne on Saturday. On that play, he ran out of a worse problem and only lost a yd on it. The OSU D had 3 sacks. The O Line only gave up the 1.
Biggest difference is that TVU is good and fast!!! Indiana wasn't really that good. We just had those 1st game struggles that game.
Whoever they were, they were just flat bad last night - both ways. Amazing to me what is and is not called PI now.
I am now a officially a Haskins believer. I thought he was good but he's actually remarkable. If those 5 easy drops (4 on you Austin!) are catches as they should have been, he's 29-38 for well over 400 yds and 3 TDs and TBH, the game isn't as close as it was. Damn!