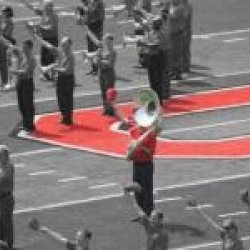 idotter81
Lexington, OH
Member since 01 December 2013 | Blog
I'm a proud grad of The Ohio State University and have been a die hard fan of the Buckeyes since the Woody Hayes era. I spent 4 years in the OSUMB and had the honor to go to 4 different Bowl games with the Buckeyes in those 4 years.
Favorites
SPORTS MOMENT: Buckeyes vs. Oklahoma 1977 - even though we lost it was the most amazing game I've ever been to. 2 wins at UM during my time in the band -- one that took us to play for a National Championship in the Rose Bowl. And, of course, that amazing night in January 2003 . . .
Also, 1975 World Series Game I attended in Cincy watching the Big Red Machine on its way to winning the greatest World Series ever played.
COLLEGE FOOTBALL PLAYER: Rex Kern
COLLEGE BASKETBALL PLAYER: Bill Hosket
NFL TEAM: Cleveland Browns
NBA TEAM: Cleveland Cavaliers
MLB TEAM: Cleveland Indians, Cincinnati Reds
Recent Activity
Dont see it. Dobbins is coming off a serious knee injury and Williams has gotten positive comments from the staff.
Shugarts was definitely always good for at least 2 false starts a game.
I don't believe Meyer is going to sacrifice a position -- any position -- on this team for a "favor." The kid must have something to add to the program or he's not here. I've told my kids forever that best way to get an opportunity for a job is from some kind of connection but at that point you have to sell yourself and then prove yourself.
Welcome aboard, Trey!
The kid looks strong, too. I see the jump ball pass from the 5 yard line in becoming a regular part of the play calling with the size we are getting at WR.
I am hoping to see a few key receivers break out in '17. Part of my concern is that so many guys are being rotated that there is no opportunity for any kind of consistency. The seeming lack of ability to get separation has been worrisome especially when we know these guys are stud athletes. That may well be a function of the lack of development or that the team has recruited more "athletes" and put them in the WR role than had true receivers. That seems to be changing in the 16 and 17 classes. I think this year, with the addition of Wilson as OC, will be telling for Smith and his room. If the development doesn't seem to be there again(still), you have to start looking at position coaching IMO.
I really like KJ and what he has been able to show glimpses of. Hopefully, this is the year he can put it all together along with a few other guys who step up and be the consistent guys we need to play the position - Victor, Mack and the freshman as they learn what they need to do in this offense.
I'm looking forward to watching these kids get an opportunity to do their thing!
This is so true. Too many "experts" on here often. Love you guys but let's give UFM some credit (and a friggin break) here. Things need to get fixed and it seems to me that's obviously what he's trying to do!!
Every fan base has idiots and this guy is obviously one of theirs. I have five adult daughters. This idiot needs to have one and see if he has the same attitude.
2 OT wins, I guess? They have one, too, though - and were very lucky to get to OT thanks to a shanked FG by NC State's kicker at the end of regulation. Orange colored glasses?
I don't think the fans are necessarily reflective of the team. Dabo will NOT have his guys underestimating us. I expect another very tough game. I love how fans talk like they are the ones playing. Makes me laugh. However, I am nervous about this game - then agin, I have permanent PTSD from the Cooper years so I'm always nervous. Go Bucks! Beat Clemson!!
Wheat, white or rye? And toasted?
You forgot the italics. MGCCC just rolls off the tongue, doesn't it?
Bahahahahahaha! Never change, Jimbo! But please, please, take your meds, dude!
Well, our offense wasn't having much problem that night as I recall. He must have been thinking quicker?
Amen, Squirrel! That has been going on in my mind constantly as I read the comments in this thread. I didn't do it but care to wager how many people were complaining about Herman in these forums at one point? People have VERY short memories. I'm inclined to let Urban figure out who makes the most sense to coach this team. He probably knows a bit more than I do about it. If he makes a staff change (or we see someone make a "strange" or lateral move (like Withers, for example)), that tells us a lot. If he doesn't make a change, that says a lot, also.
This team has performed so well overall with young, inexperienced players, one of the toughest schedules in the country and a huge loss of talent to the pros. We are in the CFP for goodness sake!! I'm planning to enjoy that ride and am going to go out to Phoenix and cheer my head off for the team I love. It's an amazing time to be a Buckeye fan and we are spoiled.
I hope they beat SC too but I'll still hate them. #DeservedDeathPenalty
This is the one I have the most issue with. Ridiculous. How can that be real? He's a definite big return threat/talent but offensively, he's not even relevant. Curtis led the country in all purpose stats (rushing receiving combo)
PsU and scUM just missing out? Awwww. If that's how it ends up with the CFP, I will be able to hear Black Shoe Diaries and mGoblog whining, crying and gnashing of teeth all the way from here.
That was my reaction, too. Can we really stand 15 HOURS of these talking heads for a 4 minute announcement? Not watching eSECpn after 12:30 or so.
Last 2 times. I'm still bitterly disappointed about the '78 Gator Bowl where Woody melted down. Bitterly disappointed.
I also share your worries, my pessimistic friend. I have lived through too many disappointments over the years (some of the 70s and all of the 90s). I'm going for the best but fearing the worst (PU making it would be horrible. That school shouldn't even have a team at this point)
I am bitterly disappointed about how the officiating allowed PsU to win tonight to keep us out of the playoff where we so richly deserve to be. - Jim Harbaugh
Wouldn't trade JT for McSorry ever. Not ever. That is all.
Funny. I remember when Tom Herman sucked, too.