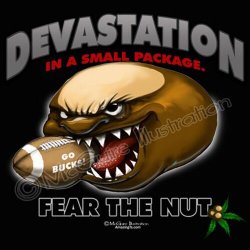 Icouldnotgofor3
---
MEMBER SINCE August 22, 2014
Favorites
SPORTS MOMENT: The "streak" of Zeke through the heart of Dixie
COLLEGE FOOTBALL PLAYER: Devin Smith
COLLEGE BASKETBALL PLAYER: Aaron Craft
NFL TEAM: Browns
NHL TEAM: Blue Jackets
NBA TEAM: Celtics
MLB TEAM: Indians
SOCCER TEAM: Columbus Crew
Recent Activity
Class of 1958...Bridgeport High School.....Home of the Bulldogs....
"another sad example of how overly litigious our society has become."
Come on, you have to keep the lawyers employed......
OSU had a 37-28 halftime lead in that final four game and choked in the 2nd half. OSU excels at that because I have seen it farrrrrrrrr too often over the years. However, there is some validity to what you say about Bill Self's teams.....
Methinks OSU will surprise in the BIG 10 this fall.....good hire....development and fundamentals are always key.
That shouldn't happen. Holtmann needs to be smart about his allocated minutes. Each one of those players can provide solid minutes. You HAVE to have depth.
Thanks for the correction.....you're right
I was wondering the same thing....
Just doesn't seem the same without Bourbon Mire on the sideline....
He also needs to learn how to hit a lay up and the close gimme's at the bucket....
61,102 people attended Saturday's game. ??????
That's it?
Nebraska drew 95,000 plus for their spring game......seems the huskers have more homers now....
Glad someone else noticed as well. I was in disbelief when that was NOT called as a foul......
Seems sometimes the BOD are clueless...........
Fantastic article. I did not know of Olsen's contributions to the game. Well done and credit where credit is due....
This article is some small sample of BS on Baugh's winning TD catch.
Pause the video at 0:07 and you can clearly see Penn State's No.52 being held by the jersey. I'm surprised our lineman didn't rip it off of him.
A clear flag for holding, thus negating the TD pass....
They just need to have the basic fundamentals drilled into them. Take care of the ball, hit your foul shots, and have situational game time smarts. They'll have the talent. Now I hope Coach Kent has learned to call a time out before the other team scores 15 points on a run.
P.S. Teach Washington NOT to play 1 on 5 ball
P.S.S. Let Ahrens shoot the ball more....
P.S.S.S. Jallow is the man if he learns to drive to the hoop with authority or back out as needed.
What concerns me about Giddens is between the ears. He can be a monster inside the paint if he chooses, or he can be a loafer. It's all about his attitude. Personally, I'd like to see a post player who takes no prisoners and won't be pushed around in the paint.
No surprise about TMac....knew since at least 2016 he was a break out player.......Hope Austin can match that kind of success..
Perhaps Holtmann will take a look at Zach Loveday out of Gallipolis. Kid is a 7-footer who knows how to shoot and dribble the ball for that 2020 class. Reminds me of Cody Zeller from the Hoosiers a few years ago....
There was a 4-point swing late in regulation when the UVA player ran over Purdue's kid in the most obvious charge I've ever seen. It was a clear foul and a harder hit than a football play. Purdue had two shots coming and the points scored by UVA should have been negated.
After what I witnessed in that Virginia-Purdue game with the officiating, it's all corrupt as far as I'm concerned. The NCAA should launch an investigation and vacate that Virginia "win". I'd also look at imposing heavy fines and suspension on that particular crew. There seems to be no question that they appeared to be in the tank for the ACC.
I feel exceptionally bad for those Purdue kids and their fan base. Carson Edwards was on fire.....and to have that game taken away from them was a basketball atrocity.
"I am thankful we have Holtmann at the helm "
Are you friggin serious? Your "coach" doesn't even teach how to stop a cross-over dribble drive to the basket let alone know what a time -out looks like after a 15-0 run by the opponent. Houston had at least 5-10 straight drives to the basket for easy, unchallenged lay-ups, and even though Ohio State had the bigger team, got pounded in the paint 34 points to 8. THAT is totally unacceptable. Maybe if "coach" teaches them how to play defense down low, they'll win these types of games.
Totally disgusted by coaching. Pedon should take over.....
Hopefully Coach K. won't let Washington play one on five ball again. Kid needs to learn to play under control and dish the rock when he needs to...
Looks fixed to me, but they wouldn't do that of course...
Prediction:
Buckeyes have 13-20 turnovers for the game, Wesson has two fouls by the 15:00 minute mark of the FIRST half, 3-point shooting is below 30% and Buckeyes choke at the foul line hitting less than 70% from the stripe....
Iowa State 85
Buckeyes 61