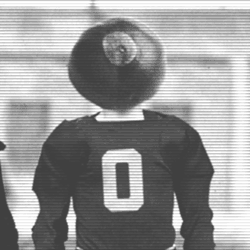 ibleedScarletGray
---
Tampa, Florida (via Pataskala, Ohio)
MEMBER SINCE January 13, 2017
Born in Columbus, raised in Florida. Scarlet and Gray runs in my veins. Would have it absolutely no other way. GO BUCKS!
Favorites
SPORTS MOMENT: Storming the field after the 2016 Osu vs _ichigan 2OThriller in The Shoe
COLLEGE FOOTBALL PLAYER: Cris Carter
COLLEGE BASKETBALL PLAYER: Mike Conley
NFL TEAM: Minnesota Vikings
NHL TEAM: Tampa Bay Lightning
NBA TEAM: Cleveland Cavaliers
MLB TEAM: Cincinnati Reds
SOCCER TEAM: LOL
Recent Activity
2016 will echo through my auditory for many, many years to come.....
"Ohio State wins!!!"
My exact thought, who tf is cutting up with *ichigan folk for fun? Bleh
I love The Ohio State University so much.
Call me crazy... but notice how shaun Wade snags TJs helmet to shed the stripe? I get Shaun is from same area, but kinda shows Damon Arnettes lack of leadership over unit? Interesting to see who runs top 2 for the unit
go BUCKS!
Agree to your disagree. Context during 2015 is vital
I read it as:
Any allusion to Zach being arrested from the 2015 incident, specifically, is false and would be due to human error.
THIS.
Hard to catch the perspective, but you notice the DB try to undercut the throwing line and couldn't make it. TOO crisp.
Go BUCKS!
The pattycake comment did it for me...
Go BUCKS!
68, I must say I adore your imagination and time you put on the blog, but damn do I get SO confused reading your comments. LOL It's more than likely lack of vernacular sense to your era. Never change 68.
Go BUCKS!
Bosa talking about making jumps in his career.. "If i can do that again, I'll, uh...be really good." lol love his demeanor.
Go BUCKS!
.... "I have a feeling the staff was well aware this was going to happen, and quite frank, okay with it."
Maybe I'm not understanding your comment correctly? Or my awful wording was finding the surface. Either way. Report retracted and Booker may be here to compete after all!
Go BUCKS!
I don't think anybody did YB. I did notice his inability to cover the read-option and I'm sure that led to his benching. Gotta have faith in UFM and what they see in these younger guys. The changes at the latter half of the season seemed to pay off!
Go BUCKS!
At first glance it's frightening isn't it? With the late season changes that were made (after the Iowa game) at the linebacker position, I have confidence in this playing out well. Obviously, the coaching staff cannot force him to stay, but UFM's (psychology degree) ability to relate to players and transcend his role/vision for them is second to none. I have a feeling the staff was well aware this was going to happen, and quite frank, okay with it. Interesting to see who steps up to fill the depth.
Go BUCKS!
Class act. Gotta love the culture UFM creates.
Go BUCKS!
C'mon man... His professional resume is one thing. This is recruiting. If you're going to list the players you developed over the years, then why not list those player's accomplishments? Start with putting the rival records those players held during their years at OSU. That wouldn't look too good would it? Showing some of the players he developed are 4-0 against the team he is now trying to receruit forr. It's a redundant, and stupid, to say the least.
Go B U C K S!
Doesn't get much better than this.
*Opens bag of Orville Redenbacher - Movie Theatre Butter*
Fun to watch Harrison go up against Jack Carman. And to think he has another year to grow and develop, WOW.
I had the pleasure of watching this kid for a couple of years. One of his best friends is my neighbor and currently plays ball at NC State. These kids are grinders. Like to lay low and let the field play speak for itself.
Watch out!
Not at all.
Matter of fact, I don't comment too often. It kinda just takes a prick like you making an ill comment about a young man who is pursuing his dream. If you want to disagree, that's fine. But why portray it in a way that is offensive or derogatory to someone who just committed time out of his life to our fandom?
People aren't down-voting you for going against the grain, they're down voting you for making stupid comments.
I see where you're coming from with the BOOM possibly losing its "explosiveness". But I think with so many high quality recruits coming in, we conformed to thinking a BOOM represents 5 stars. That's incorrect in my opinion. BOOM represents a young man making a decision to give his collegiate career (and hopefully his lifestyle) to The Ohio State University. BOOM represents a young kid striving to become a man through the likes Scarlet and Gray, The Game, and names that start with Woody, Bruce and Archie. BOOM is more than being highly recruited Auburn, Alabama and Georgia (I couldn't care less about those schools or what the hell they do on their recruiting trails, I'm all about tOSU!)
If you watched the video, the kid has talent in the pocket and delivering accurate throws. If he sits behind talent for three years, then so be it. We still decided to offer him a scholarship and he decided to accept it.
That's a fucking BOOM if I've ever seen one.