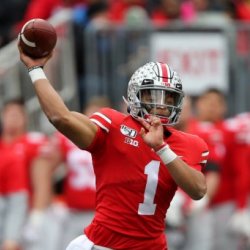 IBleedSandG
---
Beavercreek, Ohio (via Xenia, Ohio)
MEMBER SINCE September 24, 2012
- Avid golfer
- Sneaker connoisseur
- Old School hip-hop enthusiast

Favorites
SPORTS MOMENT: Witnessing the 2006 tOSU vs. ttun game in person. Paid an arm and a leg for the ticket from StubHub, but it was worth every penny.
COLLEGE FOOTBALL PLAYER: Current: Justin Fields, Shaun Wade All-time: Troy Smith, Zeke Elliot
COLLEGE BASKETBALL PLAYER: Current: Duane Washington, E.J. Lidell All-time: David Lighty/Kenyon Martin
NFL TEAM: Cincinnati Bengals. Who Dey!
NHL TEAM: Don't care about Hockey
NBA TEAM: Cavs
MLB TEAM: Cincinnati Reds
SOCCER TEAM: n/a (loved to play soccer growing up though)
Recent Activity
A reach imo, but Damon definitely plays hard and with a lot of intensity
Niners add to their stout D line
I love how they bring up Joe's WRs, but don't mention Bama's insane group
Buuuusssst
Probably JK
Big Dick Joe!!!
Jesus, the espn app sucks
True, true.
We'll take it
I know he's raw, but Lonzo should be playing before Hummer
DJ... you have got to value the damn ball more
The Saints better be sending the Bengals their 1st, 2nd, next years 1st and throw in Marshon for the no. 1 overall pick
Honestly I could really care less about OBJ giving some dudes a few Benjamins, but if an OSU alum did some shit like that, it'd probably be front page news on the NY Times
Not a cigar guy - smoked like 2 in my life - but this is the worst take of the day.
In the postgame, they tried to briefly compare the targeting call with the bogus one on Wade. I just chuckled to myself, "uh, yeah, that guy isn't a future first rd corner." The Ducks gonna need all the help they can get against Field, Olave, Wilson & Co.
Congrats to Joe on an insane season. Can't wait to see you in Bengal's stripes for the next 10+! Salute!
Can't really argue with any of those selections. Biggest snub would probably be J.K., but Zeke was a monster
That catch by Wilson was insane! Dude was like 10 feet off the ground at one moment. Stud.
Can't even imagine what Chris felt like after that play. He's gonna light the B1G on fire as a full-time starter next season. With all due respect to KJ, Bin and Austin, I'm not worried about the WR room in the slightest.
I think our offense will shred Oregon. They'll be breaking in a new QB as well
That ball was secured as fuck until he FUMBLED.
He took 4 bloody steps, no bobble, it was fuckin called a TD on the field. One of the top 5 worst calls I've seen.
Shit, I'd say 49/50 times
Go fuck a goat, bro
725