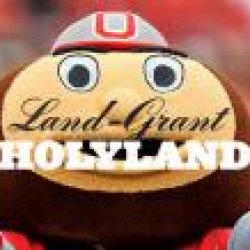 Ian_InsideTheShoe
Ohio
Member since 30 August 2010 | Blog
Born and raised in the Buckeye state, Ian has been a Bucknut from birth.

His blogging efforts began in 2009 when he started Inside The Shoe. Ian has spent many years researching the history of the Ohio State football program, and gathers insight from the various strategies of previous coaches and players. In his spare time, he enjoys rooting for his favorite Ohio teams, which include the Reds, Bengals, Cavs and Jackets (despite the lack of success).

Ian is currently a writer for the SB Nation Ohio State site, Land-Grant Holyland
Favorites
SPORTS MOMENT: 2002 season
COLLEGE FOOTBALL PLAYER: Beanie Wells
NFL TEAM: Bengals
NHL TEAM: Jackets
NBA TEAM: Cavs
MLB TEAM: Reds
Recent Activity
There is always room for improvement in my game. I never want to settle so I decided to get down there and work with Coach Vrabel. I wanted to learn some things to help me individually, and also take away some things to bring back and show my team. I feel like I accomplished that.
This is pretty telling in that Spinkle wants to become the best he can be. Buckeyes got a good, hard-working kid. Good for him.
Have to agree with Rooster. Chapman is much improved from his rookie year. He's the most dominant closer right now in the game. He has a very bright future.
So, so sad Beanie Wells wasn't on there. I can't disagree with the picks at all though, it's just that Beanie is one of my favorites.
You could make an argument for Ted Ginn too. OSU fans were infatuated with Ginn (including me), it was basically his team for a while!
I love Aroldis Chapman. Probably my favorite Red, other than Joey Votto. He's just a dominant pitcher.
No apology needed, we're fine. I didn't take any offense :)
I've always appreciated most his films.
The movie is Dead Poets Society, but the actual poem is from Walt Whitman, yes. I was mainly referencing the movie because of the picture Chad had used as well.
OH CAPTAIN, MY CAPTAIN
A Dead Poets Society reference? Excellent.
Can't really think of anyone more deserving than Craft.
Was just thinking that Squirrel.
Boy, we had it but let the ball drop. Missed free throws in the last 2 minutes of that game are truly what sealed it in my opinion.
I'm so glad you somehow, some way fit that Kevin Noon picture/arguement in. It's fantastic. Great article Ramzy.
Surprised Dunn hasn't been trying to recruit him. We'll see if that changes anytime soon.
Huge win, but I couldn't help but think that I was watching a replay of last year at Wisconsin once it got under 3 minutes, when we started to pull away. That's when the replay really hit, and Jordan Taylor got hot, as well as Wisconsin hitting a huge 3 to cut the Buckeyes lead to 1. This year, thankfully, was different and Sullinger really stepped up.
Great overall effort from the team though, huge win.
I'm becoming more and more impressed with Smith. I didn't think much of him at the beginning of the year, up until midway through the year. He has really worked hard and proved himself to have a high motor all game long. Seems like the Aaron Craft of last year (even though Craft still is going strong) and is even a better offensive threat than Craft.
I'm exicted to see this kid progress over the next month or two.
Has there ever been a Buckeye football game that most have felt so "meh", about?
I know the feeling. This game just doesn't perk the interest as much. The season has been disappointing overall. A few bright spots though, (landing Meyer, progressing of Braxton) and hopefully will be a showcase for what we can expect to see from Miller next year as he drives towards a Rose Bowl or better. Damn you Gene.
Wow, Georgia's schedule. Eastern Michigan might be able to run the table with that. That's all I have to say about that.
The new Jared Sullinger, after dieting all summer: Little in the middle but he's got much back.
This made me laugh out loud so hard.
Outstanding stuff Alex. You're one of the best people to go to for recruiting news.
It is journalism like this that allows 11W to transcend the blog label.
Couldn't have put it any better.
Great stuff Ramzy.
Please don't be another Maurice Wells.
How dare you. We are no longer on speaking terms until further notice.