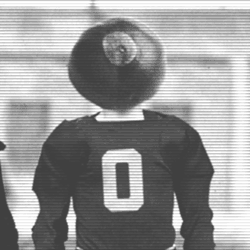 IAMTHIRD
---
MEMBER SINCE August 23, 2015
Favorites
SPORTS MOMENT: Ohio State over Alabama in 2014 Championship run
COLLEGE FOOTBALL PLAYER: Terelle Pryor
NFL TEAM: Steelers
NHL TEAM: Flyers
NBA TEAM: NONE
MLB TEAM: Reds
Recent Activity
The Matrix
Winner......
Logged on to see what 60 new posts were about and it is all f***tsun. Come on, man!
Thanks for the heads up
The Vest - 81% winning percentage, 3rd best all time at OSU. Would argue possibly better at coaching players to be their best than Meyer. If memory serves, we lost fewer top Ohio players to out of state teams also. Day seems to be elite at both recruiting and coaching.
Agree. Being 17 is very different nowadays- I venture to say harder. Even though I grew up in a working class family I'm sure i and most on this site had it easier growing up than many of these kids. Give them the same respect we all thought we deserved when we were 17. Go Bucks!
Agreed. logged in just to upvote your sentiment.
It does suck for recruiting, but safety of players, their families, and ohio state staff must be the first priority
I cannot stand bama, any school from Florida- especially Miami, Notre dame and any SEC school. I know not a popular preference but I would prefer these schools lose to scum
Indiana Jones shooting the swordsman Don't know how to add the gif
Sorry if I missed it- is he going to coach through the playoffs?
Barf does it again
I agree - the contractual requirements have made some of these matchups pretty ludicrous.
I know this won't be popular here but I hope Alabama loses this game. Need to see the end of this dynasty, maybe Saban will have another fit and decide to retire. would make recruiting easier. I just can't stand Bama
No team in the playoff has gone the whole season without struggling for a half. Glad they think we are underdogs- three weeks to get healthy and then kick some *as
Just win
LSU>OREGON
Fields is a great quarterback who can make amazing plays with his arm and his feet, but he does need to be willing to throw the ball away rather than give up sacks more often.
Root for the person not the team.
Maybe they have a foot fetish
Spooner Completely agree with Roll - thank you for all you do!
Ohio State 31, Xichigan 24
Coffee, not sugar filled energy drinks for me
Really like his film - not afraid to make contact. Makes me think of Boom Herron.
You are an offensive idiot. Go back to ***goBlog