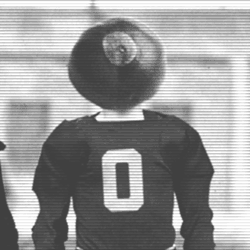 IAMTHIRD
---
MEMBER SINCE August 23, 2015
Favorites
SPORTS MOMENT: Ohio State over Alabama in 2014 Championship run
COLLEGE FOOTBALL PLAYER: Terelle Pryor
NFL TEAM: Steelers
NHL TEAM: Flyers
NBA TEAM: NONE
MLB TEAM: Reds
Recent Activity
I agree - the contractual requirements have made some of these matchups pretty ludicrous.
I know this won't be popular here but I hope Alabama loses this game. Need to see the end of this dynasty, maybe Saban will have another fit and decide to retire. would make recruiting easier. I just can't stand Bama
No team in the playoff has gone the whole season without struggling for a half. Glad they think we are underdogs- three weeks to get healthy and then kick some *as
Just win
LSU>OREGON
Fields is a great quarterback who can make amazing plays with his arm and his feet, but he does need to be willing to throw the ball away rather than give up sacks more often.
Root for the person not the team.
Maybe they have a foot fetish
Spooner Completely agree with Roll - thank you for all you do!
Ohio State 31, Xichigan 24
Coffee, not sugar filled energy drinks for me
Really like his film - not afraid to make contact. Makes me think of Boom Herron.
You are an offensive idiot. Go back to ***goBlog
Duplicate
Agreed
Bama lover
Too negative
With all the accolades the team has received I hope we stay hungry and don't get overconfident. PSU will bring their best game so I expect it to be closer due to their defense and a running quarterback, with us winning by 1-2 scores.
Go ole miss and miss state beat alabama and lsu
I think we need Penn State to be ranked higher to add to our quality wins, so hoping to see PSU, TSUN, and MINNY all win this weekend.
He was in an Oak Tree outside his bedroom.
Agreed but am concerned he may be gone.
Think we are going to be looking ahead to the Rutgers game. 48-14.
For pure quarterbacks that I have seen play. Drew Brees.
Young changed the game when he played and won a championship practically by himself