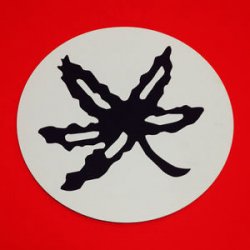 iamlucasking
---
MEMBER SINCE April 14, 2015
Recent Activity
https://m.youtube.com/watch?v=OjEtJG9Nhlc
Hey man. Don't knock FRS.. that is my lifeblood living overseas in a world where EVERY device has a location tracking method separate from the VPN you may use. There is literally no other way to wach the Bucks without forking over $13 a month to ESPN.. and then only getting SOME of the games.
Amen to that! Greetings from Germany.
Except if you have JT Barrett and Cardale Jones in your QB bullpen...
Is it 3D enabled or something? Can't otherwise figure out why the grass looses its green, the M on the helmet turns to red, and other 3D like color shifts at Victor's back, etc.
Given his high rating as a QB and his incredible accuracy, I think I was surprised by SO many throws yet so few points. Sorry, I've blocked this game from my memory, so I no longer remember the details.
Number of punts blocked in the snow bowl was also mentioned.
How the HECK did Haskins throw SEVENTY TWO passes in a game and we still lose by 29 points?
My question is, who is going to play our scout team QB against the defense when we are preparing for teams with a dynamic dual threat QB?
Like I said, I get that side of it. I'm also not in favor of "forcing" kids to do anything against their will.
At the same time, I do believe a level of character is built in long-suffering that a culture of "easy everything" does not offer. If we encourage and support the next generation to just quit and do something else when things don't go their way, I think there is a risk it will (or is!) develop a generation that is more self-centered, less tough, less committed, and exhibits less mettle than what we as a country need in the times to come. (speaking of things larger than football here)
I kind of hate that this is the new normal. It just encourages kids who are self-entitled to keep searching until you find the program that treats you as #1. In some ways I get it, but it some ways I fear that we are raising the next generation to treat commitments lightly, which will have wide reaching affects throughout society.
Back to football, it does make me sad that the Kenny Guitons and Cardale Jones's may be stories of the past.
Another possibility is that he or someone close to him is terminally ill. And he'd like to take this transition season to spend time with close family before that person is no longer here.
Looks like KJ Hill is the one taking the stripe off. Which I believe means is his "big brother" in the program. Also a good sign to see a close bond between the two before touchdowns are being scored!
I was born in raised in the great state of Ohio. I haven't lived there since graduating from The Ohio State University in 2005. I've spend most of the last 14 years overseas - now residing in Germany.
The German national team over the last few years has a lot of similarities to our Buckeyes. They are dominant, well respected, and because it's a national team, many home-grown superstars. Lately, they've not met some fam expectations, and there have been many-a-angry fans complaining about the "makeup" of the team. Too many non-white, non German-last names players. When they won the World Cup, no one said a thing. When they crashed out last year, all the blame was put on the non German looking players.
Being a Buckeye through and through, I agree that there is some great pride in having a roster and staff saturated with Ohioans (by birth or by roots). I do hope Day recognizes and continues that. But experiencing the open racism and nationalism seen here in Germany, I also hope we as fans, and we as Ohioans are bigger and better than blaming non-Ohioans as the cause if things start to turn south. Coach Day and many of the players don't have deep Buckeye roots, but those who do have chosen them to lead our team on to the field this year. Let's support them with all we've got, win, lose, or draw!
Ever since the Game, my man is Shaun Wade. The kid knows how to lay the wood, a necessary skill if we are to bring the Silver Bullets back.

I actually WAS wondering what the "other" could be. Thanks for the leg work!
Buckeye alumni living in Germany here. I tune in to those blasted 8pm games at 2am here!! Watching a blood pumping football game from 2-6am is not good for the heart. Trust me.
I for one, would be very happy to keep the best game of the year at noon, aka, 6pm German time. It also allows me to indoctrinate my children, half a world away.
Does anyone know who Fields is rooming with? It'd be interesting if it's a WR, further building a bond.
I'm also a fan of how much wisdom he takes from his father. I recently (finally) watched QB1 season 2, and there are a number of moments filmed there where when in a bind, he goes to dad to get advice.
In an age where most kids are trying to blaze their own trails, mostly guided by the "likes" they'll get on social media, I think it speaks volumes to see him so humble and grounded.
I disagree with the opinions in the comments above about him being entitled and rubbing the commenter the wrong way. I see things quite the opposite.
Ahhh yes. Good old Mike Yoder! One can only hope.
Me before video: I hope they show Justin
Me after 3 seconds: DAAAAAYOM! They've got balls.