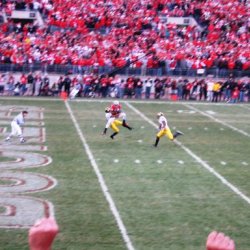 iamabuckeye
Grove City (via Groveport, Ohio)
MEMBER SINCE March 10, 2012
Born and raised a Buckeye.. Ushered 2002-2006 but kids were playing football and decided to give it up to watch my kids.
Favorites
SPORTS MOMENT: Ohio State running back Maurice Clarett strips ball from Miami safety Sean Taylor after interception in 2002 national championship game

COLLEGE FOOTBALL PLAYER: All Ohio State Players past present and future
COLLEGE BASKETBALL PLAYER: Slam Thompson
NFL TEAM: Whoever has the most Buckeyes
NHL TEAM: Blue Jacket
NBA TEAM: The bulls when they had Jordan
MLB TEAM: Reds/Indains
SOCCER TEAM: The Ohio State Soccer Team
Recent Activity
That was the most pressure Dwayne Haskins saw all day :-)
I agree 100% with everyone above and really proud to be a BUCKEYE but what I really need to know is whet two pieces in the puzzle were her grandparents????
IMO he wont be there long.. His ability to get to the ball and hustle is very under rated. I enjoyed watching him
Does not matter their offense will still not be able to find them.
This is painful to watch
I tried to bet my boss that the looser had to wear the winning teams lanyard for a day. He wouldn't bet me (smart man) and he graduated from ND.
You go to college to get a good job. Best of luck to ya and thanks for being Buckeyes
GRO..VEP...ORT ... YEA GROVEPORT.
He is going to need one of these... https://sheriff.franklincountyohio.gov/services/concealed-carry-permit.cfm
Good one Q. I laughed outloud on the bus and now everyone is looking at me. Kinda reminded me of that beer commercial with the self proclaimed worlds most interesting man in it. Speedy recovery Dolo. Go Buck's
I would say he is the BOSS of these little Buckeyes
Have not found it yet but proly on You Tube soon. They are re-airing @ 9:30 to night on BTN and as multiple times tomorrow.
No free pass for the Two-time Big Ten Offensive Player of the Year Baxton Miller. No sir.. You are down the hall. It is hot dogs 4 U. Truely refreshing. GO BUCKS.
Just sent out text to 5 maybe 15+ of my contacts on phone to vote.
DVR set to record via time warner app
Just got my confirmation email for size 12. Thanks for the 411 EDIT: sold out... called store and I should have gotten a second email so sad for 8 days
http://www.columbussports.org/events/the-morning-sports-report-presented-by-marathon/#!multimedia
They don't have this years on the site but a lot of others from years past.
I've owned two chargers. I started with the 06 RT then upgraded to the SRT8. The 4 doors are great for family and the traction control keep me on the road during the winter. Plus they look bad azz.
#zone6_5.0
Go Bucks
If we can get 100 of the 11w members it would only be 50 Each I say we have the next banger here GO BUCKS
I know Jeff Logan and he can hit the ball 300+ yrds. He is a scratch golfer and a member of MVGC. Urbs hates to loose at anything.
Myra Mains
Fyi the link is at the bottom of the page for complete rosters in PDF