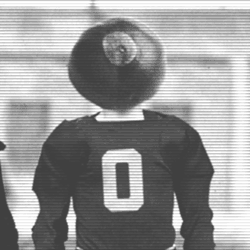 HWTOH
---
from Detroit
MEMBER SINCE May 27, 2018
Born in the state up north but never one of them.
Favorites
NFL TEAM: Detroit Lions
NHL TEAM: Detroit Red Wings
NBA TEAM: Detroit Pistons
MLB TEAM: Detroit Tigers
Recent Activity
If any of the complainers here actually want to contact ESPN, here's a link,
https://www.espn.com/espn/columns/story?id=2826900
Is anybody complaining about the NCAA and ESPN going to contact them to tell them where to go? Will anyone boycott the championship game to send the NCAA and ESPN a message? Even if you do wish Joe Burrow well you don't have to watch the game to do it.
I'm sure there will be no boycott. Ratings will be fine and the powers that be at the NCAA and ESPN will continue to believe that the way to make money is to promote the SEC and other southern teams like Clemson. Northern teams? Maybe to the the NCAA and ESPN their role is to be the Washington Generals.
I agree that we should all root for other Big Ten teams to win their bowl games. It makes OSU look better. It is hard to hold your nose and root for TTUN and Harbaugh over Alabama but I'll accept anything to undermine the tale of SEC supremacy. Besides the one good thing about Harbaugh is that he got into a feud with the SEC and Paul Finebaum. To paraphrase the old saying, "Anyone who hates dogs, kids and the SEC can't be all bad". Although I can imagine Harbaugh after his latest loss to OSU going home and kicking his dog.
Illinois has hurt us pre-Cooper playing at Ohio State. Chick Harley's only defeat was at home to Illinois. Also even as TTUN is happy to remember 50 years ago when they ended our 22 game winning streak (memories is all TTUN has left), what was the previous loss before the nightmare of 1969? It was a defeat at home to Illinois in 1967.
Here's an interesting exchange between a couple of realistic "TTUN" fans.
"I know it recently got legal to smoke with recreational pot however I didn't know it was also legal to do crack or cocaine? I say this because UM LB Hudson is on crack if he thinks UM has more talent than OSU."
"Yeah what the heck is that all about ? If Blue has more talent then Hatbaugh should be fired tonight"
Al Kaline didn't give his salary back but he did refuse a raise to the then princely sum of $100,000 because he felt he wasn't worth it. He didn't accept the money until he felt that in good conscience he had earned it.
Given that personal integrity I do feel Kaline would have stuck with the Tigers even if free agency was available. I'd say he was the kind of man who would have been quite satisfied with whatever multi-million dollar package he was getting and not seen any reason to uproot himself and his family for the sake of gouging someone for even more dollars. Quite a different attitude than today.
I'm sorry but I differ with those who suggested we add Southern schools to the Big Ten. I am too old (watched Woody Hayes) and old-fashioned to want the Big Ten to be anything but a Midwestern conference. I do not want anyone from the South or West added. The additions of Rutgers and Maryland are the limits of my tolerance. I'll manage to accept them for the tactical reasons of research and an eastern media presence and whatever they bring to athletics (like Maryland basketball) but that is it. Any other additions to the Big Ten should be from the Midwest and only the Midwest.
But in fairness to Rutgers maybe they are good in non-revenue sports. The women's world cup reminded me that USWNT starter Carli Lloyd went to Rutgers. She's since performed the stunt of kicking a practice 55 yard "field goal". Having seen woeful kicking by the Chicago Bears maybe they're one team that could use a Rutgers athlete.
It certainly is a double standard. Don Cherry just got fired for saying "You people". I don't oppose the firing but to be fair to Cherry Desmond Howard was far more specific in making a prejudiced statement.. Howard specifically said, "Black student-athletes under the age of 25 don't know anything about loans. They borrow money with the intentions to never pay it back". If that isn't a statement reeking with stereotypes I don't know what is. Based on the Don Cherry case it's clear that any white commentator would have been fired.
That's right, don't underestimate that team. I lived through the nightmare of 1969 and like this year TTUN started slowly. In 1969 they were 3-2 with a blowout loss to Missouri and then a loss to MSU. But they came on strong down the stretch. Meanwhile OSU in 1969 like this year had a schedule with the toughest games at the end, Purdue and TTUN. OSU blew out a one loss Purdue team and we know what happened a week later. It's not impossible that TTUN could get the 8 year itch, 2003, 2011 and 2019? But I'm cautiously optimistic with the strength of this team that includes a more diverse offense that in 1969. Bo to give the devil his due, found that he could shut down OSU by stopping Rex Kern's option runs. I don't see such an Achilles Heel this year. And Harbaugh is not Bo.
That's right. They were great in ancient times, in the days of Fielding Yost and Fritz Crisler.
Maybe it was a semi-fix. Just typical NFL refs in charge of a pecking order with teams like the Lions and Browns at the bottom. So they have the attitude "When in doubt rule against Detroit/Cleveland."
I wouldn't tweak these uniforms. I'd burn them. They look horrible. I'm obviously hopelessly old-fashioned but I believe in Scarlet and Gray and nothing but Scarlet and Gray for OSU. It's very unfortunate that Nike uses its power to get OSU to wear such ugly uniforms.
I'm for Notre Dame in this one. I don't expect them to win but it would be great if they beat a team from the vaunted SEC. I'm sick of the SEC hype and the highly questionable relationship between ESPN and the SEC. I even rooted for the Team up North to win its bowl game against Florida last year. Talk about leaning on a weak reed.
Regarding the comments of Army "bagmen" and paying their players, Army promises its football recruits a guaranteed job after graduation! How crooked can you get?
Speaking as one of those who wouldn't mind TTUN ending up with 6 losses or 8 or 12, in all fairness to their fans many do get it. Just check out the Detroit Free Press online. Most of the TTUN fans realize they were lucky to beat an Army team that is good but simply can't recruit Big Ten caliber athletes. They understand that Jim Harbaugh isn't the great savior he's cracked up to be and complain that he gets less out of more (where other programs like Army get more out of less) and that Harbaugh is running Bo's offense 30 years after Bo retired.These are all statements made by TTUN fans who understand what they're stuck with.
I grew up in the Detroit area but I had family ties to Columbus and OSU so I became a Buckeyes fan. Besides, living in "TSUN" I experienced firsthand the arrogance and smugness of the Wolverines. Like Crimson I also became a Lions fan which is a trying experience but there are occasional moments of joy such as the few times they outdo the team in Ann Arbor. On Thanksgiving weekend for example the Lions won 4 games this decade while mighty Mee-chee-gan only won The Game once. Even last year the Lions lost put put up much more of a fight than Mee-chee-gan.
I'm all for the USWNT team, understand that the system gives them an incentive to run up the score and that you can't tell the players to stop playing. But the celebrations were overdone. I'd rather the players went by the Paul Brown/Jim Brown attitude, "act like you've been there before". Unfortunately that today is considered an "obsolete virtue".
But let's consider this. None of us here like the Desmond Howard Heisman pose. I do not believe that any team representing America should put themselves in a position to be compared to Desmond Howard.
Yes as others have said, US men's soccer just didn't attract the best athletes and was behind baseball, basketball, football and even hockey. In that 1950-1990 period no one grew up dreaming of gaining fame and fortune through the World Cup (but it evidently didn't matter in women's soccer where female athletes are used to getting much less attention than men).
But there's always hope. The under 20 team made a good run in its tournament. Maybe there will finally be a change for the better.
Thanks for reminding me of that. It was another very exciting sports moment and I listened to it live on a Canadian radio station.
I'll go with Miracle on Ice and I saw it live on television, Canadian television. I lived in the state up north and one advantage there is you can get Canadian television. Their network showed it live while ABC had it on tape delay, a sorry commentary on ABC.
The Miracle team was not quite pure "amateurism" as they were allowed minor leaguers (like game winning goal scorer Mike Eruzione) and the college players included some future NHL players. But it was still an amazing achievement for this unlikely group to put it all together against the odds. I'll add this was in the pre-cable days when the reception of the Canadian station wasn't very good and it added to the atmosphere to watch this historic game as it faded in and out and in.
Harbaugh had his failures as a player too. The week before this game Harbaugh lost at home to Minnesota in a rare revival of the "Little Brown Jug" rivalry as Minnesota has won only 4 of these games in the last 50 years and Harbaugh was one of the losing quarterbacks. Let's also not forget the 1987 Rose Bowl when John Cooper's ASU Sun Devils beat TTUN. As we know Cooper won only 3 games against TTUN and Harbaugh was one of the losers.
We'll now see if McGuff can make OSU a national contender or if he's in the John Cooper/Jim Foster mold of "He wins but he can't win the big one. Sometimes it takes a coach years before he finally wins the big one but for some coaches it never happens.
John Cooper, Jon Cooper. Anybody notice this? Slightly different spellings but the name now has the connotation of a coach who wins a lot of games but is cursed by the reputations, "He can't win the Big One".
I'm not ready to say "fire" but there are reasons for concern. Like Foster the McGuff postseason record is so-so, 6-4 and when he had the all-time scorer. Unlike Chris Holtmann, Kevin McGuff is not struggling with his predecessor's recruits. These players are all his. He also routinely overschedules his team with games they can't win, part of the reason as I noted earlier 14-14 was as much as could be expected. Such scheduling doesn't build a team up, it breaks it down.
Hopefully next year will be much better with the heralded new recruits. But it would be nice to see the team do better than the sweet 16. As I said I'm not ready to say "fire" but after 6 years fans would like to see results not excuses.
14-14 wasn't bad under the circumstances which included an overly tough pre-conference schedule. Hopefully the team can win some games and build momentum towards next year.