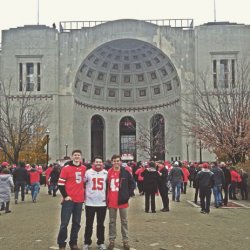 Hrobbbs
Nasvhille TN (via Charlotte NC)
MEMBER SINCE August 18, 2014
Favorites
SPORTS MOMENT: Watching ZEKE tear up the tide in the superdome... with my brother-in-law... who is a bamer.
COLLEGE FOOTBALL PLAYER: Chris Gamble
NFL TEAM: Carolina Panthers
NHL TEAM: Canes & Preds
Recent Activity
Should have specified earlier: I am selling these at face value. Buckeye fan is the only requirement!
All 4 still available, PM sent.
Here is a link from a picture of the field in the section.
https://aviewfrommyseat.com/venue/State+Farm+Stadium/141/
note: the picture is from row 39 seat, so these tickets would be 20 rows closer to the field
Looks like there are video screens behind both end zones. Good point about Carmen ohio and the band.
You are too kind! Appreciate it my man
I ordered tickets through the school. I plan on attending, but I only get the tickets if OSU beats Clemzon.
I have 4 tickets for sale. They are from the school. I should find out the location later in the week once the tickets are shipped. I know they are either lower bowl or upper bowl premium. I will know more pricing info when I get the exact section.
The MCL is much less serious than the ACL in most aspects. I assume he will be good to go.
I have four tickets for sale. Unfortunately they wont be in my hands until Dec 4 (bought them through the school). However, they are mobile tickets, so they are instantly transferable.
I have four tickets for sale. Bought them through the school today. I won't know where the seats are until Dec 4.

I will reply to this post when I know more information (location/price).
Yes this exactly. I kinda want Alabama to make the playoffs and get crushed, preferably by us.
I wouldn't be surprised if game day went to Auburn/LSU. I don't know if espn would want to compete with fox especially since urban would draw a major crowd.
Pretty sure that if your package has fs1 you will have BTN
Yes is a "replica" (so yes fake) however, they do a great job. It is not 100% perfect, but for 20$ I am not complaining. You can even get last names added, rose bowl patch, 150 patch etc.
Dhgate.com my friend. Chinese amazon. I've ordered multiple jerseys from them over the years.
I blocked a few punts in high school, I would think that is extremely unlikely. It is kind of one of those bang bang plays, where you don't know if you are getting there or not until you've already blocked it. Also if you get there very quick, you would be blocking it with your body or forearm.
The main thing is it is such a big play that no matter if it would normally hurt, the adrenaline rush makes up for any discomfort.
Pete Werner is slow as christmas
I am absolutely terrified of what will happen next Saturday.
Lets take it down a notch pal. Who hurt you?
Anyways, I live in Alabama. It's really not a horrible place. Birmingham has everything just about any other city in the US can offer. Their fans can be annoying yes, but so can half of the fans on this website. I respect the hell out of Alabama for being able to keep their machine rolling.
Also I will say, that first sentence structure is that of someone who was educated in Alabama so that is interesting.....