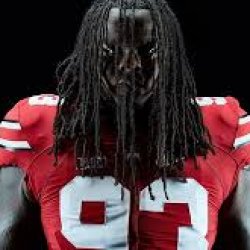 HowSheGoneEat
---
MEMBER SINCE August 15, 2016
Recent Activity
Avery's response is probably more a statement about Jarren Williams than it is about Tate
Think we'll get to find out how good of a qb coach Lincoln Riley is. Hurts to me is similar to JT. Has all the qualities you want but leaves a little to be desired throwing the ball
Don't think you'll find any doctor that will medically clear him, but anything to keep his hope alive is good medicine
Haskins said himself that he wasn't ready to play in 2017. While he may be more talented than JT, he was definitely more raw and was probably a one read QB at the time
I like the idea of having a coach that can excel at teaching fundamentals, along with a co-coordinator that runs similar scheme. Those two (Hafley, Mattison) should mesh well.
What don't you like about it?
Have a source for that? I hadn't seen that reported
Without knowing the convo Day and Tate had I want to reserve judgement, but I agree with you.
Thanks, just added that to the top.
Certainly wouldn't be ideal, but the staff seems to like Baldwin a lot. They'd probably like him a lot more after another year of learning though
His twitter account has a little bit of Miami flavor to it recently. Supposedly they want Hurts first though, if Hurts doesnt follow Lock to Maryland
Also had a good laugh at that
Not trying to advertise for them. 11W is my preferred site, but every now and then something interesting comes across the page
That would explain why my forum search didn't turn up any results. Thank you
Make sure to check out Kyle Jones' film studies. He usually posts them Mondays during the season
Didn't see this posted here before surprisingly. Makes you appreciate not only the physical tools Dwayne has, but also the mental part of the game that I don't think he had in 2017.
I could read these types of articles all day. Its too hard to see individual performances while watching the game live, so an article like this is really great. well done
Anyone know what a "gift suite" is?
Really looking forward to this game, if nothing else, as a measuring stick for Day's ability to attack good defenses. He was masterful against Michigan, if he does it again he's showing he's the real deal
He was fired Tuesday or Wednesday from that role
Interesting to think that Meyer could've appeared more subdue on the sidelines and in press conferences because Voltonini was telling him to, in addition to the pain he was feeling
He has the option of getting a permanent stent put into hit brain that would constantly drain the cyst somewhere, probably to his abdomen. Its a bit of a hefty procedure, which is likely why they haven't done it yet. I could see him doing that in the offseason. If he does that and gets good results, hes back to new