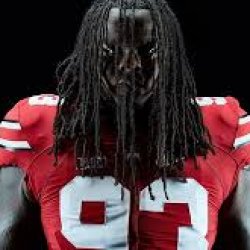 HowSheGoneEat
---
MEMBER SINCE August 15, 2016
Recent Activity
Just trying to raise the average IQ of the fanbase.
You mind if I post this over on Bucknuts? They hate gene smith over there, someone needs to educate that half of the fanbase
Hey Josh, how's your brother doing? Last I saw he was working with the lacrosse team
Thanks for the input Blu.
Gattis was great at Penn State and developing WRs at Alabama. They have an all-time receiving group right now. Play calling? Not so sure about that
Great article Kyle. Anything remarkable on the offense? It seemed vastly different this week compared to last (tight end sets vs quick outs)
Confessional: I bet the Purdue moneyline (Purdue to win straight up) leading up to that game. I knew we were losing that game and I might as well profit off of it, damn it
I certainly wouldn't get worked up over OSU's ranking at this point in the season. Reality is a new head coach, new qb, and new defensive staff- I wouldn't have OSU much different. Don't blame Klatt one bit. At least he provided rationale
So many new looks, I'm wondering have we just scratched the surface or seen a decent amount of what the new offense will look like, just with a few more wrinkles
I thought erotica wasn't allowed on this site
He was just cut in the past few weeks I'm pretty sure
Harbaugh does have a point if hes talking about the cost of living stipend. If you had to guess, which FBS school has the highest cost of living? UCLA? USC? According to Tennessee, its them. I find that laughable
I thought Hafley was the most underwhelming hire by Day at first but man was I wrong. He's been by far my favorite
I meant announcing it at a press conference today or tomorrow
Thanks for the update. I've heard press conference today or tomorrow?
One of the writers on 24/7 was wondering the same thing
You're correct. I'm not sure how this happened, or if they had practice today. Just passing along info
Guess just a coincidence then.
Good info. I'm not sure. Did they even practice today?
Insider on 24/7 just confirmed it is a Dlineman