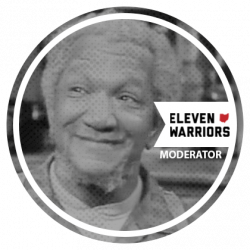 Hovenaut
Moderator
---
In and around the DC Metropolitan Area (via Defiance, OH)
MEMBER SINCE November 03, 2012
From the vastness of NW Ohio
Favorites
SPORTS MOMENT: January 3rd, 2003
January 1st, 2015
January 12th, 2015
June 7th, 2018
COLLEGE FOOTBALL PLAYER: Eddie George
COLLEGE BASKETBALL PLAYER: Jim Jackson
NFL TEAM: Washington Redskins
NHL TEAM: Washington Capitals
NBA TEAM: Washington Wizards
MLB TEAM: Baltimore Orioles
SOCCER TEAM: N/A
Recent Activity
I think this qualifies as sufficient Ohio State hoops coverage.
Pay that advice forward to Mr. Milton. They suck, he sucked, but if what they're saying he said is true than it's on him. Don't air your stuff out in public and all. Own it, learn from it, and grow. (PL side note, and I'm late, but my condolences BGF)
Hanging in, MT...we made it this far.
Because it's everyone else's fault. Way to go Joe, you have me defending that program.
Gene got me rooting for the rival. Imma bout ready to tap out, 2020...
I'm too young to have actually remembered the event, but I'm forever haunted by the gales of November.
Zimmy has shared work experiences, described an average live thread, and has thusly ended the work week all in one shot. Impressive.
Gene, Gene the optimistic machine. Dancing optional.
The thread I didn't know I needed. Slipped a bit in keeping up with holiday cocktails in recent years, but feels like we're getting the tradition back to close this year out. A couple of true holiday drinks I've enjoyed in years past are the Hot Toddy with rum (5 yo Plantation Barbados please) and Kahlua hot chocolates, your choice of garnish (whipped cream and caramel drizzle for me). For parties/gatherings where selections may be limited, I easily roll with a standard 7 and 7.
Too much history here for me to skim and say the Buckeyes cover. Respect to what Mel Tucker has done so far in what must've been a daunting entry into his first season in EL. I'm in the 38-24 range, good guys. Too many unknowns personnel wise for me to think this is a walk in the park.
Somewhere, Dylan McCaffrey rests peacefully.
We'll never know. Darn.
Appreciating the program keeping things together in near day-to-day changing landscape, it's a testament to staff and players.
Sounds like Chris Hanberger? Either way, I totally get that comment. There's a clip from a Houston-Oakland, where Tatum meets Campbell at the goal line. Campbell reeled in and got the score, but you can feel the shockwave from that collision.
Have to go pro - Earl Campbell in his prime. The dude trucked people every time he carried the ball. There's clips on You Tube, I'm too lazy to dig up.
I'm dreaming of a Sparty takedown Just like the ones I've seen before Where the new unis glisten And superfans jockey for face time As we sleigh down playoff road
Years sharing the table with Desmuhnd, bound to happen at some point.
In the College Sports forum too: https://www.elevenwarriors.com/forum/college-sports/2020/12/118773/ccu-showing-how-to-do-it
Maybe. Or he was simply just letting his mouth run.
I hate the offseason? Game over, man...game over (apologies to PFC. Hudson).
I'm too confused to be outraged.
At first glance I thought this was clickbait.
Give the ball to Hy...anyone.
Jall-owch. Get well quick, Musa.
I know he's still playing on Sundays, but I think Malcolm Jenkins would be of great help to the secondary.