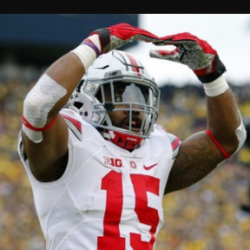 House804
from Wellington, OH
Member since 23 April 2012 | Blog
Favorites
SPORTS MOMENT: 2002 National Championship. Anytime Stone Cold was in the ring.


COLLEGE FOOTBALL PLAYER: Troy Smith
Recent Activity
Kyrie for Russ is an absolute joke. Russ is a loser.
Wiggins is not a good defensive player.
What makes you think the Spurs are going to give up Kawhi Leonard - the 3rd best player in the league? Its not happening.
Right - I didn't mean it "sucks he chose them over us.'' We cant sign ANY FA that isn't already on our team due to cap space. I know that. I just feel there is a sense that CLE has to make a splash now to keep up with GSW.
Agreed that the best path to more titles is him taking less. But he won't. I still feel good about their chances if they continue to gel, bring JR back, and now have the monkey off their backs. David West chose GSW and now they are saying Ray Allen has reached out to GSW about making a comeback. Its annoying and I hope it blows it up.
I think ''LBJ taking less'' all started in MIA when him and Wade sacrificed money to keep guys like Udonis Haslem around - and the owner went and traded his buddy Mike Miller to get under the luxury tax. I think these star players like LBJ are just at the point where they look at the billionaire owners and say "I'm not taking less - YOU pay up.'' I understand what you are saying and I like to think I would do that, but I get it from LBJs side too. Plus, if there is anyone in the world who shouldn't take less, its him.
Also, TT and Kyries deals are absolute STEALS. Its the same bitching I heard last year about not paying TT $82M. How did that work out for us? We have our entire core locked up on reasonable contracts - it just sucks because KD chose GSW. If that doesn't happen, none of this is even an issue.
I bet Bogut starts on the bench and Iggy is back in the starting lineup in G4. That moves Green back to TT and Bron to either Iggy/Barnes. In that case, you can't start Love. Makes more sense to bring him off the bench.
@FB I cant stand the Curry lovefest either, but damn man, you are acting like just as much of an obnoxious ass as all the rest of the Warriors Bandwagoners. Chill out and enjoy the best Cavs team ever.
Regular oreos, mini oreos, or my personal favorite peanut butter mini oreos. Pop a few in the mouth, take a big swig of milk, and chew it all up together. The best.
Just support Cardale. It's not that hard.
I was born in Ohio, raised in Ohio, love Ohio - but it's still hilarious to hear someone from Ohio refer to someone else as a "backroads hillbilly." Talk about delusional.
I think it is the other shitty McCown, Josh, who is planning his reckoning.
Thanks for posting this...always think of this immediately when I hear the name Major Wright. I remember thinking the game was over after that play.
You would think if he was his favorite player he would at least spell his name correctly.
What about Tommy Schutt filling in for Michael Bennett?
DJ - I missed the Thursday Skully, my apologies. I lived in Boone for three years while attending Appalachian State in 05, 07, 08. Its a college town with millions of things to do outdoors. Spring/Summer is absolutely perfect weather - Winter is god awful, but hey you are from Ohio. Check out McAdoos and Our Daily Bread for some good food. Blowing Rock, the town right to Boone, is a really nice place. You could do much worse, the wife and I still go up to watch football games. Although, Jerry Moore leaving the program was a death blow. Anyways, good luck.
I mean, what new information has come out other than the autographs being investigated? Jimbo is supposed to suspend a player just for being under investigation?
Agreed. I find it annoying when people get on here and start trashing other schools, coaches, players, etc. when if it was tOSU they would be making excuses for them. I think Jameis needs to learn a lesson, kind of like a bully who needs his ass kicked, but it really has nothing to do with Jimbo. His job is to win games.
dimensional....there you go +1
I really hate being negative toward the team in any way, but I totally agree and glad someone else sees it. Herman is not impressive. The offense is cute and gimicky. I hate it. All we do is get so psyched every week about all the studs we have and it's just a let down. I mean even Dontre looks average. He's done nothing and we act like he's so incredible. Just frustrated, go bucks.
You absolutely can be addicted to marijuana.
I just don't see Gary Harris as a lottery pick. I've heard about him constantly for two years - as a potential lottery pick - but I have never been impressed by his game. I think he is undersized with an overrated jump shot.
3*. From Ohio. #10!? Mark it down, we got us a Heisman Trophy winner!
Just wait until he starts winning - all the talking heads who say "he shouldn't be there" will be falling down over each other to be the first one on the bandwagon. "You know Johnny....parties hard, plays hard, such a competitor. Blah blah blah." Just wait.
Its also funny how people act like he should miss eating and sleeping to "get his nose in the playbook." It's Memorial Day weekend - Excuse me for not filing extra TPS reports on Saturday instead of going to the pool. I guarantee he's working/studying his ass off.
Bass- I hear you man. I like Robinson and Watkins and I would be OK with both of these guys as well. But, OL and WR are two of the deepest positions in the draft. They almost have to take Manziel. I'm on board with the "it" factor. Also, this is CLEVELAND. What do they have to lose??? The fans are not going anywhere. Their QB is coming off major knee surgery, who's to say he is going to make it 16 games? And then what? Vince Young? I'm sick of the "he's too small", you either can play or you can't, and he is what, 20? You don't think he can bulk up?
They don't call him Johnny freaking Football for nothing.