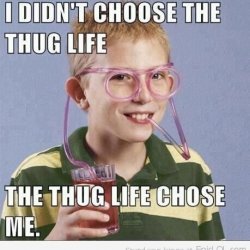 HotSauceCommittee
---
Member since 30 May 2012 | Blog
Recent Activity
Max has apparently never watched Peaky Blinders.
I echo Sword52's comment. It gets old. Until this trade, I was telling buddies I am fine with him leaving. After watching the last two games with his new teammates, he would be foolish to leave for basketball reasons. That being said, it seems LeBron has a brand to develop so that plays a pretty big factor in his decision.
Regarding destinations and fits. How in the hell does anyone think LeBron would fit with HOU. Harden and LeBron would hate playing with each other and it doesn't fit either of their styles. Both need the ball in their hands way too much. This is why Isaiah Thomas wasn't going to work out. Players like Harden, Westbrook, LeBron, IT, need the ball all the time. It isn't going to help LeBron's brand, in his mind, to have all the highlights showing Harden dribbling around for 20 seconds each time up the floor.
Cavs basically stole the Lakers plans, but three years ahead of their schedule.
I like the aggressiveness the Cavs are showing. With LBJ these moves are pretty good. If he leaves, these are good acquisitions too.
What did we give up?
Hood is a quality player.
I don't think he is worthless. He just isn't going to win you the East let alone a championship. Losing LeBron we wouldn't win the East anyhow.
I like the trade for this season and beyond. If we can move Shump, JR or TT I will be pumped.
My opinion is that LeBron is gone and he is going to exit seemingly as poorly as he did last time. Which I don't get.
Clarkson is a guy that can get you 18 a game, maybe more if he has to. Combine him with Brooklyn pick and you have two good pieces. Kevin Love without LBJ will increase his game. If they can move one of the three above and add another young piece, even if LeBron leaves, the Cavs can contend for a playoff spot in the East. Plus they will have cash to add.
I don't want LBJ to leave but his coyness is distracting.
I should have included these details.
I like the trade. It solves a problem. Clarkson is a scorer and Nance can defend and run. This helps us on the slow, old, cant run front.
I don't like how bad it makes the Kyrie trade look.
Vrabel is not disrespecting OSU. He is praising OSU for their coaching development. Imitation is the sincerest form of flattery. This will help OSU to continue to land top notch coaches.
Vrabel is killing us!
Congrats to Coach Red Bull Maniac.....I mean Coach Coombs. I loved watching him roam the sidelines during games. Full of emotion and dare I say, moxie!
To use an old fashion quote...the king is dead, long live the king. To translate, next man up!
Look, I wasn't a huge fan of every offensive performance last season, and the last few seasons. But geez. Reading like 30% of the comments would make one think we had a bottom feeder offense. We led the BIG 10 in nearly every offensive category last season and put up one of OSU's top overall offenses. It has been this way for like 5-6 consecutive seasons. Yes, it got bland with running JT especially against better competition, but still, people equate us to Michigan or something. Folks, Michigan had like 12 passing TDs all last season.
I think folks are missing the bigger picture questions here. Will Ryan Timmons finally transfer to OSU? Will Day allow Braxton to throw? Will Haskins run the diamond formation?
13 sacks. I was surprised to read that. I am pretty sure most of our prized DL/DE recruits didn't have that many.
Man, a guy I am going to miss even more after watching this video is Jalyn Holmes. I mean, at least 5-7 times in his career did he make a sack or a big QB hurry in the final minutes of games. Penn State, WI, MI. Unsung D-line hero.
I have been playing Cranberries a good bit around the house the lately. My 13 year old daughter digs them. She was a great vocalist with a unique voice. Salvation was one of my favorites.
I have this sinking feeling that DeMario McCall will simply never get his shot. Granted he will probably be granted a redshirt, guys with his talent don't stick around these days to sit the bench.
I am glad these guys are coming back. With a new QB they could show improvements.
McCall and Mack suffer the most from full position rooms.
Dre'Mont Jones staying another year deserves a spot in the Hurry Up. It's like landing a top 5 Defensive Lineman.
Checked the score...wish I hadn't.
Really? Surprised to hear that. May I ask why? What was particularly bad about it?
Avengers: Infinity War and I am not sure there is a close second.
Bright was fun and much better than I expected.
If the big C comes for you, I am totally sure you are going to turn down the cutting edge therapy for kitchen spices. (/s)
I have worked with cancer patients in various capacities for nearly 16 years. Spices, vitamins, roots and drinks are pieces of the puzzle for some but often the last resort for others. Do vitamins prevent cancer? They help, but genetics and environment can not be controlled by a bag of voodoo juice.
The internet is full of conspiracy cancer theories. My opinion, cancer patients aren't wasting their time on the internet complaining. They are out enjoying their lives. They leave it up to life-long conspiracy theorists to waste their lives promoting falsehoods and bologna.