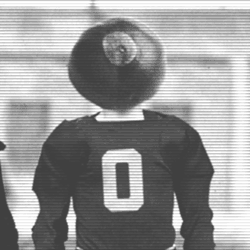 Horvath22
---
Member since 01 March 2014 | Blog
Recent Activity
Overlooked Vince Wilfork on that 2002 Miami team.
Dan, I don't know what team's 2016 record you have listed in the Michigan State file, but it is not MSU's. MSU was 3-9, 1-8 in Big Ten play.
You are right on the money 222. Green Lantern on Twelve Mile, a great neighborhood bar and grille. Buddy's locations, Shields (which is almost identical to Buddy's) locations. Do you know if the original Buddy's is still there? I think it was at Conant & 6 or 7 Mile, with bocci ball in the back? It's been a long time. Not familiar with Crispellis.
Great job, 12C. Kudos, you've said it for me.
"THOSE WHO STAY WILL BE CHUMPIONS". I don't believe Kalis understood that's a U behind him?
Nice job, Ozzy. Much appreciated. It's good to know your enemy.
For a detailed breakdown of what tempo offense is and isn't, right out of Kevin Wilson's mouth, go to the Ozone and scroll back in the articles to April 14, 2017. John Parentas attended the Coaches Clinic session where Kevin Wilson explained the Tempo Offense, inside and out. He does a wonderful job of sharing what Kevin taught the coaches. I would include a link, but I don't know how to do that. I feel the article should be required reading for all 11W members before the upcoming season. Check it out, you won't regret it.
Oh, no. Are we losing Wilson already? /s
You mean the A.I.U. building?
I hear that he is 6'-2". Doesn't seem short to me.
OSU was depleted at CB do to injuries, some career ending.
Gambles 2-way play was born of necessity, not choice.
SEC! SEC! SEC! SEC! SEC! SEC!
In answer to both questions above: YES YES YES YES YES YES YES YES YES YES YES YES YES YES YES YES YES YES YES YES
Woody, showing he had a sense of humor, later added a fourth: "the coach gets fired."
Troy looking like he did for the NC game vs Florida.
Woody did recruit Doug Goodsell from Upper Arlington. A great high school running back. Scored 6 TD's in one game in high school, a record that still stands at UA.
2015 talentwise, yes. As a team, no.
Nicely done, Blu. You are welcome here, anytime. By the way, if you want to read a knowledgeable, unbiased, with humor review of Michigan football, follow Tony Gerdeman's Michigan Mondays on The O-zone.
As far as I am concerned, we already knocked Bama off the perch with the 2017 class. Phil Steele has us #1, and Bama #2. He starts with the composite, Bama #1, OSU #2, and then factors in each teams top 5 recruits, and then top 10. The result: OSU #1, Bama #2, Which I think is a better accounting of the classes. I had been expecting this result since last February, but had to wait for my Phil Steel mag which arrived this week to confirm.