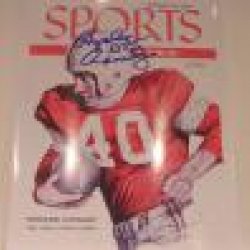 Hopalong
---
Member since 07 September 2010 | Blog
Recent Activity
Yea, well, what about the #1, #7, and #10 recruits??? Urban is slippin, PAWWWWWWL
I too was at the 2010 game. Really cannot say enough about Madison. It is a wonderful town. My only tip for those making the trek: don't get turned around trying to find your car and be forced to run a gauntlet while the whole dang band and student section marches in your opposite direction. I was with my Mom and Dad as jubilant Wisco students shouted "F*ck Eddie George, F*ck Eddie George"...This was in the year of our Lord two thousand and ten and none of us was wearing Eddie George gear. Still it was all in good fun, except getting bludgeoned by Clay and gashed by whichever one of their immortal white Wide Receivers kept snagging long 3rd down receptions...that was not fun
On a side note, it must be argued that there is a third stadium where weirdness occurs for Ohio State in the Big Ten. And let me tell you as a person who saw Purdue Harbor live and in person, it is most certainly Ross-Ade Stadium.
"Coach Beck, he helped me a lot in seeing coverages and defenses, and what they're trying to show us presnap, and I used that in games."
That quote is from JT Barrett. I think the dude can coach. He had some growing pains he needed to get over in terms of play calling. Please, let us not sit here and pretend like we all didn't talk shit about Herman at certain points during his first season, or you know, that whole VT fiasco.
How many snaps is Curtis Samuel anticipated to get at running back? I think he has great vision and a violent running style for a smaller back (I mean the dude is listed as 200lbs at 5'11'' so he isn't exactly tiny). I actually would love to see him get a fair amount of play at RB. Has anyone heard any rumblings?
Honestly, getting into the NIT and making a deep run would not be the worst thing for this team. They need as much practice time together as possible. I almost think it would be better to make a run in the NIT and accumulate all that practice time than to get bounced in the first round of the NCAA.
HOWEVA, I'm a god damn Buckeye. Give me the tournament or give me death.
The benefits of the press for this particular Ohio State team are less about what the press does to the other team (turnovers, rushed shots, disruption of flow, etc.) than what it does for the Bucks. Northwestern played okay when we switched to the zone (obviously they had a couple turnovers), but the more important factor was Ohio State actually playing with some enthusiasm.
I would be more than okay with us playing the press against MSU and Iowa if it meant we actually showed up with fire right from the start of the game.
One thing that is interesting going forward is how the Cover 4 will be forced to evolve against spread teams. Ian Boyd of Football Study Hall argues that Michigan State's defense has been exposed and ultimately found wanting:
http://www.footballstudyhall.com/2016/1/7/10724648/can-michigan-state-win-a-championship-with-this-defensive-style-window-closed
Now, our version of the Cover 4 is different from MSU's (the first key difference that comes to mind is our safeties do not play the run as aggressively). However, I think it is an interesting idea to consider. Also, I was curious, does anyone know if there is truth to the rumor that Coach Meyer asks his assistants to give him a minimum of two years?
I'm rooting for Burrow simply based off of the 2014 Division III (I think, who the hell can keep track of who is in what division any more?) Championship Game. Burrow and one of Athens' wide receivers almost single handedly kept them in that game.
If you are a degenerate football addict like myself I would highly recommend trying to find that game film; I'm sure it is floating around the interwebz somewhere. I believe the score was Toledo Central Catholic 56 - Athens 52. It was one of the better high school football games I have ever seen (probably my favorite is the 2007 Watterson - DeSales game). In the depths of winter, you are unlikely to find an invincible summer watching high school football games. But, damn it, when the craving for football hits you've got to huff what you can find.
Los Gauchos al pastor is the best
It's because they're ugly and can't read good
Grew up in UA, went to Watterson. Great rivalry, but I'm still proud to call UA home.
I haven't commented on 11W since before DJ left (pours malt liquor out in homage), not out of outrage or anything but because I AM IMPORTANT AND BUSY. But seriously, have we as an Ohio State community commented on how Ross looks like the Fresh Prince? No? Just me? OK I'll be going home.
That is also one of my favorite pictures as well. I think that one may be off of the Dispatch website which actually sells a small copy of it. However, there is a very similar, but in my opinion far superior, picture taken by an SI photographer. I went so far as to track the photographer down, compliment him on his work, and ask him if I could buy a copy from him. He told me he wasn't able to sell it to me due to SI's rules. I couldn't have been more disappointed.
Uh Indiana is going to be really, really good. They return Zeller and Watford which means that all of their top 5 scorers are back from last year. I am also pretty sure their recruiting class was pretty good this year. They have five new guys coming in three of which were rated inside the top 100 by ESPN.
Has anyone heard anything on Jabari Parker? He just one the Gatorade High School Player of the Year as a Junior. What are the odds that we land Jabari Parker in next years recruiting class?
Can anyone here give a detailed break down of what sort of defense to expect if Mike Stoops is hired?
I remember playing Youngstown Mooney back in high school and I know that for as long as Mooney has been around their philosophy has been "The Quarterback can't throw from his back". Does Stoops mimic this high pressure philosophy? Does he blitz linebackers or use stunts with the line for pressure? Do the d-backs play man or zone?
I would love to see OSU play more man press and blitz the backers.
I couldn't possibly love one comment in that video any more:
"Whether you are an OFFENSIVE LINEMAN or defensive lineman you better be able to run". Can't wait for Urban Meyer to not recruit slow, fatasses on the O line.
Great write up Chris. I totally agree about paying attention to this team even though it is still football season in most fans' minds.
Chirs, were we in man the majority of the night? I know you made the comment that the defense was, "a tough and extended as you've come to expect when Matta has the horses to not save energy in zone." Did you notice any zone?
Bobcat, as far as Ross goes, I believe I saw Baptist (one of the bball writers for the Dispatch) re-tweet one of Ross's tweets that said he would be back on the team in December. That assumes obviously that his grades go smoothly. So I think you are correct, if things go according to plan he should be back by B1G season.
Dear 11W,
Basketball season starts in two weeks. Please update the basketball Buck's schedule for the new season. Even ESPN has our current schedule up.
Love,
Everyone.
F THAT NOISE.
As the divine channeler of Mr. Warren G's eternal soul DJ has a responsibility, a holy obligation if you will, to swing for the fences every single week. If he goes down in flames so be it. Better to die with your dong in your hand than lead the timid life of an SEC fan. I think Teddy Roosevelt said that.
By the way, the Warren Harding sections have become one of the few highlights in the smoking crater that is this football season.
Hankins has been one of the bright spots on the defense. Especially in the first half against Nebraska he was swallowing people up and a wrecking ball in the middle. (There was a second half to that game? I blacked out. Sorry I'm not sorry.)

However, the man deserves a better nickname than Big Hank. I get it; it is an easy jump from Hankins to Big Hank. However, this country has never been about doing the easy thing. This country was founded on killing red coats, xenophobia, and beer. I'll be damned if we can't come up with a better nickname for Mr. Johnathan Hankins.

And so I propose for a man as glorious as this ravishing beast:
The only acceptable nickname is Bubba Biscuits. Let that one roll off the tongue and tell me that it doesn't instantly feel right. We need to make this happen for Jon, for Ohio State, for Amuuurica.