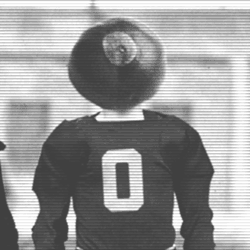 Hootie159
---
Member since 28 December 2010 | Blog
Favorites
COLLEGE FOOTBALL PLAYER: Malcolm Jenkins
NFL TEAM: New England Patriots
NHL TEAM: Boston Bruins
NBA TEAM: Boston Celtics
MLB TEAM: Boston Red Sox
Recent Activity
Is 200 grams a typo or a very odd legal cutoff/distinction (yes, I realize it said less than)? That's still A LOT of pot.
word on the Bucknuts boards is he was arrested for marijuana possession.
The Celtics had home court and always play lights out at home in the playoffs. Why were they such a shoe-in to lose?
I don't know if anyone else has read at least the first book (and so knows exactly what will happen) but the comparison of Ned Stark and Jim Tressel is, and especially will be, PERFECT.
I daresay the athletic department as a whole makes a good comparison with Littlefinger.
Hopefully Fickell will be Robb Stark...
14 straight is also a record previously held by Niagra (11)
Are any of those 3-pt stats records?
He was a 70% FT shooter, but it's like he just forgot how to shoot them.
USC just got a commitment from Cyrus Hobbi (#1 OG by ESPN). Don't know if that affects anything...
As signing day approaches there is one prospect who isn't getting caught up in the sense of urgency that others in his class are feeling right now. Offensive tackle Graham Glasgow (Aurora, Ill./Marmion Academy) isn't your typical recruit. He is a basketball player, turned football player with one year of experience under his belt. Glasgow helped lead his team to a state runner-up finish in 2010 and now football is his sport of choice.
His parents are the team doctors for the Northern Illinois football team and that's why new Minnesota coach Jerry Kill brought him up for an official visit. Now Ohio State has entered the picture.
"Coach (Doc) Tressel came to my basketball practice [Thursday]," said the 6-foot-7, 290-pounder. "I had a great conversation with Coach Tressel and it looks like I'll go there next week for a visit. Right now I think it would be the same situation as Minnesota. I would be a preferred walk-on."
Glasgow's offensive line coach at Marmion is former Chicago Bears lineman Kurt Becker and he says the sky is the limit for Glasgow.
"[Glasgow] has unlimited potential," Becker said. "I played at Michigan and in the NFL. I think I have a good feel of what a Big Ten type offensive tackle should look like. With some development and coaching, Graham could end up being a multi-year starter at the next level."
Chris_Pool OL Graham Glasgow (Aurora, Ill./Marmion Academy) says he is now talking to #OhioState and could visit next weekend.
about 16 hours ago via Twitterrific

I hope this doesn't mean the staff has a bad feeling about Aundrey Walker.
With how many DL are in this draft class, I'm shocked Heyward isn't in the senior bowl. I'd think he'd want to get his draft stock back to where it was when the season began.