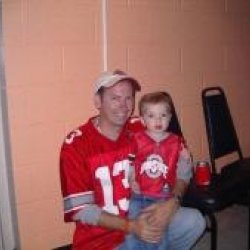 hootch2
---
Member since 09 December 2013 | Blog
Recent Activity
Cleveland.....Where coaches and players go to die....
More importantly, has Cardale sent Ronda Rousey any love and support now that she really needs it?
"You've come far pilgrim"
Question! Have "The Journey" people from The Big Ten Network put their cameras away for the year? If so, shame on them!
I will never forget his guarantee as QB. My hatred has just ratcheted up another notch! So beating him and them will be all the sweeter!
Is that a picture of "Tyroil Smootchie Wallace" at the top?
Obviously, the weather was a HUGE factor today. Barrett didn't throw the ball very well as a result. If we rematch them in the Championship in the dome. It will be a Buckeye BLOW-OUT!
O J McDuffie....Gates Mills Hawken
Penn State
Can't.........................Stop..........................Watching............
I've been pissed since seeing The Huffington Post headline "Aaron Craft the most hated player in college basketball". Somebody at the Post is a Buckeye hater. Yesterday they were still revelling in the loss by posting the Dayton newspaper headline. Wasn't there any other games played on Thursday to report on.
It was almost as if they were punishing Hyde. Because barring that, I will never understand how they would go away from him when he was the clear choice. They totally squandered the 2nd best back in OSU history.