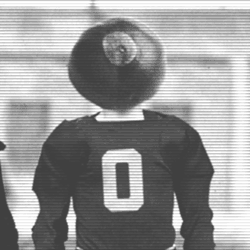 HoosierBuck
---
Marion, Indiana (via Massillon, Ohio)
MEMBER SINCE March 08, 2011
long time displaced Buckeye
Favorites
SPORTS MOMENT: 1976. OSU Bucks FB NC, Reds World Champs, Marion Giants Indiana State Hoops Champions.
COLLEGE BASKETBALL PLAYER: Jerry Lucas
MLB TEAM: Cincinnati Reds
Recent Activity
methinks tOSU should try harder for this Ohio kid! just sayin.
Gotta be proud of a young man like TMCl! Getting an itch to watch some Redskins games this fall. GO BUCKS!
Bsk33: NAILED IT! GO CC! GO DEFENSE!
Quote:"Barrett was not an outwardly "passionate" guy, in fact he was known for being mellow and even keeled."
On the field yes, but have you forgotten his pre game locker room "pep " talks? That's what Urban was referring to imho. Go Bucks!
I am more concerned about Fields knowing the whole playbook more than his passing ability. As for QB depth, with the talent we have on O I would be comfortable with Chug.
Improved D remains to be seen. GO BUCKS!
Wonder how many Buckeye players came from Massillon thru the years? I can remember a time that 4 starters were from Massillon... some side by side..... yeah I know, the days b4 the rust belt.
Go bucks!
...and I dont even imbibe. LOLOL!
Pay Hartline and Hafley more what they are worth to keep them and Day will be around for quite some time. I hope they can keep LJ healthy and well paid until he hangs it up for good. Then hang a gold plated plaque with his (LJ's) likeness and a tribute in the Woody when he does retire. Those and a golden parachute to boot. just sayin'. GO BUCKS!
Speaking of Jim Tressel how about him for the next president of TOSU and couldn't be too soon for this one.
Go Bucks!
BZ1 Quote: "Win with speed. Win with 4 and 5 stars the odds are in your favor."
Agree but I strongly favor 5th year seniors and care SOMEwhat less about star ratings. They are dedicated and more experienced. If they are 4&5 stars so much the better, but that doesn't happen very often these days. GO BUCKS!
I too am wondering IF Urban could contact ER legally and assure him about Coach Day and that all is well in Buckeye land. Will the the 2020 class be the best ever? Very possibly. GO BUCKS!
Welcome Cam Martinez!
They say there is GOLD in MUSKEGON(Civil War Gold). Did the Bucks just find some GOLD there?
We will have to wait until next season to find out! (In BOTH cases!)
GO BUCKS!
Dawand is my choice for 4th and goal from the 2 ydl. He reminds me of Zack Randolph in HS. Overweight but deft with the ball in his hands. Zach slimmed down more even after a yr. at Sparty. I have high hopes Dawand will be a blessing for us Buckeye fans as he progresses. GO BUCKS!
"If other Buckeyes can improve their play when he's not on the court, he can get the bit of rest that will allow him to be more energetic when he's out there playing,"
Funny thing is, I do not remember him playing many games when he played enough times to get tired before he fouled out. Hopefully the advice he took from the tryouts will be heeded.
Go Bucks! Go KW! ..just do it!
+1 !
I might add that the writer seemed to overlook his handle (TOs) and his need to FINISH at the hoop. Conditioning improvement will help decrease fouls somewhat.
GO BUCKS! GO KW!
Anyone else think that Dewayne Haskins' QUICK RELEASES had anything at all with making our OL pass pro shine a little brighter? Hmmmm.
Being an old Tiger in exile I watch Massillon FB very closely. Jayden Ballard will be a 5* like very soon barring injury!
He has the long range skills of Devin Smith plus an excellent short game. He will be a BUCKEYE, that I am willing to take to the Bank.
IIRC his QB is in Ballard's class and if so that will a good thing for both TIGERS! GO BUCKS!
Where is Crestview? TIA! Go Bucks!
Plastic helmets have contributed greatly to concussions imho. I don't think there were as many reasons to call targeting before the modern day helmets. The whole call is a farce anyway again imho as a runner will many times lower his head when about to be tackled to protect the ball. .. and likewise the tackler will many times have his head lowered when tackling. Result?: A call on the defender.!
On another subject: Spearing the carrier in the chest or on the ball to cause a "fumble" should be cause for ejection. just saying.
God Bless you Ryan Shazier! You are an inspiration to us! Many future blessings! You are always a Buckeye! Vaya con Dios! Go Bucks!
Having watched Greg from his Indy No. Lawrence days at our Bill Green Arena in Marion I always thought Greg was a humble young man giving credit to his teammate Mike Conley as the reason for his success I congratulate him for pulling himself to a higher plane. Kudos to you big man! Hope you are around the hoops scene a long while. Your degree and your steadfastness will carry you through! Go Bucks!
Another terrific Ramzy read! Thanks man!
"There's no "I" in TEAM, but there is 2 in millions!" Love it!