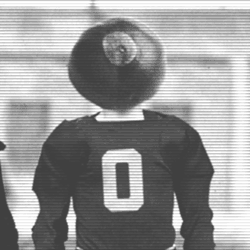 HoosierBuck
---
Marion, Indiana (via Massillon, Ohio)
MEMBER SINCE March 08, 2011
long time displaced Buckeye
Favorites
SPORTS MOMENT: 1976. OSU Bucks FB NC, Reds World Champs, Marion Giants Indiana State Hoops Champions.
COLLEGE BASKETBALL PLAYER: Jerry Lucas
MLB TEAM: Cincinnati Reds
Recent Activity
BEST INTERVIEW IN A LONG TIME! THANKS MUCHO.
Thanks Joey Lane for your service and especially your loyalty and positve enrgy! NEVER lose that trait! Very appealling to employers. Have a great future and do comeback to Ohio State many times. Go Bucks!
And I am sure Little Bear Bosa appreciates Coach J.s presence! What a classy pair! Go Bucks!
A lot of HS weight programs are not up to par I would imagine. Doesnt mean that they cant be "crushers' with desire and coaching at TOSU.
Actually Ramzy imho you are # UNO! I really enjoy your sports articles. Love the sense of humor that is unique to you as a writer. The Buorbon.. not so much, but that's okay. Keep it up man!
Go Bucks!
"Diallo is certainly unpolished offensively. But he is a rim protector, OSU currently lacks. He seems to be a nice change of pace from Kaleb and could change games on the defensive end. Really hope he likes what he's seeing at OSU."
I would like to see a Diallo type in the game at C with KW at SF and 3 3pt SGs. That could create HAVOC!
"Kaleb is our best player as a sophomore. Imagine not wanting a clone of your best player for another four years."
Agreed, but I do hope KW works on his strength and especially his down low handle in the off season.
"Jared Sullinger did pretty well for himself and it's hard to say he "played above the rim.""
Shades of Magic Johnson! 6'8" and He couldn't dunk either. I will take a Hugely and an Irwin!
I love being a Buckeye "underdog" fan. When was the last time in conferemce games that we lost as an underdog?
"Washington is the only player with an offensive game of shooting and driving to the hole. Yet Holtmann does not start him and the team scores 2 pts in 6 minutes."
Right now DWash is the best PG on the team for at least getting the ball across the time line than faster than has been all season. He sees asst ops better than CJ/Wood imho too. This team for the most part so far this season does not fake enough to throw off blockers... When they do, we have had a better chance of winning the game.by eliminating most blocked shots and TOs by lazy passing.... Team passes around the perimeter too long then throws up desperation shots. ugh!
Go Bucks anyhoo!
"Because he's part of the family (team) and they want him to return to the family/team. He has to serve his suspension, suffer the consequences and earn his way back. But he's not divorced from the team. He's just grounded for a bit.
And it's not just for him. Holtmann's building a culture. His teammates see that even the star player gets handled the same way they would be."
Not only that he must face the cameras as the talking heads remind the Nation why hes NOT playing. Good psychology.
Expecting the Bucks to score big today! Hope so anyway.
small ball speed will nullify Haarms imho. Run RUN RUN! Go Bucks!
Seattle: "Getting humbled can be a good thing sometimes."
For players maybe, but not for FANS! LOL!
I have thought all season that we needed more score power. Our defense at its best was more than adequate imho. I thought with my post above that Justin had the ability to heip the offense when given more PT and it worked out to the Bucks benefit.
I do realize that he was hot at the best time for us and he is now a "marked man" and the D will make it tougher for him to repeat that personal high, BUT there is always a flip side---he will take some of the oppositions pressure away from some other teammate.
I love it! Go Bucks!
This kid has a lot of grit to leave home and family that young! He will achieve at something and I hope it's in Buckeye basketball!
Come to Columbus, O-H!
When coach thinks LeDee is ready to play, giving the Bucks a chance to play two bigs simultaneously and LeD at backup, I would like to see a lineup that has KW and KY along with the three best 3pt. shooting guards in there. Ahrens(? most of us like his shot, but I appreciate his sharp passing and rebounding as well),Washington ? and AW/Jackson (?).
Other observations:
Luther's only tired imo, from his aggressive overall play, 1st extended season, and his shot has been affected.
Lazy no faking passes cause a lot of our TOs.
Same reason for our blocked shots, plus KW (at 6'8"/9") lowers the ball before shooting 'neath the hoop sometimes giving the D time to block it. He should have corrected that long ago. That is just a bad habit.
I love it when K.Wesson shoots the 3, and would like to see Young underneath at the same time.
D.Wash should be PG imho as he gets the ball down court faster and looks for the fast break better.
Looking fwd to the youngsters improving. Go Bucks.
Psychologically it's great. Bucks always play better when dissed or mad! Otherwise like the above poster stated" who cares"?
Espin gets no clicks from this one.
I am for Mattison all the way going by his body of work. Nothing wrong in mho to say "Michigan", it's just that I can't stand tsun!
Welcome home Al Washington! Glad you're back to C'bus.!
Go Bucks!
Yeah, their food is so horrid that we have to wait 45 minutes to get seated.
Yeah, their food is so horrid that peeps on the road drive off to their not so easy to get to restaurants to get some of their horrid stuff.
Yeah, their food is so horrid that their stock price went from $8.33 p/shr (1999) to $180+.00 p/shr in 2019.
GO CBRL!
The BUCKEYE QB situation she be lookin' GOOD! Go Jack stay well!
+UV for BN_1974... and I never saw Germaine throw a dime to an opposing LB like some other Buckeye QB did. Pretty sure it happened in a game changing situation with our most hated rival. An egregious aw s*#t NEVER to be forgotten!
GO BUCKS!
62-39 wasn't as bad for tsun as 49-20 was for our men. ....still can't figure that game out!!
Go Bucks.... and PLEASE do not let another blowout like that EVER happen again! Pay attention to history!
Bucks definitely NEED someone who can get to the hoop.!!!!!!!!!!
Iowa Buckeye: Thaks for the Carton info. Please keep us informed as he goes along!
How big is his school? How tough is his competition? Do you think he is rhe real deal? TIA!
GO BUCKS!