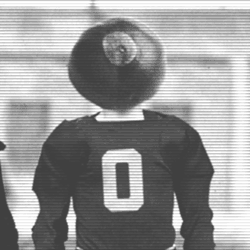 HoosierBuck
---
Marion, Indiana (via Massillon, Ohio)
MEMBER SINCE March 08, 2011
long time displaced Buckeye
Favorites
SPORTS MOMENT: 1976. OSU Bucks FB NC, Reds World Champs, Marion Giants Indiana State Hoops Champions.
COLLEGE FOOTBALL PLAYER: ARCHIE!
COLLEGE BASKETBALL PLAYER: Jerry Lucas
NFL TEAM: SAINTS
MLB TEAM: Cincinnati Reds
Recent Activity
Where there's smpke.............
Skinny says: "If, and its a big if, Cincy wins out, they could easily be a top 10 team."
Agree and it's my humble opinion that they could probably beat all but FL and Ga in the sec east and some in the sec west.
IF tOSU ups Hartlines pay 4x it wouldn't be enough for me as he is worth a lot more. Coach Mr. L.J. also! and Do Not forget Head Coach Mr. Day while you are at A.D. Mr. Smith.!!!!!!!.
GO BUCKS!
A very special young man. He has a great future and will be a winner wherever he goes! Stay with hin Coach H!
Let's go Bucks!
A hard worker and leader type; He will flourish under Coach Mick for sure!
Go Bucks! Beat Wisky!
I agree! Mr. Kiner will fit in perfectly as a Buckeye imho.!
Go Bucks!
I get so tired of player bashing on any board.. This game of football is a TEAM game and no ONE Buckeye player will be a negative factor in deciding the outcome of this game. I rely on the judgement of arguably the best overall coaching staff in CFB, and arguably the best overall staff in tOSU hustory. Chill out fellow Buckeye fans!.
If worse came to worse imho we should win this game with Chug or Hoak.providing the team doesn't get arrogant/ lackadaisical. Go Bucks!
"Northwestern has tried to spread it out some, but have just looked absolutely awful doing it. "
Agreed and I would think the difference in team speed being in tOSU favor that the spreads wider gaps would give Buckeye runners bigger holes to run thru. ...but what do I know.??
GO BUCKS!
$150.00. How many prints ? I am in for one.
He is young but talented an has shown out against two pretty decent PA team wins. I'll take him when he's ready.
Go Bucks!
Go Massillon Tigers! Beat Barberton !
"Ohio State 2021 five-star cornerback Tony Grimes"
"say what?"
I'm sure he meant to say CB "target" T.G. I caught that too, and then the next paragraph kinda cleared up the omission...something a PC spellcheck wouldnt pick up on.
This game COULD be the coldest windiest game of the season so far. I was there in our last loss up there when JZ was QB. Not a fun night at all.This time we should be in a better position to win in spite of the cold.
GO Bucks! No trap games please!
ONE Tony Grimes please! Go Al W. And J. Hafley..Gettum up scouts! LOL!
GO BUCKS!
I would love to have a chance to play Georgia. Inspite of their recruitng prowess I am still not sold on Fromm or their D. I think LSU and our man J.B. will repeat last yrs. game win. Do not underestimate LSUs D because of what Texas scored against them. Their QB had an outstanding game from my POV. But Burrow was unrelentingly better. Longhorns deserve to be rated in top 15 as of now, if I had the vote. Go Bucks! Beat 'em all!
Word to Luke Farrell: Loved that YAC drive! Here's hoping we use the TEs more as rcvrs as we finish the rest of the schedule! Stay ready! ....Stark county fan here!
GO BUCKS!
methinks tOSU should try harder for this Ohio kid! just sayin.
Gotta be proud of a young man like TMCl! Getting an itch to watch some Redskins games this fall. GO BUCKS!
Bsk33: NAILED IT! GO CC! GO DEFENSE!
Quote:"Barrett was not an outwardly "passionate" guy, in fact he was known for being mellow and even keeled."
On the field yes, but have you forgotten his pre game locker room "pep " talks? That's what Urban was referring to imho. Go Bucks!
I am more concerned about Fields knowing the whole playbook more than his passing ability. As for QB depth, with the talent we have on O I would be comfortable with Chug.
Improved D remains to be seen. GO BUCKS!
Wonder how many Buckeye players came from Massillon thru the years? I can remember a time that 4 starters were from Massillon... some side by side..... yeah I know, the days b4 the rust belt.
Go bucks!
...and I dont even imbibe. LOLOL!
Pay Hartline and Hafley more what they are worth to keep them and Day will be around for quite some time. I hope they can keep LJ healthy and well paid until he hangs it up for good. Then hang a gold plated plaque with his (LJ's) likeness and a tribute in the Woody when he does retire. Those and a golden parachute to boot. just sayin'. GO BUCKS!
Speaking of Jim Tressel how about him for the next president of TOSU and couldn't be too soon for this one.
Go Bucks!
BZ1 Quote: "Win with speed. Win with 4 and 5 stars the odds are in your favor."
Agree but I strongly favor 5th year seniors and care SOMEwhat less about star ratings. They are dedicated and more experienced. If they are 4&5 stars so much the better, but that doesn't happen very often these days. GO BUCKS!