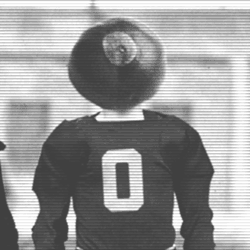 Hondo
---
Stow. OH (via Orlando)
MEMBER SINCE July 18, 2015
Longtime Buckeye fan. Have memories as far back as 1964. Was in the stands when Archie ran wild against North Carolina and nobody knew who he was. Am a husband, father, grandfather and crazy fan of the greatest college football program in the history of college football.
Favorites
COLLEGE FOOTBALL PLAYER: Tatum
COLLEGE BASKETBALL PLAYER: Before there was Jordan, there was David Thompson
SOCCER TEAM: No
Recent Activity
Miami would be awesome. Maybe his true objective was to battle it out with Tate?
And his prayers will have been answered.
Depleted and used. OSU stuck with the young man when he was injured and down. He was given loyalty, scholarship, exposure, rehab and training. I can't think of a thing he gave back.
Agree. Best of luck my ass. If you ain't with us, you're against us. I don't wish him ill, but neither do I wish him well. Don't know him, don't care. Unless one knows the kid, it's 100% disingenuous to wish him well in this kind of situation. It's a total throwaway line that means nothing.
I like this thread and the concept of this thread. Downvotes to anyone arguing unpopular takes.
This means he significantly outperformed Winlessvich.
Rashan Gary has a Manziel moment. "Let's wreck this league."
Ty Tucker is arguably the best coach in the entire athletic department.
I grew up in a strikingly similar household.
Lucky Charms are tough to beat, being magically delicious and all. Another fav of mine from back in the day was:
On a side note, we have a guy guy working in the office from Ireland who has earned the nickname "Lucky Charms."
Stillwagon, Clarett
Who else?
I wish the best for the American people in general, and for the world, but to take it to the level of specific individuals I don't know and never met doesn't work for me. Personal preference I suppose. I don't, for example, wish the "best" for Shea Patterson. Same for Sirhan Sirhan.
Why, why, why do you wish him "nothing but the best?" I will never get that. Unless I'm wrong, you don't know the kid and are unlikely to ever meet him. I don't wish any kid ill, obviously, but neither do I blindly wish the best for people I never met and will never know. It's a disingenuous throwaway line, in my opinion.
Same. There is only one JT and he could well become a coach at some point.
Man, don't have time to watch this now but can't wait to see the whole thing. Looks like Michael Thomas was right in the middle of things too. Wolverines definitely took the low road on that play. They were looking for a fight and they got one. Then they got their asses kicked.
Agree. He needs to learn to do it without his head. Took way too many shots in his rookie season.
For the record, McQuaid also gets the assist on the record breaking Super Bowl longest punt. Doesn't happen without him. Buckeye Nation has a hand in almost everything.
An outstanding and yet somehow underrated or under the radar Buckeye.
But Lincoln Riley handpicked Grinch in order to turn the Sooner defense into an Alabama and Clemson eating machine! The guy is a wizard. Both guys, actually.
Outplayed Devin Gardner in an ultimately losing effort against TTUN. UConn was up heading into 4Q but ran out of gas.
Yea, I know you already said that. Clearly, you're an admirer. Grinch is the greatest because Lincoln thinks he's the guy. I get it.