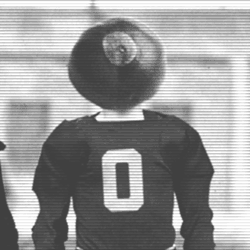 Hondo
---
Buckeye, AZ (via Orlando)
MEMBER SINCE July 18, 2015
Longtime Buckeye fan. Have memories as far back as 1964. Was in the stands when Archie ran wild against North Carolina and nobody knew who he was. Am a husband, father, grandfather and crazy fan of the greatest college football program in the history of college football.
Favorites
COLLEGE FOOTBALL PLAYER: Tatum
COLLEGE BASKETBALL PLAYER: Before there was Jordan, there was David Thompson
NFL TEAM: Still The Browns
MLB TEAM: Tribe
SOCCER TEAM: No
Recent Activity
One of the best articles I've ever read on 11W. Great job!
Thinking one of those reasons is that you don't give a damn for the whole state of Michigan!
This is Michigan winning the off-season again. They are an amazing spring team.
I held my breath every time Denard Robinson touched the ball. Guy was lightning fast.
Anyone who thinks we're going to stroll in to Happy Valley and walk out with an easy victory is kidding themselves. I expect Bucks to win but it's going to be a scrap. Wild card may be how the hazing thing unfolds. I haven't paid attention to the story since reading early reports. It may not even be a thing. But if the story develops, it could knock State Penn off the rails.
Lifelong Browns fan here. It's a hard thing to be. See my tagline.
Thank God for the Buckeyes.
Sorry, Hafley taking OSU staff is officially old and has crossed the line into obnoxious. One is ok, two is pushing it, three is over the line. Happy for him to get the BC job after having spent ten months or whatever at OSU. But don't raid the place.
In any event, I hope he figures out a way to get by Clemson so that we can grind his BC ass into powder.
Sadly, I agree. McCall looked better his freshman year than he has at any time since, in my opinion. Like the kid but it's not happening for him in Columbus.
I am not the least bit worried about our ability to run the ball next year. Whoever is carrying the rock will be doing behind what is likely to be the best O-Line in the country. Teague, Crowley, Steele, whomever. Someone will be rushing for 1500+
When they are right, Oregon is one of the bigger and better programs in the country, no?
Like Wisconsin, Indiana never wins in Ann Arbor. Maybe 2020 will be the year but I seriously doubt it.
I see Coombs, Mattison and LJ being no ego kind of guys who are driven to win and will work well together. None of them are kids. Don't know enough about Washington to have an opinion.
But like the vast majority of 21st century Wolverines, he has unfinished business to take care of.
Defense should be good next year but hard to imagine it being elite given the guys that are leaving. The offense, on the other hand stands to be greatest in OSU history if Fields gets and stays healthy. With a healthy Fields, Buckeyes will have the ability to outscore every team in America.
Not good karma that this guy scored a feature 11W post on the eve of Clemson. He was so bad.
Buckeye Bash at Bottled Blonde in Scottsdale this afternoon. Can't go wrong at Bottled Blonde.
Are you local KBonay? We live in Buckeye. Verrado, actually. Going to see band practice tomorrow morning and planning to hit Bottled Blonde after.
DM'd you a few minutes ago. I can definitely make this work. Let me know.
I live in Phoenix and am interested. How to connect?
I laughed my ass off the first time I saw this scene and have every time since.
Not a great role model, that's for sure, but unparalled as a runner. I have memories of watching him run over, through, around and away from everyone on the field. Sayers was great and similar in style, I'd say, to Barry Sanders. His career was cut way too short due to injuries. Sanders is probably my number two guy. Interesting that all three of these guys left the game early and in the case of Brown and Sanders, with much left in the tank.
Edit: For some reason I always overlook Walter Payton. He and Sanders are my numbers 2a and 2b.
Do you really? Or do you really not care?
Good bye, Josh. Have a nice life.
Saw a Pure Michigan response a couple days ago. Poster wrote that "unlike Florida, Bama is a team we can get up for."