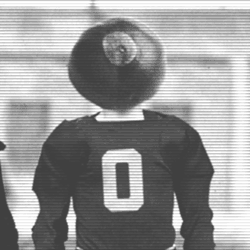 Hondo
---
Stow. OH (via Orlando)
MEMBER SINCE July 18, 2015
Longtime Buckeye fan. Have memories as far back as 1964. Was in the stands when Archie ran wild against North Carolina and nobody knew who he was. Am a husband, father, grandfather and crazy fan of the greatest college football program in the history of college football.
Favorites
COLLEGE FOOTBALL PLAYER: Tatum
COLLEGE BASKETBALL PLAYER: Before there was Jordan, there was David Thompson
SOCCER TEAM: No
Recent Activity
Anytime I predict we're going to kick Clemson's ass.
I don't. Don't even know why I read this thread.
Bite your tongue! Nebraska will be no pushover this year. They weren't last year in Columbus. Neither will Wisconsin, neither will Northwestern on a Friday night in Evanston, neither will Spartans. Buckeye schedule is plenty tough. We have a chance to run the table but not because it's "cake."
Can't imagine NCAA would give him immediate eligibility if he transferred again. That would be a true mockery of the transfer rules. If Tate transfers again it's likely out of D1 and maybe that's where he belongs.
Not going there, but think he's next. And if so, so too are Browns. Get ready for a ten year run. Hard to believe I'm saying that but I'm saying it.
Hey, man. Tom Terrific is terrific but Baker is next man up.
100% this. If Bucks win conference with one loss they will be in playoffs, as long as the loss is respectable. If you get your ass annihilated by the likes of Purdue, or anybody for that matter, no playoffs for you.
Golfer hits an errant shot. Ball hits and breaks a giant and not inexpensive picture window on home that lines the fairway. Who is the responsible party?
Urban needs definitely to be honorary Captain for The (Upcoming) Game.
Personally don't think UM will ever fire him. He's a favorite son and I just don't think the University would go there. I can imagine Jim walking away independently if it becomes apparent that Day has his number. He's not going to want to stick around for an annual ass-kicking by the Buckeyes. But no, I don't think UM would ever flat fire him.
Consider Wooster and Orrville. Both are thriving small towns not far from the things to do in Cleveland, which gets better every day. Also Medina, which is in the same general area.
Head Ball Coach at The Ohio State University is not a stepping stone. It's a destination. Day will not be going anywhere for many years, as long as he beats Michigan.
For what possible reason is "Dude filled with rage?"
I saw that pic of Myers and flashed to the gif of Price toying with Winlessvich. Something tells me our O-line is going to be solid this year. Maybe not out of the gate but by the time we hit Ann Arbor.
Archie and Pete was a real life combo that was, in fact, the dream combo. Thunder and lightning.
The Radon guys were at the house yesterday. It was a solid two-man crew. Enjoyed talking to them and they did a great job. May as well give them a plug, SWAT Environmental. Cost was $845 which was the lowest of three bids we got. The other bids were $950 and $915.
The job took about 2.5 hours. They found the perfect place to put the pipe; on side of house tucked away in a corner with some of the other utilities. Best part is that in that location, it was just a one floor run of pipe to the roof line.
I feel like we could have stayed in the home another 30 years and never be impacted by radon in that it's an unfinished basement in which we spend close to zero time. Strangely, however, I feel good about having it done. Now on to the smoke and CO detectors!
Admire your strength, Calpop, and happy you're doing well but this seems a stretch of an analogy.
Doesn't add or subtract. Those fucksticks were in our way and we dusted their broom. Whatever that means.
Hondo checking in. John Havlicek, the inspiration for my screen name, was a hero of mine as a kid. I was born in '57 and have only second hand memories of his time at OSU. But I have vivid memories of his NBA career and time with the Celtics. The guy was a perpetual motion machine on the court, known for his non-stop, off the ball movement that often resulted in him sinking a shot or getting a back door coming off a screen. What a career. And what a well spoken class act. Thanks for the memories, Hondo. May you rest in peace.
Miami would be awesome. Maybe his true objective was to battle it out with Tate?
And his prayers will have been answered.
Depleted and used. OSU stuck with the young man when he was injured and down. He was given loyalty, scholarship, exposure, rehab and training. I can't think of a thing he gave back.
Agree. Best of luck my ass. If you ain't with us, you're against us. I don't wish him ill, but neither do I wish him well. Don't know him, don't care. Unless one knows the kid, it's 100% disingenuous to wish him well in this kind of situation. It's a total throwaway line that means nothing.