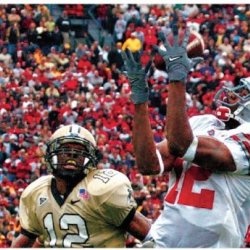 HOLYbucknut
---
MEMBER SINCE February 08, 2015
Favorites
SPORTS MOMENT: Holy Buckeye
NHL TEAM: Red Wings
MLB TEAM: Tigers
Recent Activity
Somehow forgot Rey Maualuga - USC.
Jordan Shipley and Limas Sweed - Texas. Shipley did it all and Sweed could go get any ball he wanted to.
David Pollack and Leonard Pope - UGA. Pollack was Pollack and there was just something cool about watching a 6'7 or 8" TE.
God not another Michigan article/thread. Can we DV this out or can the Mods nuke it? /s
Yeah it was. You threw a bitch fit in that thread too.
Just finished episode 2 before I left for work and will get another one or two in before I hit the sack. I have no clue how Bobby Bruce keeps getting in these situations when he's been given so many chances. That team is LOADED though.
Unproven is one thing. I have all of the confidence in the world in Fields. Yet as Dwayne alluded to, only having less than a year to learn Coach Day's system may prove to be problematic.
I'd be lying if I said that I wasn't a just a little bit worried about The Fighting Kiffins coming to town for the opener. I don't know anything about their defense but I know that I've loved watching their offenses over the past couple of years and it'll be a good measuring stick for this season's defense.
Someone told me about this at work last night. A fall from grace and a chip on our guys' shoulders? Sign me up.
Buford, Diebler, Craft, Lighty and LQR on the squad this year? Hell yeah im tuning in!
If you want a BOOM then watch the kid's highlights! Welcome young man!
Ron Tanner didn't see the field regularly for the Bucks but WOW, that dude was solid and shifty as hell as a QB. Also a guy named Xavier Turner in baseball. Got booted for drugs in the minors but he would've surely made it to the league. A complete 5 tool player.
Well they didn't shy away from playing in South Bend so it looks like they aren't in favor of pulling a Bama and cancelling/relocating.
Yep that's right! I watched him play back in the day. Dude was an all star in football basketball and track. Just a great guy all around.
So we're the same age. We played each other two years in a row (obvious where I'm from now). Those are two very good teams that you lost to. I think we may have been able to put up a good fight against TCC though. I respect your guys' program a lot after the two hard-fought games that we played.
Damn Knuck, Im guessing you went to Avon? We lost to you guys in the playoffs that year and I vividly remember watching that RB on TV and saying "thank god I didn't have to try to tackle that guy" lmao.
The Nets aren't quite there without KD, but letting Kyrie have the team and have a final year to mature will pay dividends in the future for them. I see them as Eastern Semifinalists with Allen and Jordan being able to stop Philly's bigs for a few games.
Nah. Lovie just signed a pretty good class last year and as he pointed out, some of his teammates have already committed there. It's not as easy to recruit there but I think they had a pretty good shot for what they're worth.
I'd do whatever it takes to get big Steve Adams.
I had absolutely no dog in that fight but showed up to watch and can attest to that. Hell of a game!
If Buckeye Guy is a 10 then I'm probably a 9.9. If he's an unhealthy 10+ then I'm a 10.
Same here FTW. And my reason was purely because of the social media BS. Oh well.
Buried the lead here with the headline I know. But was listening to ZS's most recent podcast (not here to discuss him/his personal life, just his opinion on these reporters) and he was asked his opinion on recruiting insiders.
Dang I'm sorry Woully made you click on his thread. But you had a very interesting thought/opinion on Bill and Birm so I thank you for lending your two cents to the discussion.
Blink is still a pretty damn good show. Saw them the year after Tom left again and they didn't disappoint. Also, seeing Lil Wayne could just be an experience to say that you had seen him/something different. He's pretty much a legend.
I hear Kid Rock is a must-see in concert so I'd go with him. Chris Brown does a good bit of dancing on top of his voice so I'd probably want to see him also.