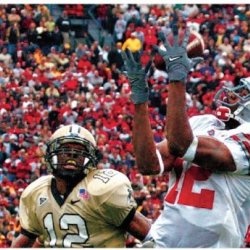 HOLYbucknut
---
MEMBER SINCE February 08, 2015
Favorites
SPORTS MOMENT: Holy Buckeye
NHL TEAM: Red Wings
MLB TEAM: Tigers
Recent Activity
Thank you. Screw these trash fans who are blaming Rudolph for everything and completely defending Garrett.
Soft. If someone takes a cheap one at me I'm coming right back at him. Not going and crying to the refs.
The only reason Garrett had his facemask in his hand is because Rudolph tried to rip his helmet off.
The only reason that Garrett had his facemask in his hand is because Garrett grabbed his facemask. No one put his hand on his facemask. Maybe he shouldn't have taken Rudolph down so cheaply with the game out of hand and this wouldnt have happened at all. And you're really coming off as defending Garrett FYI.
Wtf did Rudolph do that constitutes assault? Pouncey, yeah but Rudolph? What are you on?
Umm Garrett was still on the ground when he had Rudolph's face mask in his hand. If someone ripped the helmet off of your head would you not try to go after them and get it back and say your piece? And inadvertently? Dude you're either an awful troll or a complete moron and I can't tell which.
Ummm they weren't added for their football prowess so be prepared for a whole thread of "TV money and anything else". Just because football is the only thing you care about, it doesn't mean that it's the only thing that mattered in the decision.
Demario McCall - Omar from The Wire.
I like where your head is at. And to clarify I was counting the CCG, not Rutgers.
Desmond is an idiot to the highest degree and doesn't deserve his platform whatsoever...having said that, if you want to refute that it's not good that our two best wins are against an AAC team and a team that lost to Illinois (and I'm the biggest Illinois/Lovie supporter/truther on this board) then idk what to tell you. Our best wins aren't really that great and our toughest three games are ahead of us. The only difference is that we have quality teams to play to prove our worth against worthy opponents in the near future.
All of these coaches know that they're about to get smoked by OSU (see Lane Kiffin) so there's absolutely NO way that Locksley would even think about doing this and damage ties to DeMatha in the process. He may not be the best in-game coach but he's smart enough to see the talent advantage our defense had and not even try anything that ballsy. It's more likely that someone that wants Locksley out did this and wanted to damage his recruiting relationships to get him out. And no way Keandre would do this either. Dude is a class act. This was done by a different source/school than Maryland and I'll put my life on that.
If Oklahoma drops another game, then Bama is in. If not, then you can't leave out a one loss conference champion for a non champ with a dogshit schedule.
We aren't losing to Rutgers and last years game is fresh in my mind so I think this is the last chance for us to drop a trap game. My bhole will be puckered up properly for the whole game, don't judge me. Let's make it out of today healthy and with a W.
Cornell says he's seen a "lot of elite players," so he can't outright say Young is the best he's played with.
May have to call his bluff on this one. I mean he did play with Nick for a couple of years but other than that, I don't see anyone else that compares.
Was just coming to post about those two. We need to have a graphic of those two for our recruiting pitches to see what happens when you fall for the bright lights and honey fried chicken.
Florida. Georgia is a media darling and can make it into the playoff with that early bullshit loss if they somehow beat Bama in the SEC CG, therefore pushing two SEC teams in. Florida ain't beating Bama or LSU in the CCG. Therefore, go Gators.
The Game '06. End of conversation.
Blu.fan has built some clout as being level headed, fair and realistic while still being a fan of that team. I'd actually like to see him post on this and see what his opinion is. You guys can't just hear what you want from buckeye fans on here all the time.
Broadcasters mentioning Wesson cutting weight for this season.
I never count the Cyclones out for an upset in Ames, but with the game being in Norman I just don't see it.
So who do we root for in Purdue/Iowa? Or do we just hope a bomb drops on the stadium?
Are you talking about the 2014 FSU team that got its doors absolutely blown off by Oregon? OSU and Bama would've had their way with that FSU team and it wouldn't have been pretty. The 2014 FSU team is EXACTLY why Klatt is correct and Kanell is way wrong. FSU ran the table but was very underwhelming all year but since they won the championship the year prior, they got a seat at the table as the 2 seed.
Your eyes aren't deceiving you. But as a former WR I used to do it all the time. It was just like a nervous tick that I couldn't shake. Sometimes it's more comfortable getting up to a level where you can haul it into your pads rather than taking the chance of it ricocheting off of your hands. It's just the safe route sometimes.
If there was ever a defensive player that deserved the Heisman, it would've been Suh that year. But when you look at what he did in his CCG and knowing he only took 4th that year, you know there's no way anyone on defense is winning this award again.
If we're going by the "once a buckeye" rule, then Najee Murray was included in group 1. Kind of cool that there are some smaller Ohio colleges represented also. One from Heidelberg and Tiffin University respectively.