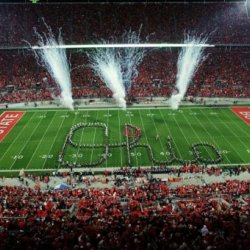 HolyBuckeye92
Marysville, Ohio (via West Mansfield, Ohio)
MEMBER SINCE November 05, 2014
Just a Buckeye fan living in the great state of Ohio.
Favorites
SPORTS MOMENT: I was at Nationwide Arena for game 4 of the Stanley Cup Playoffs in 2014. That building was absolutely electric after the tying goal to send the game to OT, but after Foligno scored the game winner in OT, the arena went nuts. The crowd noise after the game winning goal was by far the loudest thing I've ever heard (that includes a Motörhead and Metallica concert). On the walk out of the arena and to my car, there were chants of "C-B-J!" and "Let's Go Jackets!" all throughout the arena and sidewalks outside. The city was alive with excitement and that's something I'll never forget. I was so happy to have been a part of that historic moment.

As of January 12th, 2015: Watching Ohio State silence the doubters with a 42-20 win over Oregon to claim their 8th National Championship.
COLLEGE FOOTBALL PLAYER: Braxton Miller
COLLEGE BASKETBALL PLAYER: Aaron Craft
NFL TEAM: Pittsburgh Steelers
NHL TEAM: Columbus Blue Jackets
NBA TEAM: Cleveland Cavaliers
MLB TEAM: Cincinnati Reds
SOCCER TEAM: Columbus Crew SC
Recent Activity
Gus Johnson continues to be the GOAT
I too worked for Verizon FiOS, the worst 4 years of my life! Teleperformance?
It looks like that account has started crediting their theft, so there's at least that. Although I guarantee it's so Instagram won't delete the account.
The Office is my all-time favorite show, so much so that I constantly go The Office trivia nights and have one a few times. That being said, while part of me wants it to come back (because I miss the excitement of watching an episode for the first time), I just can't get on board because the show ended so perfectly and I wouldn't want that ruined. However, if they did a spinoff, similar to what they planned to do with Schrute Farms, I'd be down for that. Remember, Parks and Rec was technically going to be a spin-off, but they changed their minds. I'm not too sure what the plot could be, maybe something that involves a lot more Creed, but that would fill my Office void.
I did just see this tweet posted about an hour ago re: Al Washington.
Source tells me that it is true Michigan LB coach, Al Washington, was offered a job at Ohio State.

Right now, hes made no decision on what he will do. Its been an interesting couple of days.

— Jordan Strack (@JordanStrack) January 5, 2019
As far as 12up, all they do is post old tweets and use clickbait to get ad revenue. Whatever you read on 12up is at least several hours old and can be found at other reputable sources.
Honestly, I'm surprised by Lejond no comment-ing. He's the one dude I thought was 100% solid, but I totally get it. Hopefully he chooses to still attend, but I understand if not. Glad to see everyone else reaffirm their committments!
IMO all he really needs to see is Rashan Gary and his development, or lack thereof, vs. the development of players like the Bosas and Dre'mont Jones.
I've had YouTube TV for over a year now and I won't switch to anything else. I originally planned to keep it only for football and hockey season (which in Columbus is September thru April) and then ditching it in the summer, but I quickly realized that all the shows I watch are on channels included with YouTube TV. I never watch anything live (except sports) because I hate commercials, so the unlimited DVR is HUGE. It also includes every sports channel except for NFL and NHL networks.
It's nice having different profiles like Netflix too because my buddy and I split it and we have our own accounts. You won't find anything that offers everything YouTube TV does for $40 a month.
FWIW, he's wearing a Michigan hoodie to school today. Take that as you will.
One of Parkway Drive's best songs \m/
This quote gave me a laugh: "I've had to block more than 500 vile Urban Meyer worshippers." She blocked me on Twitter simply because I quoted her tweet and said I hope the lesson with this whole thing is to not jump to conclusions before we have all the information. If that's vile, then she needs to stay off Twitter and go back to brainwashing Eli.
He just deleted his Twitter account. I assume it's because his tweets FINALLY got some attention and people called him out on his BS and knew he'd been had.
Me @ the investigators:
And if you don't think he's taking it personally, check out his Twitter bio. This is word for word: "America's own College Football Insider. 'I don't know who creates a story like that?'"
It's ironic that Brett is mad Urban lied, yet Brett himself continues to lie and say it's not personal when it very clearly is. He's been smug and arrogant about it, he retweeted something about him taking down one of the most powerful football coaches of all time, and he continues to withhold texts until he needs something else to fuel the fire. He said as much on 97.1 today that he was aimed at directly by Urban. Now he wants his revenge. It's pathetic.
Ohio State comes in ranked 69th
Nice.
I was actually thinking while typing my comment out that I wouldn't mind both teams wearing their home jerseys like USC and UCLA do. Arguably the 2 most iconic uniforms in college football going head-to-head would be AWESOME.
I understand that this is done for the money and the recruits and I actually like the alternates, but I just wish The Game was left untouched. (And I say that as a 25 year old millennial.)
You can blame eastern Ohio television stations for it. Family grew up in eastern Ohio and all they showed were Steelers games at the time, so that's what I grew up with.
I think a big part of it is how difficult it is to watch whatever game you want. For college football, if you have ESPN, every single game is at your fingertips on the WatchESPN app. For the NFL, you either need to get satellite and then pay for Sunday Ticket or you can pay $70 A DAMN MONTH to watch all the games. That is ridiculous! I know I'll get hate for saying this, but I'm a Steelers fan and I only get to see about half the games a year because I'm at the mercy of the local CBS and FOX stations. It's 2017, then NFL needs to embrace the times and move away from their early 2000s broadcast model. If they opened it up the way college football is opened up to anyone across the country, then their ratings will jump up, I guarantee it.
Also, not allowing anyone to watch the games on a mobile device unless they have Verizon is completely stupid. Whoever made that decision should be let go.
Seeing Isaiah Prince still starting at right tackle is concerning not only for protection of JT, but depth at the position. Sigh.....
I second this. I use the Next Radio app because the 97.1 app sucks with great data signal, let alone the spotty service you're sure to get in the Shoe. Also, if you listen on the app, there will be a 30 second or so delay. I get a clear signal and there's no delay with Next Radio.