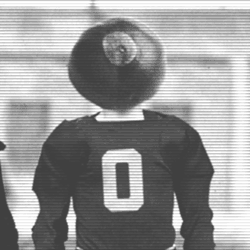 HolyBuckeye9
---
MEMBER SINCE August 20, 2015
Favorites
SPORTS MOMENT: Zeke's 85 yard rushing TD against Alabama
COLLEGE FOOTBALL PLAYER: Eddie George
COLLEGE BASKETBALL PLAYER: Aaron Craft
NFL TEAM: Pittsburgh Steelers
NHL TEAM: Columbus Blue Jackets
NBA TEAM: Cleveland Cavs
MLB TEAM: Pittsburgh Pirates
Recent Activity
Kaleb Wesson with a fantastic first half offensively. Keep feeding him.
Kaleb Wesson is getting abused on defense.
God help us all (mainly our defense)
We are a basketball school now
We need a tracker for how many times Urban says they need to fix something, only for that said problem to show up the next game.
I have a friend in the Olentangy Orange district whose child is in Harrison's grade and talks to him every so often. I talked to my friend recently about it and the vibe I got is it would be a surprise if Harrison ends up a Buckeye.
Isiah Prince. Have a game young man!
Coaching staff has a ton to answer for after this game, regardless of outcome.
Need to burn the entire defensive staff to the ground outside of Larry Johnson.
If Minnesota goes 99 yards here, Schiano should immediately be escorted out of the stadium.
This defense gives me anxiety
And now we wasted another timeout on defensive substitutions.
This team is so poorly coached on defense. It's mindblowing.
I'm going to have to start drinking already
I know it's Indiana, but using a timeout on 3rd and 29 is inexcusable.
Yup seen enough of Wint already.
Terrible.
Wint starting at safety because of Pryor's suspension. Please move Wade there permanently.
Our LB's are clueless. Our secondary is clueless (outside of Fuller).
Urban's loyalty to Bill Davis is going to sink this team yet again.
Wait. There are people seriously wanting Martell to come in? Hahahahahaha
Please stop trying to be fancy with these offensive playacts. The wildcat and reverse absolutely killed two separate drives.
A common theme I have noticed since Urban's statement, a ton of media members are acting like Urban lying at Big 10 media days is a bigger deal than the fact he reported the allegations through the appropriate protocol (assuming he's not lying in his statement). This stance is mind-blowing.
Honestly, I'm kind of intrigued at seeing what the offense will look like without Urban overseeing things. Maybe he was going to change his ways post-JT but the playcalling has been predictable in a lot of situations the past few seasons.
I feel like Day is going to be great controlling the offense with Haskins at the helm.
Proud of this team. Ton of heart and way surpassed expectations. Excited to see what the program looks like when Holtmann starts getting his recruits.
My quick mini rant from tonight.... Micah Potter should never touch the floor again until he learns to play something that resembles defense and actually boxes his man out. Jesus he was brutal to watch tonight. Charmin saaaaawft.
We're really going to blow this aren't we?