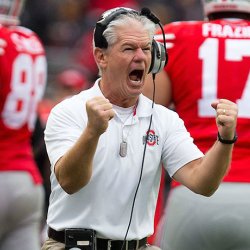 HolyBuckeye1093
Columbus, Oh (via Toledo, Oh)
Member since 08 September 2011 | Blog
Favorites
SPORTS MOMENT: "We've always had the best damn band in the land. Now we've got the best damn team in the land." 14-0!!
COLLEGE FOOTBALL PLAYER: Troy Smith
COLLEGE BASKETBALL PLAYER: Deangelo Russell
NFL TEAM: Detroit Lions
NHL TEAM: Detroit Red Wings
MLB TEAM: Detroit Tigers
Recent Activity
http://247sports.com/Player/Cameron-Brown-93614
I Snead what you guys are doing here
Michigan fans are a frustrated, disappointed, and irritated group. They have been a 2nd tier program the past 10 years and have been owned by OSU since Tressel got to Columbus. They don't have the high school teams, YMCA, college of surgeons and physicians, and American medical to boost their resume anymore. All they can do is hang their hat on all their pre WW1 national championships, their all time win record bolstered by some of the teams above, and when OSU loses to other teams. Hell their best two wins the past 10 years have been OSU vs Clemson and MSU vs Bama. I can see why they can get on the annoying side.
Sorry for the repost. I always try to make sure I'm not making a duplicate post. I must have missed them when I was browsing through. In any event, Harbaugh sucks!
Just glad we have a month to plan, prep and practice any new schemes needed to help Prince out at RT. You can run delayed draws, screens, and direct QB runs to the inside gab of the tackle trying to get quickly up field on the outside to get to JT. You can also run some bootlegs and roll some plays away from Prince's side. And like previously stated use the RB or TE to help with protection as well. I really liked alot of those RPOs that VT were throwing at Clemson as well. All of these listed have their drawbacks but they can't be much worse than seeing JT get pressured immediately once he finishes his drop. That Clemson DL will be bringing the pressure. Our offense needs to find a way to neutralize it.
I can see a very unlikely scenario where TTUN gets the 4th spot because some voters may think they are a top 4 team in the country. But to have them in and OSU out is simply laughable. Based on what? They have 1 more loss, they have a h2h loss, they were third in their own divison, they have fewer top ten wins, they have zero good road wins. If he also wanted to make the argument that PSU in cuz they won the Big Ten, OK, but that means you will be leaving yourself out as well. The only way TTUN gets in is if OSU is in as well.
I hear the sos comment being brought up about Washington. If the committee had an issue with it they wouldnt have ranked them 4th to begin with. They won't say now "ok now were going to take Washington's poor SOS into account only on the final seedings." The way I see it is who had the better performance this weekend? Wash or Penn St? Wash won by 31 against the #8 team in Colorado. (So they even had a better win vs TTUN against a common opp.) Penn St had an impressive comeback but still only won by 7 pts. Washington was 4 and had the better performance. They arent going out of the top 4.
Losing to Penn St could be a blessing in disguise if OSU indeed makes the playoff. Don't have to play an extra game or have an additional week of practice, no worries of injuries in the Big Ten champ game, and the coaches get to use the time they would be spending on preparing for Wisc again to go out and recruit the best talent in the country.
Wanted to for the bye week but that would have created an odd number. In hindsight I could have added a pic of Jimmy watching the big ten title game with us in it
It was between this or the fan. Can't go wrong with either.
Throwback to the day he committed on mgoblog. Now looking back its very comical to see how many fans have changed.
http://mgoblog.com/content/hello-ahmir-mitchell
2003 vs NC ST. Clearly an inc pass but no replay at that time.
Take one look at my username and you can make a pretty good guess as to which one is number 1.
Others in my list would be 4th and 14, Cie Grant sack of Dorsey, 85 through the heart of the south, and the Braxton TD pass to Devin Smith to beat Bert.
I know we have been talking a lot about the numbers crunch in the 2017 class, but if what ur saying is accurate about no more than 20 commits, the coaching staff is gonna have to make some brutal decisions on who to say no to. Spots that I have to assume are being saved for Grimes, Lindsey, Akers, Young, Okudah. That leaves only 1 other player to select from a huge group of talented players assuming no one else de commits or grey shirts. Who does the staff has as their highest priority? Tufele, Riep, L Wade, DPJ, Trey Smith, Browning, Hines, D Holmes. Hard decisions to make!
Jim Harbaugh coming home after hearing the news!
The post above put together a nice breakdown as well.
A player I think also has a good chance to be in the class is RB Ricky Slade
At this point I dont think anyone can be considered a lock but the closest to it I think are Jaelen Gill and Jackson Carmen. Matthew Jones and Taron Vincent both have 100% CBs to OSU as well. That is 4 5-star players right there. After the visit, it looks like Emory Jones will be our 2018 QB. I also think we do flip Taylor to the good guys. If we land those 6 players, that is 6 of the top 40 players in 2018. Not too bad of a start.
Hate to look forward but if the projections and CBs hold true, the 2017 DB class may be all time great. Williamson, S Wade, White, Pryor, plus Okudah and Riep. All 5 star and high 4 star players.
Yes. If you count the wins and losses in the rivalry starting with the most recent. So in 2015 it's 1-0, 2014 it's 2-0, ect. So osu has a huge advantage for 15 yes then um catches up a bit and it's not until 1909 that UM takes over the wins from OSU