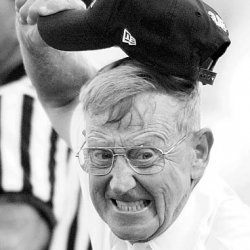 Holtz
---
Member since 25 June 2014 | Blog
Recent Activity
Why have they all of a sudden hit California so hard? There are always players out there every year but it seems that they haven't done much with it until this year and next years class.
My wife is absolutely terrified to leave a glade plug-in plugged in if we are leaving the house for more than five minutes. Are they okay to leave plugged in for an extended period of time? Can I tell her a firefighter on the internet told me it was okay to leave them plugged in?
He didn't get the start for disciplinary reasons, not production.
Last year's game between the two was an 8pm kick and wasn't it in November?
Donovan Peoples-Jones by far for me. It keeps an extremely elite kid away from either UM or MSU and it continues a pipeline from Michigan schools to OSU. This helps down the road when there's another big time prospect from Michigan that OSU happens to be recruiting. The elite kids from each state tend to know each other and already have relationships built with one another therefore each year getting kids from Michigan helps with the next in snatching away recruits from the previously mentioned schools.
Alabama. Ohio State-Alabama was the real Championship game.
Wish Mcelroy did things other than SEC Network related stuff. Understand why he does because of who he played for but he does a great job. I remember a few years back, he was either still in school or doing something pre-NFL draft and just did a great job as an announcer on ESPN. Figured he would be doing this shortly after his NFL career was over with.
First 2016 commit after NSD?
How hard could it be to recruit USC?
Pretty sure Wisconsin playing Auburn is going to tell us Wisconsin is bad against the run, the pass and their QB is going to throw his helmet more.
Good news on the Haskins front. Wonder if this might turn into a whoever commits first, gets the spot kind of thing or might they hold off for Haskins even if Guarantano wants to commit?
I was hoping that was fan made. It looked pretty bad and I had no idea what was going on at all.
The guy isn't stupid at all. Is he supposed to downplay his conference and tell the playoff committee to completely rule out the B1G? The dude wants money and saying negative things will hurt chances of acquiring said money.
I think the scariest thing in all of this is how could the entire team not know he was either doing or dealing heroin?